Albatros D.III
Oeffag s.153 & s.253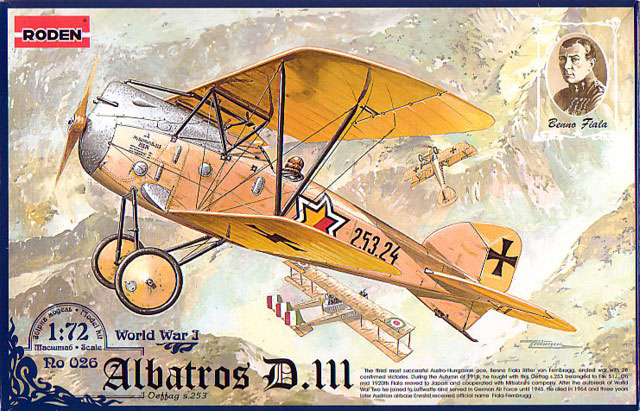 Roden


All of Roden's 1/72 scale Albatros' are available online from Squadron.com
S u m m a r y

Catalogue Number:
Roden 1/72 scale Albatros D.III Oeffag s.153 (early) Kit Ro 024
Roden 1/72 scale Albatros D.III Oeffag s.253 Kit Ro 026
Scale:
1/72
Contents and Media:
Over 65 grey plastic parts; markings for many options in each kit
Price:
USD$6.96 from Squadron.com
Review Type:
FirstLook
Advantages:

Well researched subjects, variety of markings, good value for money

Disadvantages:

Decals out of register

Recommendation:
Recommended
Reviewed by Robert Baumgartner
Roden comes one step closer to completing their Albatros family with the release of two more aircraft from the Austro-Hungarian stable.
General
Both kits share exactly the same sprues and as a result, the spares box gets topped up once again.
Considering the use they have had so far, the moulds hold up very well with only a little flash being present on the larger parts. The sprues for these boxings are A, C, E, F, and W. Due to the loose packaging, a couple of pieces from the engine had broken off but surprisingly, the struts survived.
As expected with multi-version sprues, the instructions show which parts are applicable to which version, with the scalpel being called upon to remove details that don't apply.
Click the thumbnails to view larger images:
---
Inside the fuselage halves, there is some structural detail for the cockpit as well as a shelf for the engine to be seated on. Other supplied basics consist of a seat, rudder, and control column. Detailers can have fun here by adding pumps, magneto, switches, instruments etc.
The wings retain their delicate look with thin trailing edges and realistic cross section. Both surfaces exhibit subtle rib detail and experience shows that the assembly of the three-piece wing is not a major issue. There is a blemish on the undersurface radiator, which will require some attention.
Careful thought is needed when removing the delicate parts from their attachment points. The struts are beautifully thin and can easily break during cleanup. This is from experience!
After removal of the forward cowling, judicious reworking with the scalpel is needed to restore the lower lip.
Those who own an early printing of the Albatros Production Datafile #19 will notice that the plans are printed with an incorrect tailskid fin. The increased area version shown on the rear cover profiles is correct. Thankfully, Roden have given the modeller the right version.
If you are careful, the tail plane, fin, and top wing should not prove troublesome during assembly.
Three different propellers are provided, including the oddly shaped Jaray, so there is even more opportunity to vary the schemes that one can build.
The majority of the 253 series adopted scalloped trailing edges to the ailerons and elevator and these are provided on sprues E and F. The modeller cuts away the existing ailerons on the top wing and replaces them with parts 8E and 9E. Thoughtfully, Roden supply these with some lovely washout at the tips.
A scalloped tail plane is supplied as part F17 but the instructions incorrectly say to use the unscalloped 1C.
The 225 hp Austro-Daimler engine was used in this version and covered with the more symmetrical upper cowl and blunted nose. These are supplied as well as an accurate engine bonnet, which was used by some aircraft.
---
Decal Options
Five different machines can be made from the decal sheet. My example was slightly out of register, meaning that the national markings would have to be sought elsewhere. Close inspection revealed that the white was crazed and care will thus be needed on application. A nice touch is the inclusion of the Oeffag trademark and stenciling information.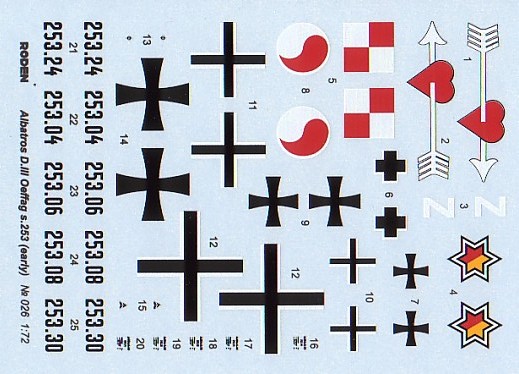 I) Albatros D.III (OEF) 253.30 Flik 56J - Flown by Karl Zavodsky, this machine is depicted as seen in August 1918.
II) Albatros D.III (OEF) 253.08 Flik 3J - Flown by Oberleutnant Stefan Stec. He later went on to join the Polish air service.
III) Albatros D.III (OEF) 253.04 Flik 3J - Flown by Oblt. Franz Peter, October 1918.
IV) Albatros D.III (OEF) 253.06 Flik 3J - Flown by Oblt. Friedrich Navratil, August 1918.
V) Albatros D.III (OEF) 253.24 Flik 51J - Flown by Benno Bialia, September 1918.
This kit is less labour intensive to build, as the correct ailerons are already in place. The "standard" nose profile is completed using parts 16F and 3A. Experience has shown that careful trimming, and dry fitting, will allow the parts to mate with only a touch of filler needed. Care is still required so as not to loose the detail around the nose area when the inevitable sanding begins.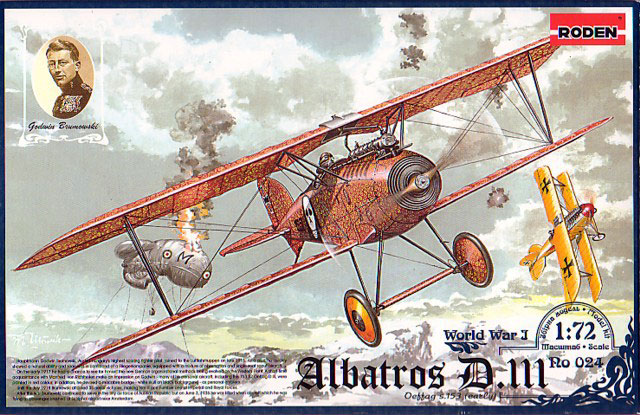 Decal Options
Do you want options? Well you got options - 22 in fact!
The huge decal sheet is printed very clearly but did suffer from registration problems.

For the sake of completeness I will list them:
I) Albatros D.III (OEF) 153.30 Flik 55J - Although belonging to Obt.i.d.R. Karl Prinzig von Herwalt, the plane was crashed by Oblt. Hans Leiner on 15th May 1918.
II) Albatros D.III (OEF) 153.95 Flik 2D - Zgsf. Josef Poschl flew this aircraft to down an Italian SPAD on the 3rd May 1918. At this time the machine had the Unit marking of black painted wheel discs.
III) Albatros D.III (OEF) 153.16 Flik 41J - Flown by Frank Linke-Crawford, it is interesting that Roden depict the falcon colour as red when it is accepted that the similarly marked L-C 153.11 machine carried a black falcon.
IV) Albatros D.III (OEF) 153.15 Flik 55J - Less controversial is this aircraft flown by Julius Arigi in September 1917. He scored one victory in this machine.
V) Albatros D.III (OEF) 153.80 Flik 55J - Another Arigi aircraft and one in which he scored his 23rd, 24th, and 25th victories.
VI) Albatros D.III (OEF) 153.29 Flik 51J - Flown by Fw. Istvan Frejes, the wolfs head was only added later when the aircraft was transferred to the Campoformida air school. There it was flown by Oblt. Othmar Wolftan.
VII) Albatros D.III (OEF) 153.58 Flik 42J - Flown by Friedrich Hefty, 1917.
VIII) Albatros D.III (OEF) 153.24 -Flown by Hans Fischer, winter 1917.
IX) Albatros D.III (OEF) 153.87 Flik 55J - Flown by Josef Kiss, he scored at least two victories in 153.87.
X) Albatros D.III (OEF) 153.54 Flik 41J - Flown by Oblt. Rudolf von Szepessy-Sokoll, September 1917.
XI) Albatros D.III (OEF) 153.47 Flik 55J - Flown by Josef Kiss, this aircraft is usually portrayed with a blue fuselage under belly. Kiss scored at least three victories in this machine.
XII) Albatros D.III (OEF) 153.100 Flik 55J - Flown by Zgsf. Alois Lehmann, Fw. Alfons Behounek and Kpl. Bohumil Munzar 1918.
XIII) Albatros D.III (OEF) 153.110 Flik 61J - Both Otto Schrimpl, and Franz Graser scored victories in this aircraft. Leo Wild eventually crashed the aircraft on 21st July 1918, and died in the accident.
XIV) Albatros D.III (OEF) 153.27 Flik 55J - Flown by Georg Kenzian for at least two victories, Roden depict the pennant as red and white. Blue and white are the more accepted colours, which also match Kenzian's old engineers'unit, Pionier Bataillon Nr.2
XV) Albatros D.III (OEF) 153.45 Flik 41J - No collection would be complete without an aircraft flown by Godwin Brumowski, the top-scoring ace of the Austro-Hungarian Empire. Eight victories were scored in this machine.
XVI) Albatros D.III (OEF) 153.45 Flik 41J - Another Brumowski machine, but one he only mainly flew between February-March 1918.
XVII) Albatros D.III (OEF) 153.06 Flik 41J - Brumowski's first victory in an Albatros fighter (15th confirmed overall) was scored in this machine on 19th August 1917. The next day, this machine was used for his 16th victory.
XVIII) Albatros D.III (OEF) 153.11 Flik 41J - The second of the featured Linke-Crawford machines but the first to wear the falcon. Again Roden go against convention with the falcon and depict it in red. Five victories were confirmed in this aircraft.
XIX) Albatros D.III (OEF) 153.12 Flik 41J - Both Karl Kaszala and Kurt Gruber flew this aircraft. Note that this plane has been photographed with an unsynchronized Schwarzlose machine mounted on the port side. This was angled so as to fire outside the propeller arc.
XX) Albatros D.III (OEF) 153.17 Flik 55J - Two victories were scored on the 15th November 1917 by Kiss in 153.17
XXI) Albatros D.III (OEF) 153.93 Flik 41J - Flown by Oblt. Gustav von Salmon.
XXII) Albatros D.III (OEF) 153.52 Flik 41J - Another of Brumowski's macabre marked aircraft, he scored his 28th and 29th victories in it.
Phew!
These are two more inspired releases from Roden, who show the modeller that colourfully marked Albatros fighters were not just flown by the German Air Service.
Well researched and produced, these kits offer great value for money.
Recommended
Thanks to Squadron.com for the review sample.
---
Review and Images Copyright © 2002 by Robert Baumgartner
Page Created 11 November, 2002
Last updated 22 July, 2003
Back to HyperScale Main Page
Back to Reviews Page