Savoia-Marchetti SM-84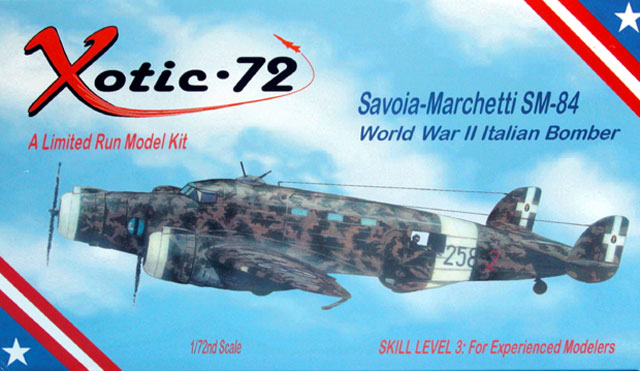 Xotic-72 (Aviation Usk Nebraska)
S u m m a r y
Description and Item Number:
AU2025 Savoia-Marchetti SM-84
Scale:
1/72
Price:
USD$29.95 from Aviation Usk
Review Type:
FirstLook
Contents and Media:
Four sprues in light gray styrene; three resin parts; two clear vacformed sheets; one photo-etched fret
Advantages:
Unusual subject (believed to be the first injection kit of this subject); conventional parts breakdown; good use of multi-media; three marking choices supplied.
Disadvantages:
Cockpit and wheel well detail basic (but a good basis for additional work); careful attention will be required for clear vacformed parts.
Recommendation:
Recommended
Reviewed by Stephen Munroe
HyperScale is proudly supported by
Squadron.com
The SM.84 is a difficult aircraft about which to obtain reference information.
The two paper resources that I have are: Italian Civil and Military Aircraft 1930 Ė 1945 by Jonathon W. Thompson (Aero Publishers 1963); and three photographs in Squadron/Signalís Regia Aeronautica by Christopher Shores. The kit also lists Wings of Italy by Giorgio Apostolo (GAE 1999), but I do not have this in my library.

This trickle of information can be a bit of a problem, as the SM.84 designation was apparently applied to two different aircraft, one a twin engine transport and the other a trimotor bomber. It is the bomber that is the subject of this kit (and article).
The SM.84 was originally developed as a torpedo bomber variant of the SM.79, although it does not appear to share any parts in common. The wingspan, at 69 feet 4 5/8 inches, is the same span as the SM.79, but the fuselage is longer. Engine cowlings and nacelles are different in configuration as well. The most noticeable difference between the two airframes is the sleeker look of the SM.84, compared to the hump-backed SM.79.

The SM.84 was designed and built prior to World War II, first flying in 1938. Approximately one hundred aircraft were built by 1941, and the type served in at least four or five squadrons. The trimotor was utilized primarily against shipping in the Mediterranean, seeing action against convoys as well as Royal Navy warships. By September 1943 it remained in service in only two squadrons, and it does not appear that any survived to serve after the Armistice in 1943. The aircraft was also used by the Slovak Air Force and the Luftwaffe.

From all accounts, the SM.84 was not as popular or as widely used as the more well known SM.79. This could have been due to the fact that SM.84ís performance and load carrying capability was not much of an improvement over its predecessor.
Xotic72 obviously chose the SM.84 to fit in with their line of the less well known aircraft of the Second World War. I believe that this is also the first injection molded SM.84.

The kit includes 4 sprues in light gray plastic to make up most of the kit, with three resin engines and two clear plastic vacuum formed sheets for the canopies and windows. Note that these clear parts are two separate sheets, and not two canopies as are sometimes found in the short run kits. There is also a small photo etched fret containing the instrument panel, seatbelts and other cockpit pieces, along with a piece of film for the instruments. Three of the four plastic sprues look like they are produced from higher pressure molds while the fourth looks like it is a centrifugal cast mold.
Click the thumbnails below to view larger images:
---

The breakdown of parts is conventional - two fuselage halves and two wing halves per side. The engine nacelles are separate assemblies, with a bulkhead to block off the front of the wheel wells. The horizontal tail is one piece, and each vertical is in halves. These display nice petite fabric effects on them, something that the larger manufacturers could improve on..

Each of the three cowlings are made in halves as well. This is a small nit to pick, but I would prefer to see the cowlings in three pieces on these kits. This might make for a more complicated build but it would make it easier to get a round cowl opening.

Cockpit detail is basic but of good quality. There is a floor, instrument panel, throttle levers/console, two seats, control wheels and a little bit of fuselage structure. Adding more would not be a challenge if there are references available.

The landing gear is basic as well. The detail on the main gear is soft, and will take some sanding to clean up. Each propeller comes in four pieces (a hub and three blades). Getting these to line up will be a little tricky as they are not socketed. I would recommend making a jig to set these up.

The main canopy will also require some attention, as it is formed in right and left halves. A thin piece of strip plastic along the connecting halves will help line this up as well as strengthen the joint.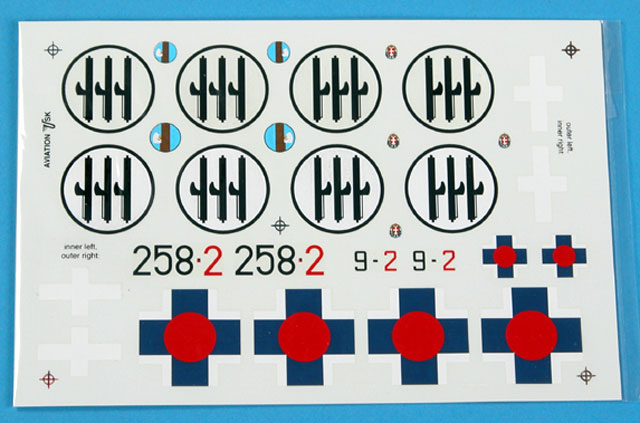 Decals are included for three aircraft, two Italian and one Slovak. The Italian aircraft have different schemes, one mottled green over sand and the other in an unusual two tone gray scheme.
Like most limited run injection molded kits the SM.84 will require more than basic skills. I do think that a nice model can be made of this kit, and it fills another hole in the Italian WWII collection.

Thanks to Aviation Usk for the review sample.
---
X-otic 72 kits are available from Aviation Usk's website
---
Review Copyright © 2003 by Stephen Munroe
This Page Created on 10 January, 2003
Last updated 22 July, 2003
Back to HyperScale Main Page
Back to Reviews Page