Spitfire Mk. 22/24 Upgrade Kit
Spitfire 22/ Seafire 47 Cockpit Kit
Cooper Details
| | |
| --- | --- |
| Catalogue No.: | CD4814 (Mk.22/34 Upgrade Kit); CD4815 (Cockpit Set) |
| Scale: | 1/48 |
| Media: | Resin (Brass and Acetate also included with CD4815) |
| Review Type: | In-box |
| Rating: | Highly Recommended |
Reviewed by Brett Green
Contents:
CD4814 - 19 Parts in Cream Coloured Resin;
CD4815 - Over 70 Parts including Resin, one fret of Brass and Acetate Instruments
Price:
CD4814 - US$10.95;
CD4815 - US$16.95
Advantages:
Marvellous detail, exhaustive accuracy, beautiful casting, one-stop-shop complete cockpit and details. Good instructions and suggested references included. Good value for $$.
Disadvantages:
A fair bit of cleanup required; the cockpit set is not for the faint-hearted, impatient or short-sighted!
Recommendation:
Highly recommended for all Spitfire fans and detail nuts in general
The new Airfix 1/48 Spitfire F.22/24 and Seafire 47 kits are terrific models. They exemplify the best attributes of 1990s moulding technology, and display the major manufacturers' new commitment to research.
However, there is always room for improvement. As discussed in the Spitfire F.24 Construction Feature on HyperScale, the cockpit is a little bare. There are some odd features too, including a spade-grip joystick with a solid centre! There are also some questions about the shape of the spinner, prop blades and the big under-wing radiators.
It is curious, then, that these kits have been almost ignored during the current flood of after-market detail sets
Cooper Details have been around since around 1990. Back in those days, resin detail sets were few and far between. Cooper's pioneering resin sets featured remarkably fine detail, clever undercutting and added real value to the models for which they were designed. They really set the standard. My very first experience with resin was the 1/48 scale Bf 109 detail set designed for Monogram's Bf 109G. This was a great little set that put me firmly in the Cooper Details Fan Club.
F i r s t L o o k -
C D 4 8 1 5 : S p i t f i r e 2 2 / S e a f i r e 4 7 C o c k p i t K i t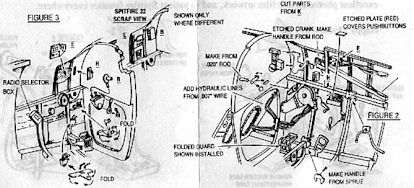 Good things really do come in small packages.
Cooper's new late Spitfire cockpit set comprises over 70 parts. The majority are cast in a creamy yellow resin. Larger parts such as sidewalls and the pilot's seat are cast onto individual mould blocks, while small parts are either surrounded by a wafer of resin, or accompanied by other small parts on a resin block.
Make sure you're familiar with the subject before parts cleanup - you'll need to be clear about what parts are kit and what parts are sprue!
Removal of parts is not as daunting as it first looks. A few swipes with a sharp knife will take care of the casting blocks, although extreme care will be required removing the block from the pilot's seat. Small parts encased in a wafer of resin may easily be removed by sanding. My preferred method is to pin down a piece of 600-grit paper, and apply gentle finger pressure on the part - rotating the part on the static sandpaper. Any remaining flash can be tidied up with a sharp knife.

Casting quality is superb. All parts are crisp and proud in relief. There are no air bubbles on my example. Comments about flash are not really appropriate, as resin "flash" is part of Cooper's moulding process! Photo etch brass is limited to a single small fret, but it is packed with details etched in half-relief.
Engineering of the set is thoughtful. A new false fuselage floor with moulded-on detail is supplied. This ensures a solid base for the cockpit components, whilst retaining the impression of the "bottomless cockpit". Spitfires did not have a cockpit floor - only rails and control rods. Cooper's set conveys this perfectly.
The seat is a real standout. The lap belts and the lower half of the shoulder harness is moulded onto the seat in resin, while the upper harness is a separate brass item.
Brass is also used for the instrument panel. Although I'm a big resin fan, I really prefer this style of instrument panel, particularly when it is combined with acetate backed instrument details. Cooper's acetate instruments are very sharp indeed.
A brief check of my references indicates that this set is pretty much complete for the final Spitfires' busy "office". Where appropriate, alternate parts are supplied for the Spit 22 or for the Seafire 47.
Roy Sutherland's instructions have always been comprehensive. This set is no exception. Step-by-step instructions are accompanied by scrap-view drawings. Many other resin manufacturers should take a leaf out of Mr Sutherland's book in this respect!
The instructions point out that this is not a "shake to assemble" kit. The key to painless and successful construction will be preparation of the kit parts per instructions - mainly the removal of sidewall detail and thinning of the fuselage halves.
This set will require a fair degree of work, but the results will be spectacular. Is this the ultimate Spitfire cockpit set? You bet!
Highly recommended.
F i r s t L o o k -
C D 4 8 1 4 : S p i t f i r e M k . 2 2 / 2 4 U p g r a d e K i t
For those who prefer a "shake to assemble" detail set, this may be for you!
This 19 piece, all resin set provides some cosmetic improvements for most of the external shortcomings of the Spitfire F.22/24 kits.
There is a new, improved spinner, prop blades (including one spare), correctly squared-off radiators, rudder and trim tab; plus drilled-out exhaust stacks and new cannon stubs. The barrels of these parts are drilled out too. New wheels are also supplied. These parts are very subtly flattened and almost imperceptibly bulged.
Casting is again flawless and extremely sharp. A few chunky casting blocks mean that careful cleanup of parts is essential. However, the only surgery required to the donor kit is the squaring-off of radiator fairings. These parts are incorrectly supplied in the Airfix kit as trapezoid.
This uncomplicated set will add a great deal to the appearance of your Airfix Spitfire, and is far simpler than trying to scratchbuild these modifications. It also represents a great complement to the Cooper's cockpit detail set!
Also highly recommended.
Thanks to Roy Cooper for the review samples
---
Cooper Details products are available at retail hobby stores or direct from the manufacturer at
Cooper Details
PO Box 2711
Fremont CA 94536-0711
Email: COOPERDTLS@AOL.COM
---
Review Copyright © 1998 by Brett Green
This Page Created on 18 October, 1998.
Last updated 22 July, 2003.
Back to HyperScale Main Page
Back to Reviews Page