Douglas A-4E/F in Navy Service
and
Douglas A-4E/F in Marines Service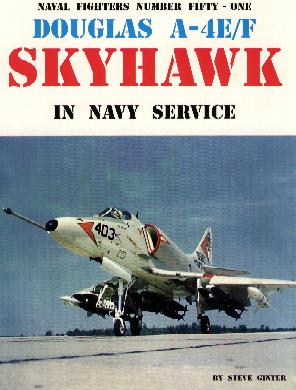 Ginter
S u m m a r y

Title, ISBN and Price:
Douglas A-4E/F in Navy Service; ISBN 0-942612-51-5; AUD$50
Douglas A4E/F in Marine Service; ISBN 0-942612-52-3; AUD$27
Media:
See Text
Review Type:
First Read
Advantages:
Plenty of photos; good historical and squadron coverage; variants described
Disadvantages:
No colour photos in body of books.
Recommendation:
Both Highly Recommended
Reviewed by Paul Gillan
Today I received the two new Ginter A-4E/F books. After a brief scan I thought I best pass on my findings to my fellow Hyperscalers.
Naval Fighters Number Fifty One is titled "Douglas A-4E/F in Navy Service" (ISBN 0-942612-51-5). Perfect bound with full colour glossy cover, the book contains 169 pages of black and white photos, line drawings and publication extracts. The first 61 pages give a brief history of the development of the type and an in depth description of the major sub assemblies of the aircraft. This section relies heavily on, what I assume is, manufacturers/USN publication extracts. Both cockpits and seats are well illustrated though no photos are included. The undercarriage is covered and excellent photos accompany the TO extracts. The weapons carried by the Scooter are also covered and well illustrated.
The next 105 pages cover each USN squadron (active, training, test, aggressor and display) that operated the Scooter in it's years of service. The squadrons formation and history are briefly described with the emphasis of the text then moving to the units Skyhawk history. Each squadron only receives a couple of pages and in the text combat losses are described with pilot details and aircraft tail number listed in most instances. The text describes the squadrons eventual fate, whether it was upgrades or retired. Several photos of the squadrons aircraft accompany the text.
The last couple of pages list the USN Scooter driver Navy Cross winners and provide a list of major differences between the aircraft types, finishing up with a three view plan of and A4E.
Naval Fighters Number Fifty Two is titled "Douglas A4E/F in Marine Service" (ISBN 0-942612-52-3). Full cover card cover with a stapled finish, sixty four pages cover the USMC Scooter operators in the same format as NF51. The last five pages briefly illustrate and describe the available A4E/F kits, including the new Hasegawa and Hobbycraft offerings. This book is a companion to NF51.
The fact that the only colour photos in either publication are on the cover is a little disappointing but doesn't make the books less worthy of seeking out. The black and white images are clear and provide a catalyst for the modeller to do a little more research into a particular colour scheme. For any modeller keen on Scooters, both books are a 'must have' commodity.
Steve Ginter should be congratulated on these fine references. Steven Albright co-wrote the USMC book.
I bought my books
(
yes! purchased them
)
from Craig Chidley (
aeroworks@primus.com.au
) at AeroWorks, 14 Lewis Court, Montague Farm,S.A. 5095 AUSTRALIA. The books cost AUD$50 and AUD$27, plus GST, respectively. I highly recommend Craig to any prospective purchaser.
Highly Recommended.
---

HyperScale is proudly sponsored by Squadron
---
Review and Images Copyright © 2001 by Paul Gillan
This Page Created on 30 July, 2001
Last updated 22 July, 2003
Back to HyperScale Main Page
Back to Reviews Page