The Air War Over The Eastern Front

Volume 1, Operation Barbarossa, 1941

Volume 2, Resurgence, January-June 1942

by

Christer Bergström and Andrey Mikhailov

Pacifica Military History
S u m m a r y

Media:
Vol 1. Hard cover; 8.5 x 11 format; 336 pages, matte paper, with 187 Photos, Maps, Index & Appendix. ISBN 0-935553-48-7

Vol 2. Hard cover; 8.5 x 11 format; 232 pages, glossy paper, with 160 Photos, some in color, 31 color aircraft profiles by Claes Sundin, Tom Tullis and Jim Laurier. Maps, Index & Appendix. ISBN 0-935553-51-7

Price:
US$39.95 RRP
Review Type:
First Read
Advantages:
Volume 1, fascinating insight into one of the largest air campaigns of WW2 but also one of the least known. Pilot descriptions of air to air engagements and meticulously researched accounts of day to day battles in the skies over the Eastern Front.

Volume 2, builds on the benchmark set by Vol 1. narrative of tactical operations lends itself to a great feel for harsh conditions and monumental losses encountered by both sides. Color artwork and profiles by Claes Sundin, Tom Tullis and Jim Laurier are a great bonus for modelers of Eastern Front Aircraft!

Disadvantages:
Some photos and maps in Volume 1 are dark and blurry, no color, matte paper seems to not reproduce sharp images. These have been addressed in Volume 2 and hopefully further Volumes will be in same glossy format.

Can be expensive for Australian modelers if bought from mainstream book stores. Prices of AUD$110.00 are not uncommon. It will pay to shop around or even buy from overseas. Wife will kill me when she realizes that there are 4 more volumes yet to be bought!

Recommendation:
Highly recommended for modelers and history buffs alike.
Reviewed by Mark L Tucker


HyperScale is proudly sponsored by Squadron
This is not your typical review as it has been some time, August 2000, since the release of the first volume in the Black Cross/Red Star series.
I had actually purchased Volume 2, Resurgence, January - June 1942, before obtaining Volume 1, Operation Barbarossa 1941. I was tempted to buy Volume 1 some time ago but was put off by the omission of color artwork and the lack of modeler references. I seem to purchase books from a purely modeling point of view i.e. is it a subject that I am interested in and does it have references that I can use in construction of my models. Color, profiles and drawings are a big draw card to me.
It was only after starting to read Volume 2 that I gained somewhat of an insight into how great this series was going to be that I decided to go out and buy Volume 1.
Whilst Volume 1 has great detail and a narrative feel about it, a style of writing which I enjoy, I thought the book suffered from some problems with blurry and dark photos and maps. I also found some of the text hard to read because the matte paper seemed to allow the text of the reverse side of the page to show through. These shortcomings have been overcome in Volume 2. This has been printed on glossy paper, similar to that seen in the Classic Publications Me 262 series.
Volume 2, to me as a modeler has a much more appeal. There are 31 color aircraft profiles by Claes Sundin, Tom Tullis and Jim Laurier. Most of you would be familiar with Claes and Tom's work from books such as Schiffer's Luftwaffe Fighter Aircraft In Profile, Eagle Editions EagleFiles series and Classic Publications Luftwaffe Classics series. I haven't seen any of Jim Laurier's work before but I must say that I do like the profiles he has done in this book.
Here is a small profile of one of the aircraft featured in Black Cross Red Star, Volume 2, Resurgence January-June 1942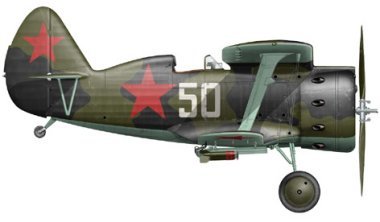 By Claes Sundin
Polikarpov I-153, Starshiy Leytenant Alexsandr Baturin, Deputy commander of
1 Eskadrilya/71 IAP/61 AB/VVS-KBF, Bychye Pole, Soviet Union, Summer 1942
Whilst these books are not written purely for the modeler they will form a valuable part in anyone's library of references. The information and some of the more interesting facts such as the parasite fighter I-16 fighters loaded with bombs and carried underneath the wings of TB-3 bombers as well as the Soviet tactics of ramming not only air targets but ground targets are fascinating.
On a side note. It would be great to see a set of decals released for some of the aircraft depicted in the profiles contained within. I know most of the aircraft may have decals available by other manufactures and that some of the aircraft depicted may not be available in kit form but it would be nice to have.
Maybe something for Christer and Andrey to include in the next installments in the series? Who knows, its just a thought.
Finally, a great series so far, can't wait for the next book. Go out and buy Volumes 1 & 2 if you haven't already done so.
Highly Recommended.
Thanks to Craig Chidley from Aeroworks aeroworks@iprimus.com.au 14 Lewis Court, Montague Farm, S.A. 5095 AUSTRALIA, for tracking down Volume 1 for me.
---
Black Cross Red Star is available from http://www.pacificamilitary.com overseas or aeroworks@iprimus.com.au in Australia
---
Review Copyright © 2002 by Mark L Tucker
This Page Created on 13 February, 2002
Last updated 22 July, 2003
Back to HyperScale Main Page
Back to Reviews Page