Arado Ar 68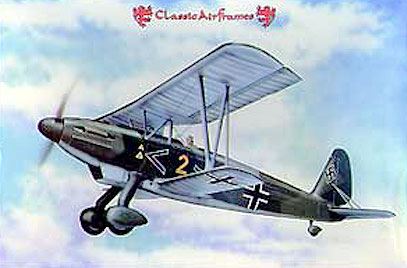 Classic Airframes


Classic Airframes' 1/48 scale Arado Ar 68 is available online from Squadron.com
S u m m a r y

Catalogue Number :
450
Scale:
1/48
Price:
USD$34.95 RRP (USD $29.96 from Squadron.com)
Contents and Media:
Gray styrene; resin detail parts; decal sheet with four marking options.
Review Type:
FirstLook
Advantages:
Simple parts breakdown; well detailed (especially the cockpit); minimal rigging; parts supplied for E or F variants; .
Disadvantages:
Some modeling skills required
Recommendation:
Recommended for experienced modellers.
Reviewed by Lynn Ritger
The second aircraft designed by the talented Dipl.Ing. Walter Blume, the Arado Ar 68 entered service as the successor to the Heinkel He 51. There was initially some reluctance on the part of the active-duty pilots as to the superiority of the Arado over the older Heinkel design, but a spirited display by Ernst Udet soon put paid to those misgivings.
From early 1936 onwards, the Arado became an increasingly common sight on Luftwaffe airfields, and featured in the succession of daring diplomatic bluffs perpetrated by Hitler on the nations of Europe througout the latter part of the 30s. From the reoccupation of the Rhineland on 7 March 1936 (with III./JG134 "Horst Wessel"), on to Anschluss of Austria and the bloodless selling-out of Czechoslovakia in 1938, the Ar 68 formed an integral part of the Luftwaffe until mass-production of the vastly superior Bf 109 supplanted the biplane in operational fighting units.

As an indication of just how rapid that changeover took place, the Luftwaffe still had 640 Ar 68s on operational charge on 26 September 1938, versus 171 Bf 109s. One year later, the figure had withered to a mere 28 Arados compared to 747 Bf 109s. The remaining Arados were sent to various Jagdfliegerschule (fighter schools) throughout Germany, Austria, and Czechoslovakia.
---
Arado Ar 68 Colors and Markings
For those interested in what the various colors and markings mean on these prewar Arados and Heinkels, the following explanation may prove to be of some interest:

--Cowling and decking colors denoted an "Traditional" color assigned to the unit, with the following examples being most familiar:
Black = JG131

Red = JG132 "Richthofen"

Brown (RLM26) = JG134 "Horst Wessel"

Blue = JG135

Green = JG137

Orange = JG234 "Schlageter"
The following markings denoted an aircraft's assignment to a given Staffel:
1. Staffel = solid cowl color, no markings aside from aircraft number

2. Staffel = single white stripe around cowling and aft fuselage, often bordered by "Traditional Color" if applied

3. Staffel = a single white dot applied to the forward and upper cowling, both sides of the aft fuselage, and beneath the aircraft.
There are examples of Ar 68Fs in the markings of JG131, 134, 135, and 234 in the aforementioned Jagdwaffe book all sporting "Traditional" colors; there are also "clean" versions showing only an aircraft number or Stab markings, as well as two Ar 68Es in wargames markings with large red circles painted over the fuselage and wing Balkankreuze.
---
Luftwaffe '36...
While there has been a seemingly never-ending surge of interest in "Luftwaffe 46" subjects, I've found myself increasingly drawn to the opposite end of that spectrum; "Luftwaffe 36", if you will. The Ar 68 has appeared in 1/48 just once before to my knowledge, as the subject of a very well-done Karo-As vacuform which I'm fortunate to have. As the last biplane fighter to enter Luftwaffe service, it certainly holds a historic place, and now Jules Bringuier has seen fit to bring us a gorgeous kit which allows one to model either the Jumo 210-powered Ar 68E, or the more common BMW VI-powered Ar 68F.

In going through various books I have on the Luftwaffe, it's apparent that the early years have not been very well served until recently. Thankfully, Classic Colours has come to the rescue with their Jagdwaffe series, and the very first book in this group should be considered an indispensable resource to anyone wishing to model the He 51 or Ar 68 in Luftwaffe service. It is from this series of books, in fact, that the markings for the kits are drawn; kit 453 features "weiße 7" of 3./JG135 at Bad Aibling and "weiße 3" of 3./JG131 in East Prussia, both based on photos in Section 1, Vol. 1, and there is also one Spanish Civil War variant taken from Section 1, Vol. 2. Kit 450 features the Arado in decidedly less colorful plumage, including two nightfighters in overall black and a single nightfighter in 70/71/65, all from 10.(N)/JG53 early in the war, and an option for a III./JG132 machine at Jüterbog-Damm in the fall of 1938.
Classic Airframes' 1/48 Ar 68


Classic Airframes' new 1/48 scale Arado Ar 68 kit is well thought-out, with a minimum of parts. The resin interior is particularly well done.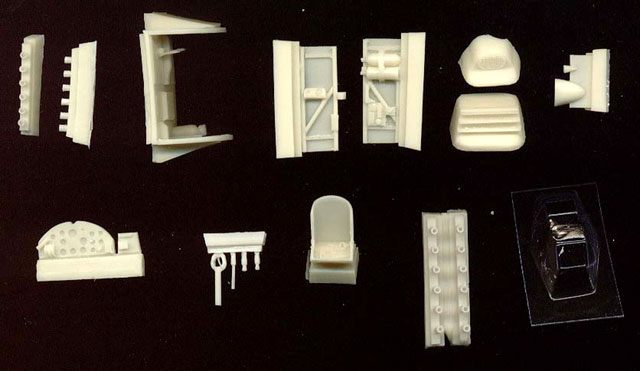 Of special note is the fact that this aircraft requires a grand total of three (3) flying wires per side, thus making this an ideal candidate for those who are traditionally afraid of biplane models because of the profusion of rigging.

It is possible to build an AradoAr 68E or F from this kit, with the appropriate cowling parts for both versions being supplied, including the enormous exhaust manifolds for the nightfighting F models. The instructions call for separating the individual exhaust tubes for the F model, but a quick dry-fit shows these to fit right into the holes on the kit as they sit on the casting block- a bit of reaming on the backside of the cowling apertures may pay dividends when inserting these.
Click the thumbnails below to view larger images:
---
John Valo has already completed a gorgeous wartime version of the Arado featured elsewhere on Hyperscale, and as I have two, I am building both concurrently as prewar Luftwaffe versions (both an E and an F) and will submit a feature to Brett with photos of the models upon completion.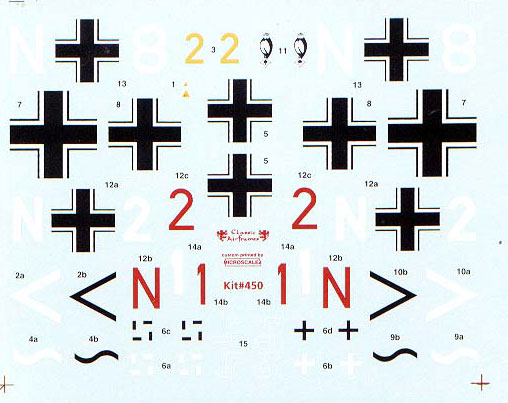 To sum up, this kit further enhances Classic Airframes' reputation for bringing us the best in aeronautical esoterica. It is an historic and attractive aircraft with plenty of visual appeal, and once again we have Jules to thank for making such choices available to us.
Recommended.
Thanks to Classic Airframes for the review sample

---
Review Text and Images Copyright © 2001 by Lynn Ritger
Page Created 16 September, 2002
Last updated 22 July, 2003
Back to HyperScale Main Page
Back to Reviews Page