"WWP No 4 Special on the
TBM/TBF Avenger in detail"
by Frantisek Koran and Mickal Ovcacik
Publisher and Details
Published by RAK, PO Box 35, 170 08 Prague 7, Czech Republic.

Available from specialist book dealers by the time you read this.

Review Type:
Book Review
Price:
Unknown at this stage
Rating:
Highly Recommended
Book Reviewed by Ian Sadler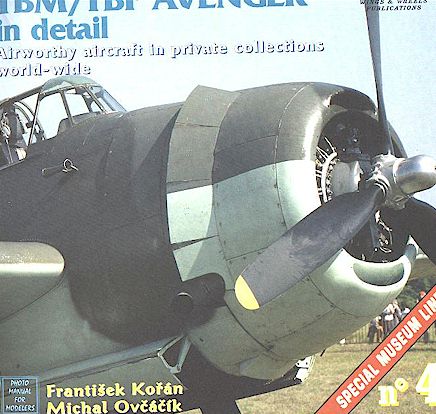 Published in the usual Landscape format of this publisher and on very high quality gloss paper.
It has 74 pages crammed full of 166 colour photographs, with 68 black and white and 6 pages of 1/72 scale plans, also 59 sketch drawings and 6 colour artwork illustrations.
The Text is fully bilingual and is kept to a bare minimum. There is one main page of history and the rest is in the form of captions.
The book is divided into the following chapters:
Preserved aircraft,
Walk around,
Engine details,
Wing details,
Wings folding,
Canopy exterior,
Interior Details,
Turret details,
Gunner / Radio compartment, Bomb bay, Main legs, Tail wheel.
The detail and careful selection of photographs enhanced by the superb sketch drawings leave no section uncovered.
If as an aircraft modeller you wish to build one of several Avengers then look no further than this book for inspiration. I expect to see a lot of very complete models of the Avenger based on this book entered in the competitions this year.
I would even go as far as to say aircraft restorers will use this book.
This is truly a work of love and it is reflected in the completeness of the book.
Once again the authors and publishers are to be congratulated on a museum quality reference book.
It deserves a place on every WW 2 aircraft reference shelf
I recommend it very highly go out and buy one now. It is a magnificent book.
Ian Sadler - IPMS (UK) Armour TAS Leader
---
Review Copyright © 1999 by Ian Sadler
Page Created 23 July, 1999
Last updated 22 July, 2003
Back to HyperScale Main Page
Back to Reviews Page