North American B-25B Mitchell
Accurate Miniatures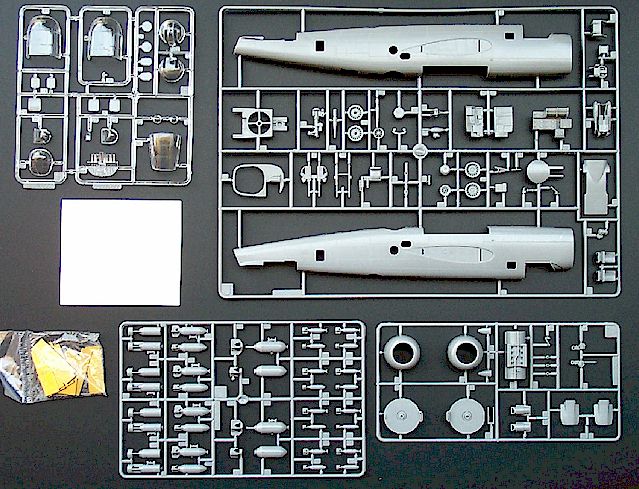 S u m m a r y

Catalogue Number:
#3430
Scale:
1/48
Contents and Media:
Approx 200 plastic parts plus 1 x vinyl mask sheet; 1 x decal sheet with 16 subjects and 13 brass plates (for nose weight)
Price:
US$49.99
Review Type:
First Look
Advantages:
The best B-25 now available; accurate outline; impressive interior detail; many options; appropriate and attractive surface texture and panel lines; decals to depict any of the Doolittle raiders; inclusion of canopy masks and nose weights
Disadvantages:
Some ejector pin and sink marks (although mostly invisible on assembly)
Recommendation:
Highly Recommended for any US aircraft modellers.
Reviewed by Brett Green
The B-25 has been already been released by two manufacturers in 1/48 scale.
Revell's early B-25 was not a great kit and should not be confused with Monogram's (and ProModeler's) B-25J. Monogram's kit appeared as solid nosed, clear nose and strafer versions. In common with many of Monogram's US bomber releases, the B-25 featured nice internal detail and raised but subtle surface features.
I am always impressed by the obvious affinity and affection that the kit designers had with their subjects when I am looking at these old Monogram bombers. They capture the soul of the aircraft as well as the outline.
Accurate Miniatures' 1/48 scale B-25B suggests the same affection for the subject matter, but adds state-of-the-art detail and engineering to the equation.
This is Accurate Miniatures' first in a family of three announced Mitchells. A B-25C/D and B-25G will follow this initial B-25B.
Accurate Miniatures' 1/48 scale B-25B comprises around 200 parts including 20 clear pieces on one sprue and the remaining parts on seven grey sprues. Multi-media components include vinyl masks for the canopy, nose glazing, and the side windows. 13 small brass plates are supplied as nose weights. Nose weights, clear parts, masks, decals and instructions are safely tucked under a false bottom in the box.
The instructions are typical of Accurate Miniatures. Assembly is described in 20 steps using large, clear diagrams and detailed text.
A large foldout historical sheet is included. This reproduces General Doolittle's report on the Tokyo raid comprising general notes on the planning and execution of the raid, plus individual chronicles of the missions of each aircraft.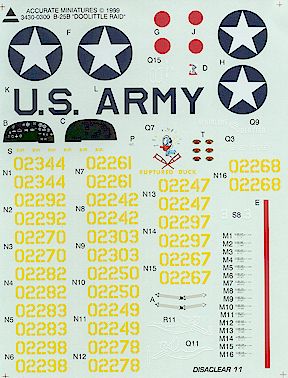 Decals are supplied to permit any of the sixteen Doolittle Raiders to be built, including nose art where applicable.
Surface detail is beautiful. Panel lines are, in the main, recessed with a few appropriately raised structural features. Tyres even feature the "Goodyear" name and logo! Control surfaces are very nice too, with raised fabric detail. All control surfaces are moulded in place (ie, not separate).
There are no ejector pin marks on the outside surfaces of any parts, but a few are present on interior parts including the crew doors, small undercarriage doors, and impossible-to-see recesses of a few bulkheads and fuselage interior. Sink marks are present in small quantity, once again in hidden areas. These tiny imperfections are an almost inevitable consequence of Accurate Miniatures' ambitious detail and engineering.
The transparent parts are very thin and, for the most part crystal clear. However, both turret parts on my sample are very slightly fogged. This should be cured by a quick trip to a bottle of "Kleer"!
The interior is impressive, with structural detail, fabric texture and wiring moulded on to fuselage sidewalls; and a myriad of detail added to create a very complete front and back office. The instrument panel is supplied as a clear part. A decal is applied to the back of the panel, and the front is painted with the instrument lenses left clear. Decal harnesses are also included. The bomb bay is equally good. Several full bomb load alternatives are included. The option of the long-range fuel tank carried by the Doolittle raiders is also offered.

The angle of the characteristic gull wing will be guaranteed by two substantial wing spars moulded with fuselage bulkheads.
Engine detail is very nice with separately moulded cylinder banks added to a delicate pushrod/ignition wire/crankcase part. Propeller blades are very thin. The big clamshell undercarriage doors are moulded shut (these doors were typically only seen open when the undercarriage was extending or retracting) but the small undercarriage doors are well detailed. Gear legs will locate positively in a keyed hole in the wheel bay.
Options include lower gun turret, choice of bomb load, venturi, choice of rear armament (machine guns, dummy guns or no armament), movable turrets (although the instructions recommend that the bottom turret should be fixed facing backward), positionable crew access hatches, alternate canopy and nose guns.
A brief comparison of this kit with Monogram's 1/48 scale B-25J and ProModeler's (slightly revised) B-25J reinforces the quality of Accurate Miniatures' offering. The ProModeler Mitchell is not a bad kit even ignoring the decades between its original release and today; but the Accurate Miniatures' B-25 beats it hands-down in all respects including surface texture, moulding quality and level of detail.
Judging from my earlier experiences with Accurate Miniatures kits, I would recommend close study of the instructions before commencing assembly. Depart from the suggested construction steps at your peril! The model is obviously well engineered but don't expect that it will "fall together" like a Tamiya kit. However, be comforted that the extra effort should be rewarded with a superb result.
Accurate Miniatures clearly pride themselves on the high quality of their product and the B-25B does justice to this aim.
Even in the box, Accurate Miniatures has captured the essence and the outline of the B-25. Surface features and the level of detail is impressive. The inclusion of glazing masks and nose weights are a considerate touch.
Accurate Miniatures' B-25B must rate as one of the most eagerly anticipated models of all time. It looks like it was well worth the wait!
Highly Recommended.
Thanks to Accurate Miniatures for the review sample
---
Accurate Miniatures Kits are available at good hobby shops and mail-order houses
---
Review Text and Images Copyright © 2000 by Brett Green
Page Created 09 February, 2000
Last updated 22 July, 2003
Back to HyperScale Main Page
Back to Reviews Page