The latest Mushroom Model Magazine Special focuses on the carnage left behind after the initial campaigns on the Russian Front by the Luftwaffe and Wehrmacht. A cross-section of the 20,000 Soviet aircraft destroyed in the first months of Operation Barbarossa are featured in this new book.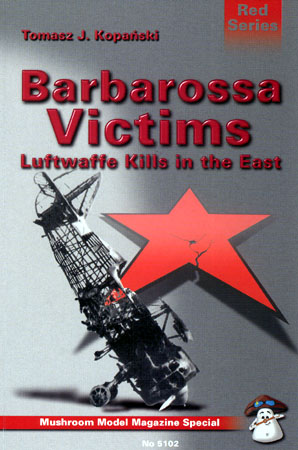 The book comprises 144 pages in 9.5" x 6.5" format, with soft covers and including an eight pages colour profile section.
Introductory text is brief. A selected bibliography is followed by a Glossary of Terms for Soviet aircraft and organisation, eight pages of background text and a few interesting tables describing aircraft production by type, deployment by district, Soviet Order of Battle as at the German invasion, Soviet aircraft captured and maps of the German advance.
The main section of the book commences on Page 23. Over 150 pages of captioned pictures of captured, damaged and destroyed aircraft lays out a staggering vista of the destruction over these first months of Operation Barbarossa. This section is absolutely packed with images. Each page displays two, three or four photos. Due to the small-format of the book, some of these pictures are a little small to really show off the detail that undoubtedly exists in the original photographs. All photos are captioned with information about location and date, where this is available. There is minimal reference to colours applied to the aircraft in the captions.
Apart from the sheer bulk of pictures, the greatest strength of this book is its logical organisation by aircraft type. Twenty-one aircraft types are depicted with between one and nineteen pages devoted to each. The bulk of coverage is the early fighter types - I-152, I-16 and MiG-3 - with strong coverage of bombers too. I particularly like one of the black and green disruptive schemes on a damaged Pe-2.
The eight page colour profile section includes nineteen paintings of fighters, trainers and bombers in a good variety of schemes.
This book provides a feast of photos and information to modellers and students of VVS aircraft.
Recommended