Blohm & Voss 212 P.03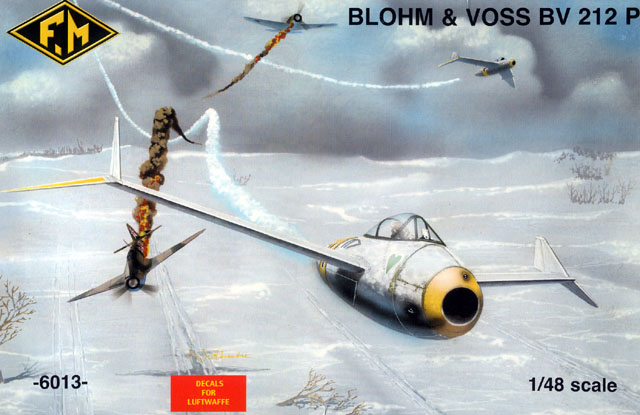 Fonderie Miniatures

Fonderie Miniature's 1/48 scale Blohm & Voss 212 P03
is available online at Squadron.com
S u m m a r y

Catalogue Number:
Stock No. FN6013
Scale:
1/48 scale
Contents and Media:
40 limited-run injection plastic parts; 16 white metal parts; 1 resin part; 2 vacform
Price:
USD$33.96 from Squadron.com
Review Type:
First Look
Advantages:
Effective use of multi-media; nicely detailed resin cockpit; robust and detailed white-metal landing gear; spare vacform canopy supplied; boxed-in wheel wells, intake and jet pipe - no "see-through" effect.
Disadvantages:
Modelling skills required: rough surface texture on plastic parts; butt-join for wings to fuselage; trimming required for correct anhedral of outer stabilizer surfaces
Recommendation:
Recommended to experienced modellers who are fans of Luftwaffe '46 subjects.
Reviewed by Brett Green
Modellers who build "Luftwafe '46" project aircraft are certainly well catered for today. With AmTech's 1/48 scale Ta 183 due for release this month, Planet Models recent Focke-Wulf Triebflugel, Huma's lovely 1/72 scale Ju 288 and more, "Luft '46" modellers have never had it so good!
Added to this growing list is Fonderie Miniature's 1/48 scale Blohm & Voss BV 212 P.03.
The BV 212 was a project aircraft designed to use the powerful yet compact HeS 011 jet engine. This design was in competition with the Ta 183 for a new high-altitude fighter. Although the Ta 183 eventually won the right to full production, the tailless BV 212 design was extensively tested and limited orders were placed. Construction of the BV 212 commenced in May 1945, but was cut short by the end of the war in Europe before any aircraft were completed.
For more information about the Blohm & Voss BV 212, see Dan Johnson's "Luftwaffe '46" site.
Fonderie Miniature's BV 212 P.03 is a limited-run, multi-media kit. The kit comprises 40 low-pressure injection moulded parts, a single resin part and 16 pieces in white metal. The canopy is provided as a vacform part, and a spare is supplied. Markings for two schemes are also included.
The bulk of the kit is styrene. The plastic parts feature consistent engraved detail, but most of the parts display an orange-peel texture. Ragged flash is also present on most parts. Sanding and polishing will be required. The wing trailing edges are a little thick and will benefit from thinning before the halves are joined. Wheel wells are detailed with structural features. Ejector pin marks are present inside the wheel well cavity so they will be almost invisible without the aid of a mirror and flashlight!
Click the thumbnails below to view larger images:
The fuselage interior includes alignment marks for the cockpit, but reinforcement of major joins is left to the modeller. The big wings with their outrigger stabilizers are simply butt-joined to the fuselage sides. These critical joins will certainly need reinforcement with metal rod or wire to ensure a permanent bond. The instructions also note that the outside of the wing will have to be trimmed to achieve the correct anhedral for the stabilizers. This will be a tricky exercise. The safest approach might be to build a temporary jig to hold the fuselage and wings, and to set the angle for the outrigger stabilizers.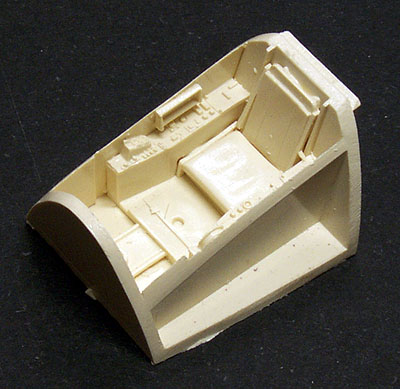 The cockpit tub, side consoles and seat are supplied as a single resin part. This is a very nice casting with switch detail and a convincing texture for the seat cushion, although the harness is not depicted. Plastic parts are added for the instrument panel, rudder and control column.
The undercarriage is supplied in white metal. This media will ensure maximum strength plus a measure of adjustment after the legs are secured to the fuselage. The white metal parts are nicely detailed - they should look great after the customary clean-up. A robust undercarriage will be a big advantage because it looks to me as if plenty of nose-weight will be required to prevent this model being a tail-sitter!
The canopy is supplied as a vacform part. This is quite thin and clear. A spare is provided in case of mishaps while the canopy is being removed from its backing.
Instructions are supplied on two double-sided sheets of A4 paper using exploded view drawings. These drawings are generally adequate for this simple model. Additional placement diagrams are provided for the main gear and nose gear to clarify the correct angle from the forward and side views. Painting suggestions are also supplied on these pages, but one of the joys of a kit such as this is that the imagination can run wild with hypothetical paint schemes.
Modelling skills are definitely required to build Fonderie Miniature's 1/48 scale Blohm & Voss BV 212 P.03. In particular, prior experience will be necessary to adequately clean up the plastic parts, reinforce the major joins and achieve perfect alignment of the complex wing and stabilizer dihedral/anhedral angles.
Patience, planning and plenty of test-fitting will be the best formula for approaching this model.
However, Fonderie Miniature has supplied all the parts to produce an interesting and adequately detailed BV 212 P.03. If you are a fan of Luft '46 aircraft, and have some experience with limited-run multi-media kits, this FM's 1/48 scale BV 212 is certainly worth considering.
Recommended.
Thanks to Squadron.com for the review sample
---
Review and Images Copyright © 2001 by Brett Green
Page Created 13 November, 2001
Last updated 22 July, 2003
Back to HyperScale Main Page
Back to Reviews Page