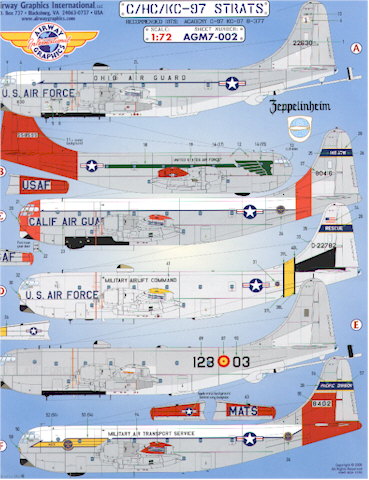 HyperScale's "Wish List" survey of 1999 determined that C/KC-97 Strats were the most wanted kit in 1/72 scale. Academy have now addressed that need with their new family of C/HC/KC-97 Strats. Liveries Unlimited's 1/72 scale sheet number AGM7-002 adds enormous potential for colourful schemes to these big new kits.
The decal set comprises two 8" x 11" decal sheets, one small sheet with silver marking outlines, a double-sided, full colour placement diagram sheet and a detailed instruction sheet.
Twelve subjects are covered on the main diagrams, but Liveries Unlimited also supply the markings for all remaining ANG that flew the Strat on the instruction sheet. These may be photocopied onto clear decal film. Together with the spare serial numbers on the decal sheet, it should be possible to model a large range of Strats. Selection of subjects has clearly been based on variety and colour.
The printing is noteworthy. It is true to say that the colour is well saturated, the detail is crisp and registration is perfect but this still doesn't convey how good these decals look. They are printed by Cartograph in Italy and carrier film has been kept to an absolute minimum. In fact, there is virtually no excess carrier film on cheat lines, national markings and other special markings. This is especially important considering the natural metal finish of most of the subjects. The colours look more like paint than ink. These sheets reek of quality.
The instructions are also excellent. The colour sheet is well supported by detailed notes on each aircraft. General notes on corrections required to the Academy kits are also included.
This beautiful decal sheet should prove a source of inspiration for all aircraft modellers.
Highly Recommended.