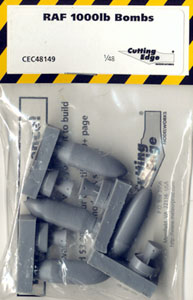 This is a very straightforward resin accessory set comprising 4 x 1/48 scale1000lb RAF bombs.
Each bomb is cast in two parts. The stabilisor fin is attached by the end of the ring and should present few challenges in cleanup and removal. A little more care will be required when cutting the body of the bomb from the casting block, as this surface joins with the rear part of the bomb. A crooked cut will result in a misaligned bomb.
The bombs are cast very nicely in light grey resin. Subtle features such as mounting points and the fusing tip are faithfully reproduced.
These bombs will be handy for anyone building a big RAF bomber. The bombs will be suitable for use in an aircraft, on a trolley or on the ground.
Thanks to Meteor Productions for the review sample