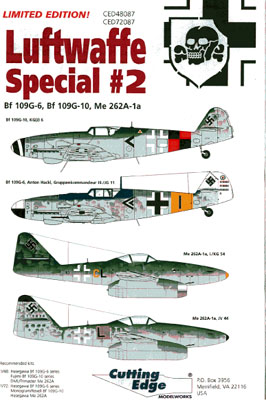 Sheet CED48087 is labelled "Luftwaffe Special #2", and comprises markings for two Messerschmitt Bf 109Gs and two Me 262A-1as.
The subjects include my all-time favourite Bf 109 - Gruppenkommandeur Toni Hackl's Bf 109G-6 of III./JG 11. The real source of my inspiration is the large colour painting in Bernd Barbas' "Planes of the Luftwaffe Fighter Aces Vol. 1" on pages 102 and 103 of the Kookaburra edition. I find the combination of the wide yellow RV band and the white tail to be very appealing. Decals for this aircraft have been elusive until now although, as Murphy's Law would have it, markings for this aircraft appeared on an Aeromaster sheet at about the same time.
Cutting Edge have thoughtfully provided templates to permit accurate placement of the fin hakenkreutz on Hackl's aircraft. An optional decal with the spaces between the arms of the swastika "filled in" with grey is supplied for modellers who do not want to paint the dark background for the national markings.
The remaining two sheets deal with four Focke-Wulf Fw 190As each. There are a number of aircraft with unusual camouflage and markings here too, including a machine with black and white striped cowl, two with diagonal white markings on the fin and a toned-down Fw 190A-7 of 2./JG 11. These subjects are dealt with in Tom Tullis' "Focke-Wulf Fw 190A/F/G" in the Colortech series.
These decal sheets will be of great interest to Luftwaffe fans.
Recommended.
Thanks to Meteor Productions for the review sample