Classic Airframes
New & Forthcoming Releases Update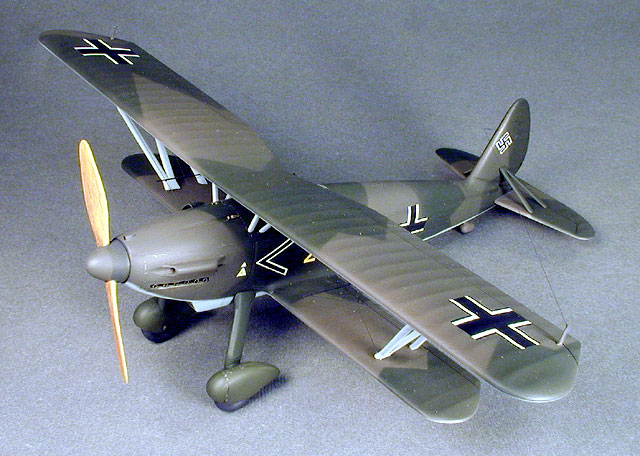 Classic Airframes' 1/48 Scale Arado Ar 68E
Model by John C. Valo
updated December 24, 2002

HyperScale is proudly supported by Squadron.com
Thanks to information supplied by Jules Bringuier, HyperScale is pleased to update Classic Airframes' scheduled new and future releases for. The latest specific news is as follows:
Fabric Wing Hurricane Mk. I
An early Hawker Hurricane Mk. I with Fabric wings will be released in the coming months. The kit will include the Watts, De Havilland and Rotol propellers, also two different types of exhaust, the choice of ventral or no ventral fin, early or late canopy. Scheduled for release in February 2003

The early Hurricane will include markings for the following aircraft:
No. 111 Squadron, (Sqn. Ldr. Gillan's Record Breaker) Circa 1938.

No. 56 Squadron, Circa early 1939.

No. 151 Squadron, Circa August 1939.

No. 1 Squadron, Circa 1940 (France).

Belgian Air Force.

Yugoslavian Air Force.

Regia Aeronautica (captured Yugo. totally repainted in Italian colors).
And maybe one more.
---
DH Hornet
The first Hornet release is shipping now!
Cooper Details will be producing resin underwing stores and wing fold parts for these kits.
After market decals are also likely to be available around the release date.
More information will be available in the coming months..
---
Arado Ar 68
Kit # 450 Arado 68 E/F (Pre War & Spanish Civil War) Suggested Retail Price $34.95 USD.

Kit # 453 Arado 68 E/F (WW II) Suggested Retail Price $34.95 USD.
Both kits are currently shipping in the UK, France, Italy, Germany and the USA.
---
Polikarpov I-152
Shipping now.
---

Breda 65
This project has been cancelled.
---
Please note that the order in the table below does not imply the order of release. The information in the text above and the table below is all that is available at this time. More details of release dates, specific variants, images of the kits and/or boxart will be updated as they become available.
Classic Airframes official list of forthcoming releases is detailed below:

New & Forthcoming Kits from Classic Airframes
When

Scale

Kit

Image (when available)

TBA
1/48
Bristol Beaufort
Oct/Nov 2002
1/48
Polikarpov I-152
TBA
1/48
Gloster Meteor (Post W.W.II versions) both single and two seater
1/48
Breda 65 - CANCELLED
TBA
1/48
Polikarpov I-15
TBA
1/48
Boulton Paul Defiant (100% new tool)
TBA
1/48
Reissued Fiat CR.32
TBA
1/48
Reissued Westland Whirlwind
Already Announced for 2002
NOW
1/48
Savoia-Marchetti SM.79

Click thumbnail above
December 2002
1/48
Hornet Mk. 1 & Mk. 3; Sea Hornet and NF.21 - Shipping Now


NOW
1/48
Arado Ar 68 - Shipping Now


Thanks to Jules Bringuier of Classic Airframes. Classic Airframes kits are available worldwide through Squadron.com, in Australia via JB Wholesalers and worldwide through hobby retailers.
---
Page Created 07 February, 2002
Last updated 22 July, 2003
Back to HyperScale Main Page
Back to Reviews Page