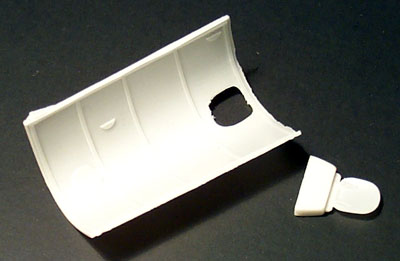 CMK's Fuel Set includes a one-piece fuel tank complete with forward and rear bulkheads, glycol tanks, fuel caps, strap detail and wiring all moulded on. This is a great piece of casting! A shallow casting block on the bottom of this part can probably be left in place. It should not foul with the kit parts.
The remaining parts are an ultra-thin cover with internal structural detail, and a fuel access flap.
The instructions suggest thinning the kit's fuselage sidewalls before installing the fuel tank. I'd further recommend lots of dry-fitting to ensure the best possible fit for the cover on the kit fuselage.
One of the few criticisms of Tamiya's 1/48 scale Dornier Do 335 is the relentlessly dull splinter camouflage finish. This set will help break up all that green with a splash of black and grey! CMK's Fuel Set is certainly a simple way to make people look twice at your Arrow, and at less than USD$8.50 it won't break the bank either.