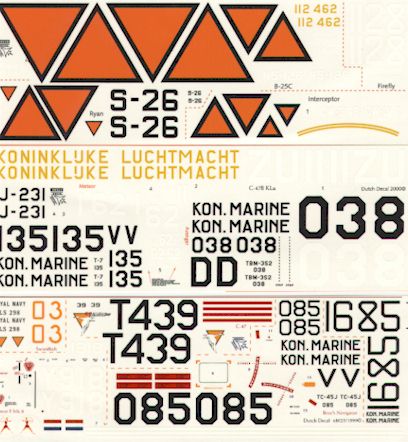 With an ever-increasing number of good model kits available, the modeller's focus must sometimes shift to a desire for their model to look different.

Dutch Decal offers the ability to individualise a whole range of kits in Dutch markings. Dutch Decal have shown no favour to mainstream manufacturers - their obvious intent is to cover as many Dutch subjects as possible, be they injection moulded plastic, short-run resin or vacform. Some rare kits are represented, including the tough-looking CW-21 Interceptor (available as a vacform model from Sierra Scale Models) and Beech Navigator.

The registration on all four of these small decal sheets was perfect, and colour saturation and sharpness look great.

The decals include WWII style orange triangle markings where appropriate, but the later Dutch roundels are not supplied. These will have to be sourced from sheet 72029.

I was pleased to see stencil details for the Meteor F.8, as the Aeroclub kit decals were poor. The replacements look very good.

Highly Recommended for anyone contemplating a Dutch aircraft subject.