Dutch Decals latest releases tackle their biggest subjects yet.
Sheet 72/13 supplies a full A4 size decal sheet permitting the construction of either of two KLM Super Constellations.
These aircraft are finished in an attractive scheme of white upper fuselage with natural metal wings and lower surfaces. Trim is in blue. More interest is added by way of large panels of black and light grey on the wings.
Surprisingly, decals are not supplied for the three red-white-blue rudders. All other markings are supplied with the exception of walkways and de-icing boots. These may be painted by the modeller, or sourced from CloudMaster sheet 72/10.
The A3-sized instruction sheet includes plenty of drawings, scrap views and photos of the subject aircraft.
Sheet 72/14 is supplied in the same format as the earlier release. Markings for one natural metal Constellation in service with South African Airways; and one SAA DC-3 are included. Window decals for the Constellation are supplied, but the rectangular windows for the DC-3 will have to be either cut out or painted on.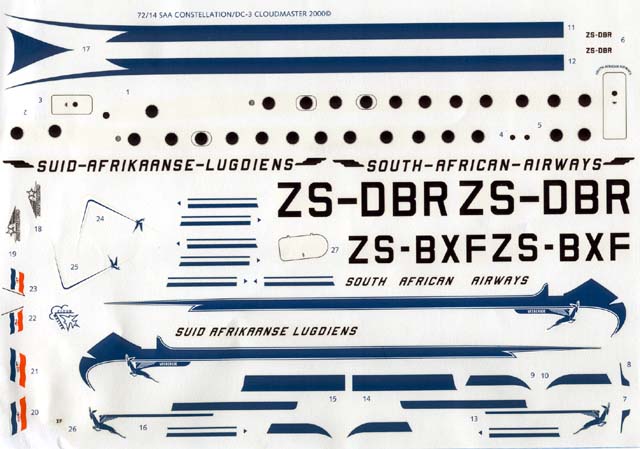 Registration and colour saturation on both sheets is very good.
These decal sheets will be a good way to acheive a striking finish to Heller's Connies or Italeri's DC-3.
Recommended.