Dutch Decals latest releases in the Cloud Master series continue to tackle the big subjects. The first Cloud Master offering in 1/48 scale is also present in this batch of decals.
All three releases supply a full A4 size decal sheet permitting the construction of some interesting options. Specifically, each sheet includes:

Cloud Master 72/17
This is a full A4 sized decal sheet with black and orange registration letters of various sizes suitable for 1/72 scale models of Constellation, DC-2, DC-3 and DC-6 aircraft in KLM or KNILM colours (click thumbnail to the right to view larger image).
Instructions are supplied in both Dutch and English.
---
Cloud Master 72/18
This is another full sized sheet in 1/72 scale, this time for Italeri's DC-3 and Hobbycraft's Beaver. This large sheet includes markings for four DC-3s and a single Beaver. All the DC-3s feature the red, white and blue rudder. Decals are supplied for the red and blue sections - nice touch! One of the DC-3s wears two broad yellow fuselage and wing bands over natural metal, two more are overall natural metal and the remaining subject has a white upper fuselage with orange upper wings! The 1/72 scale Beaver is similarly marked to this colourful DC-3.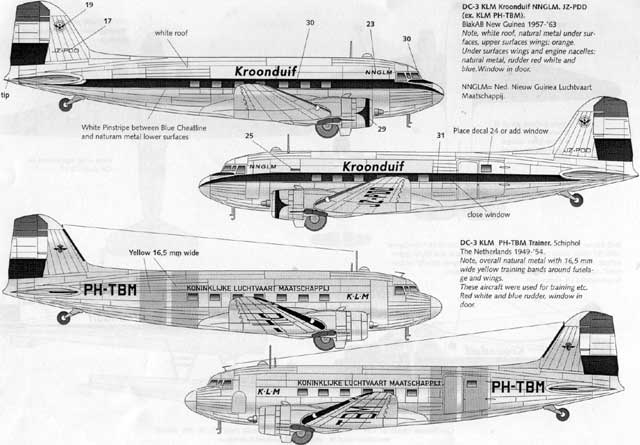 The big decal sheet includes cheat lines and even curtains for the windows of the DC-3.
---
Cloud Master 48/1
This sheet provides markings for five overall natural metal Lockheed 14 "Super Electra" airliners.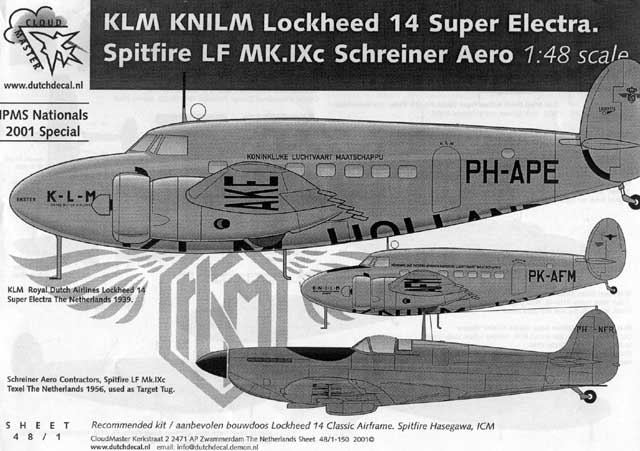 The Classic Airframes Hudson I kit should be used for these subjects. A single Spitfire LF Mk. IXc in overall orange is also included.
---
Registration and colour saturation on all sheets is very good on all sheets.
These decal sheets will be a good way to achieve a very different finish to any of the subject aircraft.
Recommended.