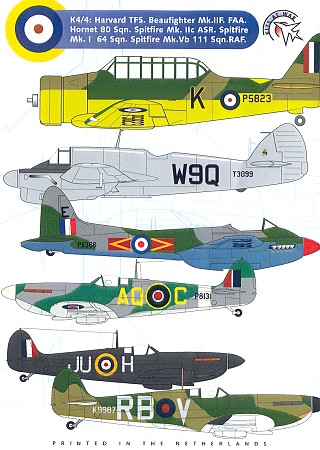 Dutch Decal's sheet K4/4 continues their focus on FAA and RAF subjects.

This sheet includes a natural metal Beaufighter, a yellow-bottomed Harvard TFS, a Hornet in camouflaged upper surfaces and PRU Blue underneath (with a very snazzy fuselage flash typical of British fighters of the 1950s), an all-black Spitfire Vb, a Spitfire IIc (an unusual armament variation) with yellow codes and finally, my personal favorite, a Spitfire I at the outbreak of war with black and white undersurfaces.

Vacform modellers and conversion-holics will be grateful to Dutch Decals for the variety of markings supplied for their Hornet and Beaufighter II kits. The opportunity to convert Tamiya's Spitfire I to a Spitfire IIc may also interest some modellers.

Registration is perfect on this sample sheet. The colours are rich and opaque.

This decal sheet represents another great opportunity to make your Spitfires, Beaufighters and Harvards stand out from the crowd. And if you have Dynavector's Hornet Mk. 3, this is a rare and relevant decal sheet for you!

Recommended.