EagleCals #40 - #42 are available online from Squadron.com
S u m m a r y

Catalogue Number:
EC32-40: JG1, JG11, and JG54
EC32-41: JG3, JG53, and JG54
EC32-42: JG3, JG5, JG52, and JG77
Scale:
1/32
Contents and Media:
Two 205mm x 140mm decal sheets; six page foldout colour instructions and reference guide.
Price:
RRP USD$10.00 each (USD$8.96 each from Squadron.com)
Review Type:
First Look
Advantages:
Great range of markings and schemes; excellent instructions with reference photos; stencil data included; four subjects per sheet; perfect registration and colour saturation; minimal carrier film.
Disadvantages:
Recommendation:
Highly Recommended

Reviewed by Lynn Ritger
The latest batch of decals from Jerry and Judy Crandall recently arrived in the post. They serve to further solidify Eagle Editions' well-deserved reputation for in-depth research and quality products.

All of the sheets feature four markings options for Bf109G-6 models, with the individual sheet breakdowns as follows:
---


EC40: JG1, JG11, and JG54
As suggested by our own Brett Green a few months back upon the release of the superlative 1/32 Hasegawa Gustav, EagleCals now offer a fully accurate rendition of Anton Hackl's Stab./JG11 G-6/R6 "Kanonenboote" in this sheet, along with the following three other aircraft:
"Gelbe 9 + |", piloted by Fw. Emil Hecker of 9./JG54 at Ludwigslust, Germany in the spring of 1944

"Schwarze 14 + |", pilot and W.Nr. unknown of 8./JG1 at Detmold, Germany in February 1944

"Weiße Dreiwinkel + -", a G-4 modified to G-6 standard with W.Nr. 19456, and flown by none other than Oberst Hannes Trautloft.
---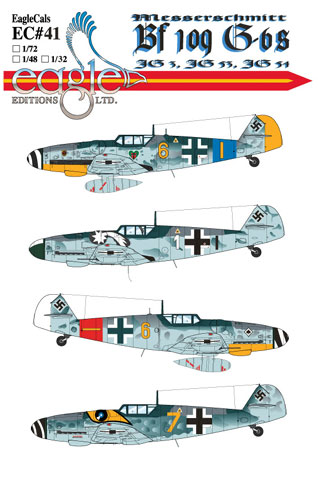 EC41: JG3, JG53, and JG54
The following highly attractive options are to be had on this sheet:
"Gelbe 6 + |", piloted by Fw. Fritz Ungar of 9./JG54 at Ludwigslust, Germany in February, 1944. Features a yellow rudder and blue 24 RVT band.

"Weiße 1 + |", G-6/R6 W.Nr. 26024 of 7./JG3 Staffelkapitän Hptm. Karl-Heinz Langer in the fall of 1943. This machine sports the "comet" emblem of III/JG3 in white over the "Beules" on the cowling.

"Gelbe 6 + -" , a G-6/R6 of 6./JG53 AND II/JG301 (simultaneously) at Vienna in January 1944… this is a fascinating and beautiful aircraft, with the white rudder, red Wilde Sau rumpfband, yellow lower cowl, and Pik As emblem over a standard 74/75/76 scheme.

"Gelbe 7 + -", an early G-6 of Hptm. Wilhelm Lemke of 9./JG3 at Bad Wörishofen, Germany in the summer of 1944. "Art Deco" is about the only way to describe the unusual "eye" motif applied over the "beules"…it will make for a striking aircraft when completed!
---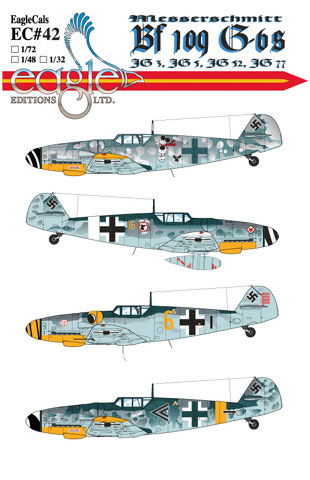 EC42: JG3, JG5, JG52, and JG77
This sheet is rather heavy on aces' mounts, with three of the four pilots being highly experienced "Experten":
"Mickey Mouse", an early G-6 of Major Horst Carganico of II./JG5 at Alakurtti, Finland in March 1944. The dirty and spotty white winter overcoat will make for a visually stunning aircraft!

"Gelbe 16" of 9/JG77, an early G-6/Trop. The very small Staffel number and double unit badges provide an interesting element to this otherwise standard Mediterranean theatre aircraft.

"Gelbe 6 + |", G-6/R6 W.Nr. 18807 of Alfred Surau, 9./JG3. This is a relatively well-known scheme, thanks to its inclusion in the old Otaki/ARII 1/48 Bf109G-6. However, the markings as provided on this sheet are fully accurate, including 43 victory bars on the rudder (as of 6 Sept 1943). Surau was shot down and killed in this aircraft on 14 Oct 1943.

"Schwarze Doppelwinkel- 5" of II./JG52 Gruppenkommandeur Hptm. Gerhard Barkhorn, second ranked ace in the world with 301 victories. Another early G-6, Barkhorn's distinctive markings and his status make this an excellent choice.
---


As is to be expected from EagleCals, each aircraft option is thoroughly researched with supporting documentation and aircraft-specific details called out in the instruction sheets. Photographs of the aircraft are included where available as well.
A very complete set of stenciling is included with each set, and every marking was in perfect register on my samples. Past experience with EagleCals has shown them to be very easy to work with; carrier film is kept to an absolute minimum, and the markings have a high degree of opacity.

Overall, these should prove to be extremely popular choices given the subject matter and the colorful and unique options on each set.
Highly recommended.
My thanks to Eagle Editions for the review samples.

---
EagleCals decals are available from Eagle Editions Website or Hobby Retailers
---
Review Copyright © 2002 by Lynn Ritger
This Page Created on 23 January, 2002
Last updated 22 July, 2003
Back to HyperScale Main Page
Back to Reviews Page