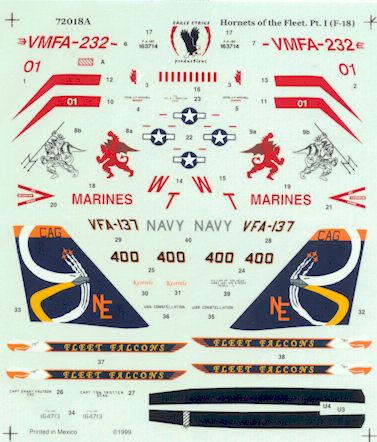 F/A-18C Hornet Decals
Eagle Strike Productions
S u m m a r y

Catalogue Number:
See text below
Scale:
Available in 1/72 and 1/48 scales
Contents and Media:
One decal sheet; one black-and-white instruction sheet.
Price:
Not known
Review Type:
First Look
Advantages:
A blessing for 1/72 and 1/32 scale modellers; stencil data and wing walks supplied; well organised and high quality diagrams; colourful subjects
Disadvantages:
Recommendation:
Highly recommended

Reviewed by John Kerr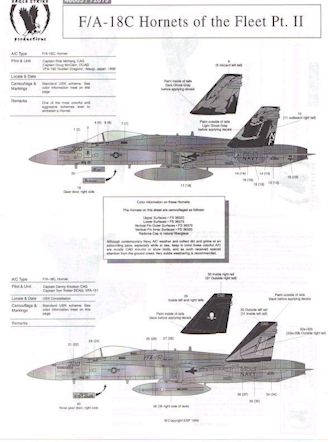 Eagle Strike Productions is a relatively new decal company out of Miami, Florida, U.S.A.. Over the past 18 months ESP has released a number of 1/72 and 1/32 scale decal sets. These sets have covered schemes previously released by AeroMaster in 1/48 scale. With so many decals recently appearing in 1/48 scale only, ESP has been an absolute blessing to those modellers who model "small" (1/72) and "large" (1/32 scale).

Amongst their latest releases, ESP has ventured into 1/48 scale with four brand new F/A-18C Hornets schemes (not covered by any other decal company to my knowledge). Each set covers two aircraft per set. "More boring low-viz US schemes" I hear some of you say. No way ! The four Hornet schemes would rate among the most colourful service schemes I've seen on current day USN and USMC jets.

All four a/c wear the current USN Hornet two-tone grey scheme of FS 36320 Dark Ghost Grey on upper surfaces & vertical fin inner surfaces and FS 36375 Light Ghost Grey on lower surfaces & vertical fin outer surfaces.
48003 F/A-18C Hornets Of The Fleet Pt. 1 A/C #1

Red 01 as flown by Lt. Col. C.F. Mitchell of VMFA-232 is the only bird of the four Hornets not to have painted fins, however the scheme is still very colourful. A large trident wielding Red Devil (outlined in Black) adorns the outer fins. All major markings, including leading edges of fins are Red except for national insignia and small panel maintenance stencils. A/C #2 - Black 400 is the CAG/DCAG a/c of VFA-137 "Kestrels". Outer fin tail art is stylised Kestrel Bird fin art in White and Orange on a very Dark background The instructions recommend you paint the inner fins Gunship Grey or Faded Black, however the background on the outer fin decal look more Blue/Black to me, possibly Midnight Blue ?
Two sets of fin decals for this scheme as the tail fins on the Hasegawa and Monogram 1/48 kits slightly differ in size (very thoughtful of you ESP).
For 72nd scale modellers, the schemes are repeated in 1/72 scale on sheet no. 72018 with the decals designed to fit the Hasegawa kit.
48004 F/A-18C Hornets Of The Fleet Pt. II A/C #1

Black 300 is the CAG/DCAG a/c of VFA-192 "Golden Dragons" circa Astugi, Japan, 1998. The fin artwork on this scheme is amazing ! A Golden Dragon is wrapped around each fin (front of Dragon is on outer fin while the back of the Dragon is on the inner fin) with patches of the original grey showing through in several places of both sides of each fin. A/C #2 - Black 300 is the CAG/DCAG a/c of VFA-151 "Vigilantes" aboard U.S.S. Constellation. Both sides of each fin are Black. The outer side of each fin has a Yellow arrowhead with three Yellow stripes streaking diagonally up the fin. The "Vigilante" logo is on the inner side of each fin.
Just like 48003, two sets of fin decals are provided. The schemes are repeated in 1/72 scale on sheet no. 72019.
Each set contains stencil data and appropriately coloured wingwalks. The all-important aircraft profiles are good grey-toned drawings while the painting and decaling instructions are well organised. The instruction sheets are the same for both 1/72 and 1/48 scale sets as the decal numbering is identical.
Artwork and instruction sheets used with the permission of ESP.
---
Review Copyright © 2000 by John Kerr
Page Created 22 April, 2000
Last updated 22 July, 2003
Back to HyperScale Main Page
Back to Reviews Page