No.4 "Painting: Overhead Lighting"
No.5 "Painting: Overhead Lighting II"
No.8 "Black & White - Step by Step"
S u m m a r y

Catalogue Number:
AP003: Painting Overhead Lighting - Acrylics
AP005: Painting Overhead Lighting II - Acrylics
AP008: Black & White - Step by Step
ISBN:
84-930354-4-0: Painting Overhead Lighting - Acrylics
84-930354-5-9: Painting Overhead Lighting II - Acrylics
84-95464-15-2: Black & White - Step by Step
Media:
Soft cover, landscape format, 65 pages plus covers; full colour
Price:
Each @ USD$19.96 from Squadron.com
Review Type:
First Read
Advantages:
Excellent standard of figure assembly and painting; packed with "how-to" photographs, useful tips and techniques; handy reference material
Disadvantages:
Premium price for "magazine" style publication - especially if you want all three!
Recommendation:
Recommended to budding figure modellers.
Reviewed by Brett Green


Painting Overhead Lighting Pt. I; Painting Overhead Lighting Pt. II and
Black & White - Step by Step are available online from Squadron.com
Euro Modelismo Monograph is a Spanish publication that draws on the rich modelling talent of western Europe. We are fortunate to get the full benefit of the magazine as the text is entirely in the English language.
These three Monographs focus on painting figure models. They are presented in full colour on high-quality glossy paper inside satin-textured covers. Advertisements are confined to the inside of the front and back covers, so the book can concentrate on techniques and case studies.
---
Monograph Nos. 4 & 5
Painting Overhead Lighting Parts I and II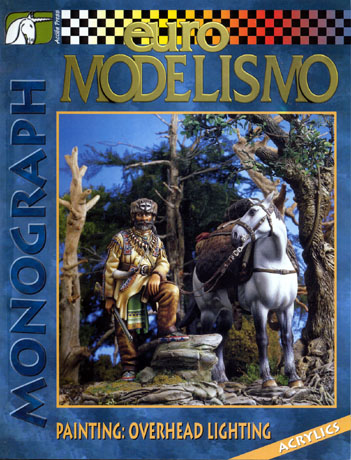 Painting Overhead Lighting Parts I and II feature the work of two Spanish modellers, Raul Garcia Latorre and Rodrigo Hernandez Chacon. Their books describe the theory and practice of painting figures to appear as if they are lit naturally from overhead. These techniques rely solely on acrylic paints.
Part One commences with an acknowledgement of the importance of preparation and assembly. After all, no matter how well a figure is painted, basic construction flaws will still be obvious. This is followed by an interesting technical discussion about the distribution of highlights and shadows according to an overhead lighting scheme. Comparisons to other lighting schemes is made with the assistance of illustrations too.
Theory continues with a Chapter discussing brushes and brushtroke technique, followed by a section dedicated to painting a face. This Chapter includes a table with typical facial tones.
The balance of Part One contains seven case studies where these theories and techniques are put to practice on human figure models, horses, structures and trees.
Part Two continues the theme with ten more case studies (click thumbnail below to view larger image of cover). These develop the principles discussed in Part One, and introduce some more advanced techniques. These include:
Application of specific lighting

Pastel colour combination

Painting busts

Painting skin

Weathered skin

Influence and action of the surroundings
In common with the other books in this series, the standard of modelling, painting and photography is superb. Each book is packed with "in-progress" photos, and the finished models are photographed in convincing and atmospheric settings.
---
Monograph No. 8
Black & White - Step by Step
This book showcases the work of Swedish artist and modeller Mike Blank - an appropriate name for his black-and-white subject matter. In fact, the title is somewhat misleading as the book itself and even most of its subjects are presented in colour. The title refers to the many techniques and case studies describing how to breathe life into monochrome aspects of figures and their clothing.
The emphasis is medieval, with chain mail and flowing robes providing a great challenge to figure painters, although other eras are represented too.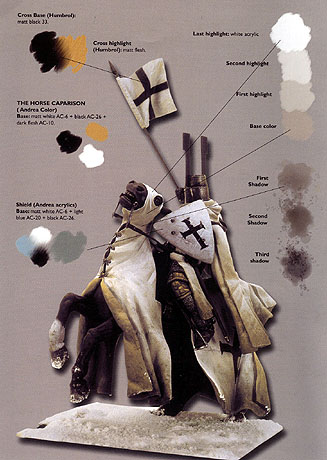 The contents of the book comprise:
Introduction

Using the right tools

Northumbrian Warrior

Napoleon Bonaparte

Islamic Warrior

Knight Hospitaller

Alexander Nevsky

Teutonic Knight
The opening section covers the tools, paints, brushes, accessories, bases and groundwork necessary to create convincing figures.
The remaining six case studies are generously illustrated with "in-progress" photos to reinforce the techniques described in the text.
Each of the case studies concludes with a paint palette summary. This illustrates the specific mixes (including paint type and colours) for all the elements of the figure, including flesh and shadow tones. I found this especially useful.
I suspect that I am typical of many aircraft and armour modellers in that I do occasionally add figures to my models, but I still consider figure painting to be an intimidating black art. These books will help demystify this important aspect of modelling.
In addition to filling the role of inspiring picture books, all three of these titles are also valuable texts with relevant theory and clearly described techniques.
The only real disadvantage is the expense if all three books are purchased.
Recommended.
Thanks to Squadron for the review sample.
---
Review Copyright © 2001 by Brett Green
This Page Created on 26 November, 2001
Last updated 22 July, 2003
Back to HyperScale Main Page
Back to Reviews Page