F-105D
1/32 Scale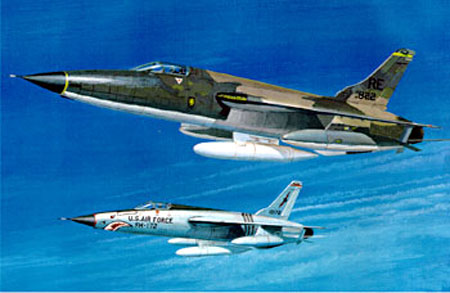 Collect-Aire
S u m m a r y

Catalogue Number:
#3209
Scale:
1/32
Contents and Media:
Resin and white metal - see text for details
Price:
USD$289.95 from Collect-Aire's website
Review Type:
FirstLook
Advantages:
Big and impressive; sturdy white metal landing gear; good vaccuum-formed canopy; decent decals.
Disadvantages:
Very basic cockpit; some incomplete casting and small bubbles; expensive compared to forthcoming Trumpeter kit
Recommendation:
Recommended if you have to build a big Thud right now!
Reviewed by Fotios Rouch


HyperScale is proudly supported by Squadron
I only own about ten 1/32 scale kits since I mostly build in 1/48 scale.
When Collect-Aire announced the F-105D I though it would look really cool next to the Tamiya F-4D. There were rumors and denials for a while about Trumpeter making one as well. I took the plunge and placed my order ($250) although I new that there could be one coming from China. Out of principle I did not cancel my order even when my inside info confirmed that the Trumpeter Thud was indeed in the plans. There are precious few companies out there that make kits that I enjoy tremendously. I support them by buying their products hoping that they will continue to bring out kits that fill my evenings with hours of resin
dust filled fun!
I got hold of my big Collect-Aire Thud on February 11. I thought of first sharing my impressions with the HS crowd and secondly I thought it would be a good idea to share my walkaround of the big Thud as well.
The kit (#6) came in big sturdy yellow box. My first impression was: "Holy cow, these castings are huge!"
The kit fuselage is split in 4 big units. Two are for the front, extending from the nose cone all the way to the point were the real Thud separates its tail area for engine removal. At the back area of these two parts there is some detail provided in case you would want to display your Thud with its engine exposed (you would have to make your own trolley).
Click the thumbnails below to view larger images:
There are two parts for the rear engine area where the tail mounts. The wings are solid castings and are heavy. There is an engine provided with two identical looking fan blades to be attached at the front and the rear of it.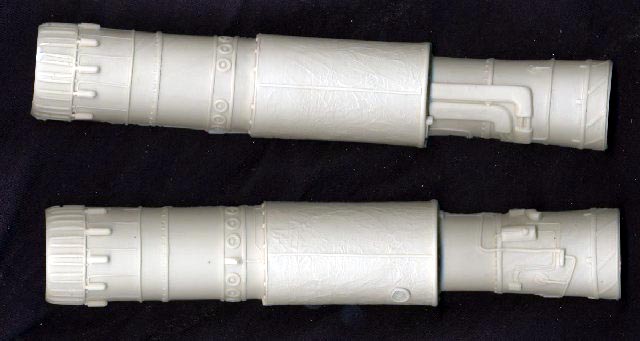 Click the thumbnails below to view larger images:
---
In detail now, starting with the cockpit. There is very little detail provided considering that this is a 32nd scale kit. No detail whatsoever is provided for the side-walls. The seat is very basic but it looks a bit like the Thud seat. The instrument panel looks close but there is a perfectly smooth area for the instrument panel coaming where the HUD should be. The control stick is thick and with little detail. Look at my cockpit pictures and compare. I had my expectations set properly but still I had hoped for a little more detailed interior especially in view of the fact that this is not an obscure XB or XF aircraft but a very well documented plane. I mean there is tons of after market stuff in 48th to scale up.
Click the thumbnails below to view larger images:
The machine gun bay looks okay and it matches with what Paragon provides and what I have from the literature.
The fuselage looks okay scale wise. I compared the details and panel lines of the Collect-Aire kit with Monogram's offering and various scale plans. It looks ok and little needs to be added. The sensor below and to the rear of the nose cone is not present in the Collect-Aire kit. The early Ds did not have it but the later ones did. The tail has a lot of paneling detail on it, more than the real thing did. The rear fuselage area and the exhaust petals look ok to me.
There are two tanks provided and a centerline pylon with 6 bombs and the appropriate braces.
Click the thumbnails below to view larger images:
The wings have no bracing on the top surface and one brace panel on the low surface. I think bracing was more of a configuration issue depending on what variant is in question. The wheel bays are light in detail. The intakes are hollow but they go against the solid wings so you might want to create engine covers for that area.
Click the thumbnails below to view larger images:
The metal landing gear parts look very sturdy and they should support the model just fine. There was an attempt made to represent brake lines but mine were interrupted at various points due to incomplete casting. The wheels look close to the real thing but will require clean up and drilling to get rid of the tiny air-bubbles that you can see in the pictures provided.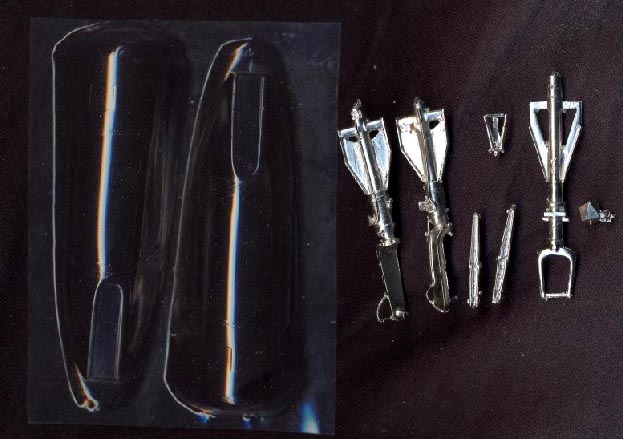 The vac canopies are clear and there is a resin canopy frame provided. The decals are of decent quality and provide options for a silver, a SEA and a Euro1 machine. The low visibility decals with the HI code on the tail are not represented in the instructions I received but will be included in the later production runs. You will need to provide your own ejection gray warnings for this variant because the kit gives only hi-viz warnings.
If Trumpeter was not coming out with their F-105 kits I would have started building mine already. The thing of it is that the Chinese will come out with one and then Meteor and Black Box will release stupendous cockpits and supplemental details, then tons of great decals will come out, then Falcon will
make superb vac canopies for it, then Eduard will make some cool photoetch... and on and on until we will have a situation similar to what happened with the 1:32nd A-10! At that point for a mere $150 you will have everything and a half to make a killer Thud! I do not believe I am capable to outperform and come out on top in such a situation.
I do not know if I will be building mine right now. If Trumpeter decides not to make theirs then all the effort will be worth it. For the moment I think it will be on a standby status. Considering that I have Collect-Aire's beautiful gem of a kit Skywarrior, that I know nobody will ever make in 48th, waiting for me at my work bench....

Click the thumbnails below to view larger images:
---
Review Copyright © 2002 by Fotios Rouch
This Page Created on 05 April, 2002
Last updated 22 July, 2003
Back to HyperScale Main Page
Back to Reviews Page