S u m m a r y

Catalogue No., Description & Price
Available from Scaledown's website:
SDA48001 - F-111 Long-Span Wings/Flaps/Slats USD$45.00
SDA48002 - F-111 Afterburner Cans USD$7.50
SDA48003 - F-111 Wheels (Standard) USD$7.50
SDA48004 - F-111G Conversion Set USD$7.50
SDA48006 - F-111 Undercarriage Doors USD$7.50
SDA48007 - F-111 BRUs with Mk. 82 Bombs USD$12.50
SDA48013 - F-111 BRUs with Mk. 82 AIR Bombs USD$12.50
SDA48014 - F-111 BRUs with Mk. 82 Snakeye Bombs USD$12.50
SDA48015 - F-111 BRUs with CBU Bombs USD$12.50
SDA48026 - F-111 Short Range Attack Missiles USD$7.50
SDA48041 - F-111 BRUs with Mk. 117 750lb Bombs (Vietnam) USD$12.50
Contents and Media:
See Text
Scale:
1/48
Review Type:
FirstLook
Advantages:
Top quality casting; ready for use (casting blocks already removed and cleaned up); simple engineering for potentially complex areas; lots of ordnance options; vast improvement over Academy kit parts.
Disadvantages:
Two parts bowed (but will straighten out upon assembly); more instruction diagrams would have been nice
Recommendation:
Highly Recommended for anyone building an Academy F-111.
Reviewed by Brett Green

HyperScale is proudly supported by Squadron.com
Academy's 1/48 scale F-111 kits seem to suffer the same poor-cousin reputation compared to other modern aircraft, especially the F-14, as its full sized counterpart. Although the model is generally accurate in outline and impressively large when completed, I have not seen the model completed very often. Even here on HyperScale, with over 1,000 articles, there is just a sole 1/48 scale Academy F-111 (an FB-111A by Scott Persons).
At least we have Jim Rotramel's excellent "F-111 In Detail" series in HyperScale's Reference Library to refer to!
Scaledown Models of Australia has single handedly provided eleven great excuses to break that Academy 1/48 scale F-111 out of its box with a growing range of resin accessories.
Casting on all these resin sets is excellent. Surprisingly, there are no casting blocks on any of the resin parts. Scaledown must have removed the plugs and cleaned them up before shipping. Furthermore, there was evidence of an air bubble that has been spotted and repaired before packing too. Now that is what I call customer service!
I bought four of these accessory sets to jazz up my RAAF F-111G project, and Stephen Thrum from Scaledown kindly packed the remaining sets for review.
---
SDA48001 - F-111 Long-Span Wings / Flaps / Slats
This long-span wing set with dropped slats and flaps was the accessory that drew my attention to Scaledown in the first place. These wings are appropriate for any of the long-span F-111s. A specific set for the short wing variants (F-111A, F-111E, F-111F, EF-111A) is also available from Scaledown as item number SDA48008.
Scaledown has not taken any short cuts with their resin wing set. They supply a full replacement full wing - a solid centre section for each - plus separate leading edge slats plus separate inner and outer flaps. These are very impressive castings. Wing box parts and glove vanes are also provided in this set.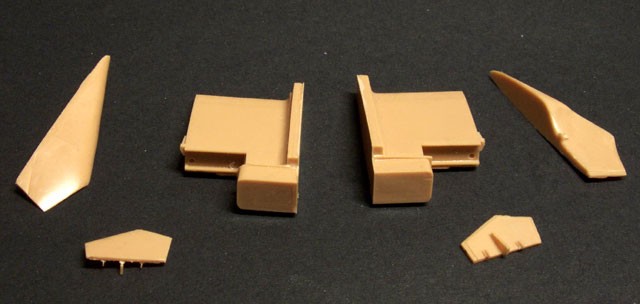 The breakdown of the parts means that the kit wings are simply thrown away. The resin wings are ready to use - no cutting whatsoever. In fact, the only modification to the kit is the removal of the moulded-on wing glove vanes on the fuselage.
All the parts are very nicely cast, although there were some tiny pin holes on the leading edge of the starboard wing. Also, the inner flaps had bowed noticeably. However, these thin parts will correct themselves when they are secured between the outer flaps and the main wing parts. The larger parts are perfectly straight.
Construction will be quite simple. The wings are keyed to interleave inside the fuselage, setting the correct (0%) dihedral and ensuring that they are both fully extended. Once the wing boxes and wings are in place, the slats are first added, then the two flap sections are attached before securing them to the main wing.
Instructions comprise a page of notes and another page of diagrams. In reality, more reference is needed to help the modeller identify the correct positioning of the flaps. I recommend checking out Part Three of Jim Rotramel's "F-111 in Detail" article, which focuses on the wings, as an aid to assembly
I have already matched up the slats and flaps against the wing parts, and my samples line up perfectly - no uneven shrinkage or other fit problems have presented themselves at this stage.
This is a wonderful accessory that will transform your Academy F-111 into a real discussion piece.
---
SDA48002 - F-111 Afterburner Cans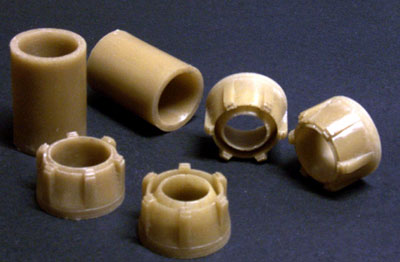 This is a simple but effective replacement for Academy's exhausts.
This set comprises four afterburner cans (two open and two closed apertures) and two jet pipes with detailed rear faces. The F-111 is commonly seen with one open and one closed nozzle.
Once again, the parts are already cleaned up and ready to use. They are a major improvement on Academy's nozzles.
---
SDA48003 Wheels - Standard
This is another drop-fit replacement for Academy's kit parts. The wheels are beautifully detailed with appropriate bolt-head detail and radial tread pattern. The wheels are slightly flattened and barely bulged. In fact, the bulge is so subtle that the only reason I know it is there is because the Scaledown website tells me so!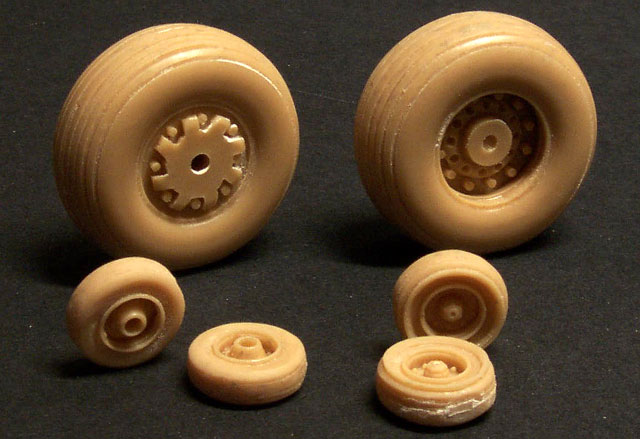 My samples are appropriate for F-111s without the heavy duty brakes. These wheels have a much deeper wheel rim than the later, heavy duty version. The heavy duty version is also available as SDA48003B.
These wheels will just need a swipe with a sanding stick before use.
---
SDA48004 - F-111G Conversion Set USD$7.50
The F-111G Conversion Set includes four correctly shaped pylons and an accurate dump mast / 'figure of eight' panel for the tail of the aircraft.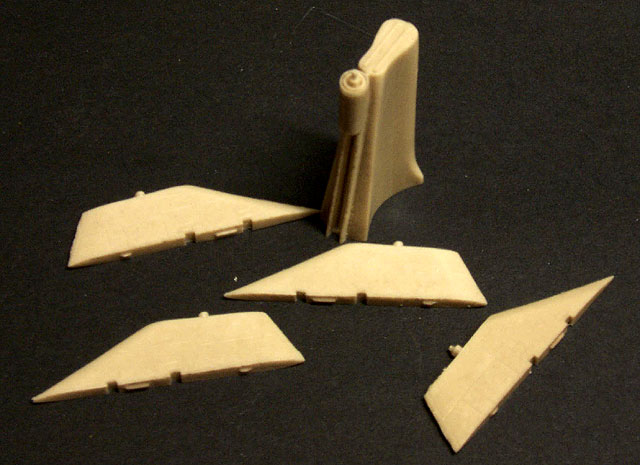 These areas were quite different to the other versions of the F-111. I will be starting to sound repetitive here, but the detail really is terrific and the parts are ready to use.
---
SDA48006 - F-111 Undercarriage Doors
Another drop-fit replacement, ready to use.
---
F-111 Ordnance
All of the ordnance sets below are produced to the same high standard as the other accessories. All sets also include two ejection racks (except the SRAMs).
These ordnance sets will add character and individuality to your F-111 model.
F-111 BRUs with Mk. 82 Bombs
F-111 BRUs with Mk. 82 AIR Bombs
F-111 BRUs with Mk. 82 Snakeye Bombs
F-111 BRUs with CBU Bombs
F-111 Short Range Attack Missiles
F-111 BRUs with Mk. 117 750lb Bombs (Vietnam)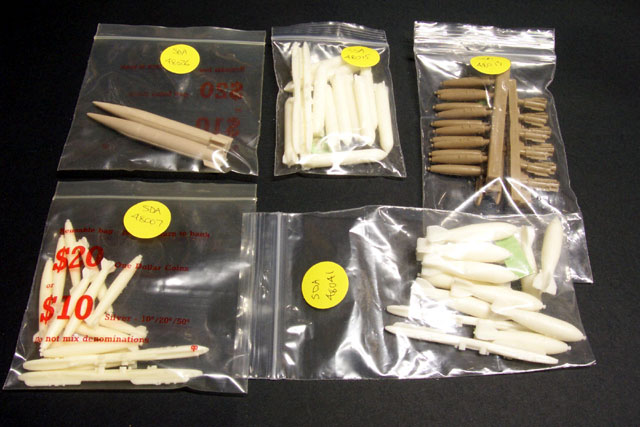 These accessory sets will lift your Academy 1/48 scale F-111 from the realm of standard kits to something really special. I particularly recommend the wing set in combination with the appropriate wheels, conversion set and burners.
Highly Recommended for anyone building Academy's 1/48 scale F-111s.
Thanks to Stephen Thrum from Scaledown for the review samples
---
These and other Scaledown accessories are available direct from Scaledown's website
---
Review Copyright © 2002 by Brett Green
Page Created 20 July, 2002
Last updated 22 July, 2003
Back to HyperScale Main Page
Back to Reviews Page