This simple resin part replaces the kit cowling in Hasegawa's 1/48 scale Hellcat kits.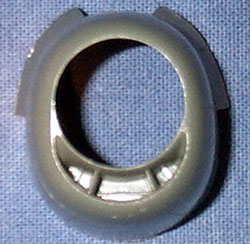 The main area to receive attention has been the shape of the supercharger/oil cooler intake at the bottom of the cowl. This shape does seem to be slightly off on the kit part, and Cutting Edge's replacement certainly looks better from the front.
There are a few additional benefits associated with this cowl.
First and foremost, it is moulded with the cowl flaps open. That will add some variety for a start. Secondly, the lower cowl flaps have been deleted and panel lines restored, making it appropriate for an F6F-5 Hellcat. One of the annoying (but niggling) problems with the Hasegawa kit is that the -5 kit comes with a -3 cowl. By using this replacement cowl from Cutting Edge, those minor alterations will no longer be required.
The resin is cast perfectly in grey with no air bubbles or other imperfections on my sample. Care will be required to remove the narrow ring of resin around the back of the cowl. I recommend using a fine razor saw to cut off the bulk of the material followed by a sanding block to attain a perfectly flat back surface.
Correcting the misshapen intakes might not be justification enough for a replacement cowl, but the open flaps and -5 modifications make this an interesting option for your F6F-5 Hellcat.
Recommended.