F-84 Thunderjet Accessories and Decals

Cutting Edge 1/48 F-84E/G Cockpit
Teknics F-84G Landing Gear
Cutting Edge Decals - F-84E; F-84G and F-84E/G Stencil Data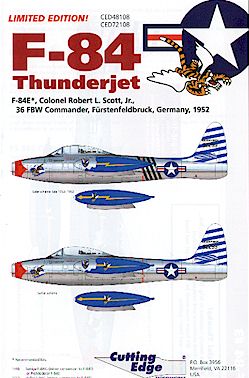 Catalogue No.:
Cutting Edge F-84E/G Cockpit - CEC48123
Teknics F-84G Landing Gear - TK48069
Cutting Edge Decals CED48106 (F-84G #1); CED48108 (F-84E); CED48109 (F-84E/G Maintenance Stencils and National Insignia)
Scale:
1/48 (Decals also available in 1/72)
Media:
See Text
Review Type:
First Look
Rating:
Highly Recommended
Reviewed by Brett Green

Contents:

See Text
Price:
Cutting Edge F-84E/G Cockpit - US$16.95
Teknics F-84G Landing Gear - US$16.95
Cutting Edge Decals - US$7.98 each
Advantages:
Genuinely useful and noticeable details; beautiful moulding, comprehensive illustrated instructions (cockpit set), great donor kit.

Decals - perfect registration; thoughtful carrier film arrangement; "collectors quality" artwork; thorough research and marking notes

Disadvantages:
Now I'll have to buy a couple of Thunderjets!
Recommendation:
Highly Recommended for lovers of '50s jets.


HyperScale is proudly sponsored by Meteor Productions
Meteor Productions now carry a wider range of "in-house" product lines. In addition to Cutting Edge Modelworks and Decals, Meteor now also produces Tekniks and Yellowhammer.
The newly acquired brands continue to expand under Meteor. In fact, a number of recent releases have been complimentary between labels. A good example of this clever strategy is a batch of releases for the superb new 1/48 scale Tamiya F-84G Thunderjet.
Cutting Edge F-84E/G Cockpit Super Detail Set
This set supplies twenty resin replacement parts for Tamiya's Thunderjet cockpit and fuselage. Four of the parts, the seat, rudder pedals and the tub, are moulded in a medium grey resin (a new, tougher formula) and the remainder in a more familiar creamy yellow. There are no pinholes or flaws on any of the parts.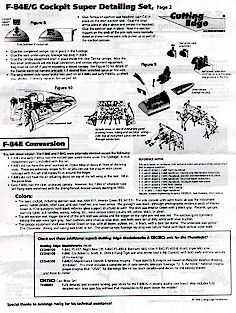 Detail is brilliant. The one-piece cockpit tub is alive with buttons, switches, dials, quadrants and cables. Even the seat rails are moulded as part of this integral unit. The bang seat is moulded with a seat cushion and harness in place - my preferred option. The replacement instrument panel features extensive detail on its back surface with further instructions to add hoses, tubing and electrical wiring. I particularly like the busy canopy equipment shelf. This piece will be showcased nicely under the canopy. Three styles of gunsight and four styles of gunsight control panels are supplied.
The inclusion of a slotted speed brake and inserts for the auxilliary air intake doors also makes the conversion to the earlier F-84E a simple matter.
Instructions are excellent. For those of us too impatient to actually read the construction notes, clearly captioned diagrams are provided. Its worth reading the notes though, as they supply lots of helpful hints, tips and background.
As always, care should be taken removing the resin parts from their casting blocks
This is a terrific cockpit detail set and conversion, worthy of the wonderful Tamiya kit.
Tekniks F-84G Landing Gear
As the name implies, this set contains replacement gear legs for the Thunderjet.
A replacement front wheel well is also supplied. This addresses one annoying problem with the Tamiya kit, namely the seam down the middle of the kit forward wheel well. No seam here! In fact, the resin wheel bay is appropriately fitted out with wiring, sidewall structural and rivet detail, plus moulded gear-door actuators.
The legs themselves are brass castings. They are a work of art. The brass finish highlights any flaws - if there were any. My samples displayed only the tiniest hint of seam-lines. I am sure that, left alone, they would disappear under a coat of paint. The detail is equally as good as the casting. Hydraulic lines are moulded on, main gear legs are perforated in the appropriate places and the forward gear includes a moulded-on landing light.
Instructions are not supplied, but assembly is pretty self-explanatory.
These parts are so pretty it really will be a shame to paint them! A real treat.
Cutting Edge F-84 Thunderjet Decals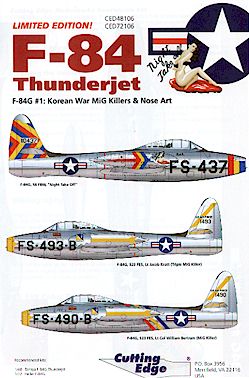 CED 48106 is a colourful decal set featuring three Korean War MiG-killing Thunderjets. Full-colour illustrations and marking notes leave little to the imagination. The colour renderings are more than simple side views and the natural metal effect is very impressive.
One of the aircraft features pinup artwork. A second set of pinup artwork is supplied just in case references surface showing the picture on the port side of the aircraft!
CED 48108 is a German based USAF bird with a blue and white striped tail. Two schemes for the same aircraft are supplied. In addition to the tail markings, the subject aircraft features various flying tigers and Command stripes.
As an F-84E, this one takes advantage of the abovementioned Cutting Edge conversion. The pilot of this aircraft, Brigadier General Robert L. Scott Jr., USAF retired, assisted in the production of this set.
Finally, CED 48109 supplies all the remaining markings required for a truly complete Thunderjet. Markings include stars and bars, large USAF stencils (correctly depicted in Blue), canopy framing and stencils right down to the tiniest detailed lettering. Even the smallest stencils are sharp and readable under a powerful magnifying glass.
The technical drawings include not only stencil placement information, but also instructions on correcting kit panel lines and pointing out areas of the aircraft that were painted with aluminium lacquer!
Registration on my samples were perfect in all cases. Buzz numbers and large "USAF" markings have been thoughtfully printed separately to minimise excess carrier film. Templates are supplied to assist accurate alignment and spacing.
Conclusion
A combination of these decals and products will create a truly spectacular model. Curse you, Meteor Productions - now I'll have to go out and buy a swag of Thunderjets!
All highly recommended.
Thanks to David Klaus of Meteor Productions for the review samples
---
Review Copyright © 1999 by Brett Green
Page Created 17 May, 1999
Last updated 22 July, 2003
Back to HyperScale Main Page
Back to Reviews Page