Sd.Kfz.9 "Famo"
Tamiya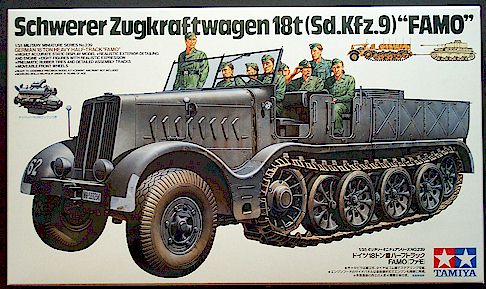 Tamiya's "FAMO" Boxart
S u m m a r y

Catalogue Number:
35239
Scale:
1/35
Contents and Media:
11 tan coloured sprues, 3 brown sprues with 96 two-part track links, 3 soft rubber hollow tyres, 8 vinyl poly caps, 1 sheet of stamped acetate with three windscreen parts, 1 length of nylon string and 1 small decal sheet.
Price:
¥ 5300
Review Type:
First Look (in-box)
Advantages:
Great moulding; many workable features and options; eight figures included; engine supplied for display in-vehicle or separately; unlimited diorama potential
Disadvantages:
A few very shallow ejector pin circles.
Recommendation:
Highly Recommended
Reviewed by Brett Green

Famo is an abbreviation for "Fahrzeug und Motorenbau GmbH", the manufacturer of this massive tractor.
The 18 ton Famo was used for towing artillery, troop transport and armoured vehicle recovery. Despite its substantial power, recovery of Tiger or Panther tanks required three Famos linked with tow cables to handle the massive bulk of the big Panzers.
The versatile vehicle could also be used for transporting medium tanks in combination with the 22-ton Sd.Ah.116 trailer. A wrecker version with a six-ton crane, the Sd.Kfz.9/1, was also produced.
Tamiya really know how to end the Millenium with a bang.
December 1998 saw the introduction of Tamiya's Dragon Wagon - arguably the most impressive injection moulded military model ever released. December 1999 brings us the Sd.Kfz.9 Schwerer Zugkraftwagen 18t "FAMO".
Make no mistake - this model is big. At first glance the outline and layout of this vehicle is very similar to its smaller cousins, including the Sd.Kfz.7. The overlapping roadwheels and padded tracks bear more than a passing likeness to the armoured Sd.Kfz.250 and 251 series too.
Despite this family resemblance, the Famo has roadwheels bigger than those of a Tiger or Panther; tracks wider than a Panzer III/IV link and tyres comparable to the size of the big wheels on the Dragon Wagon.
Tamiya's Famo is a multi-media kit. The big box of contains 11 tan coloured sprues, 3 brown sprues with 96 two-part track links, 3 soft rubber hollow tyres, 8 vinyl poly caps, I sheet of stamped acetate with three windscreen parts, 1 length of nylon string and 1 small decal sheet.
Moulding is as good as one would expect from Tamiya. All detail is crisp and no sink marks are present anywhere on the kit. A few very shallow (almost invisible) ejector pin circles appear on the inside surface of some panels and doors, but these will be ignored by all but the most fastidious modeller. Tamiya continue to get the most out of injection moulding technology. The pressed vents on the side engine covers particularly impressed me - the vents are moulded open. Surface texture on the seats is very restrained but convincing.
The model is feature-rich. Here are some of the goodies included:
The front wheels, steering, drive sprockets and track links are all workable. Don't expect to drive this model around your lounge room floor though - the roadwheels don't rotate.

Suspension arms may be positioned to take advantage of the workable track.

Access panels can be left off to reveal engine detail, or the engine can be displayed separately on two blocks (also supplied in the kit)

The winch and coupler are workable. String is supplied to represent tow-cable.

The windshield is movable, and the driver's windscreen panel may be positioned according to the modeller's preference.

Cooling doors on the top of the engine bonnet may be positioned.

Support hoops for the tarp are supplied as separate parts and may be depicted raised or stowed. The cover itself is not supplied, but the instructions suggest using tissue paper.

Tool access doors may be positioned open, and tool trays are supplied.

A workable two-bar is included, as are spare towing eyes and string for cable.

8 soldier figures are included. Although they share common sprues, additional heads and arms will help create a variety of poses.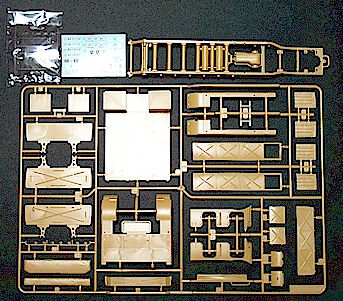 A Maybach HL108 engine is included. It is nicely detailed but will benefit from a little extra wiring detail.
The chassis is supplied in one piece. Extra details such as torsion bar covers and transmission are provided as separate assemblies. Roadwheels are crisply detailed but are glued direct to the positionable suspension arms. The front suspension is solidly engineered and well detailed.
The soft rubber tyres look great - they even smell good! It might be a bit tricky to remove the faint seam running around the centre, but the soft rubber will fittingly convey the impression of 18 tons resting over the big wheels.
The winch is another simple but effective workable feature. The workability extends all the way back to the rotating coupler at the back of the truck. I will be securing my winch though, because I can't see any easy way to retract the towrope after it has been extended. The winch drum is securely trapped between the body and the top of the chassis.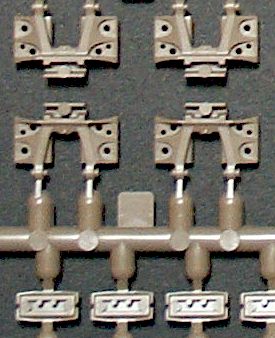 Track links are moulded in a murky brown plastic similar to Model Kasten's after market tracks. The small number of links per side (46); and the large manageable size of each link will encourage modellers' who hate individual track links. Each link is secured to its neighbor with a separate track pad. With care, the whole track run should be workable.
The punched-acetate windscreen will ensure a scale appearance for this prominent feature. The driver's section may be positioned open, and the entire assembly works on its hinge.
The 8 supplied figures are pretty good. Displaying the figures on the vehicle will give a good impression of the sheer bulk of the Famo. The extra arms and heads will help create the perception of individuality, but a small investment in some after-market heads and arms will go a long way.
A workable tow bar may be used to attach the Famo to almost any German vehicle. Take care not to lose the small locking pins though. The instruction sheet includes a series of diagrams illustrating connection of the tow bar to different vehicles.
Small details are well done. Pedals and shift levers are all supplied as separate parts. Pioneer tools are nice. They will look familiar to anyone who has built a recent Tamiya German tank.
Decals for four vehicles are supplied:
a grey vehicle in Yugoslavia,

a grey Famo attached to 1 Panzer Division in France during 1943,

a grey and yellow vehicle with Spzabt 501 in Tunisia and

a three-coloured Famo with 237 StuG Brigade in Russia, 1943.
Placard decals are also provided for the inside of the tool access doors.
Instructions are broken into 32 illustrated steps. The 20-page booklet includes interesting background information and towing information but does not include the usual sprue arrangement diagram.
Tamiya have already announced a "Loading Accessory Set" to fill the large, empty tray. I wonder how long it will take before someone also releases a trailer or a 6-ton crane conversion?
Tamiya have made an excellent choice for their last new product release of the 20th Century. This kit is a wonderful demonstration of the model manufacturer's art.
I can find almost nothing to criticize on this kit. Detail freaks might replace some handles and add detail to pioneer tools, but a great looking model can be produced straight from the box. Tamiya's clever engineering means that the average modeller will have no trouble building the kit despite the large number of parts.
There is virtually unlimited diorama potential suggested by this kit. If you buy three Famos you can build a five-foot long display of a Tiger recovery!
In my opinion, 5300 yen is good value considering the size and quality of the Famo.
I hope Tamiya extend their "Recovery Vehicle" theme into the 21st Century. Please Tamiya San, can I have a Scammel next Christmas?
Highly Recommended.
---
Review and Images Copyright © 1999 by Brett Green
Page Created 12 December, 1999
Last updated 22 July, 2003
Back to HyperScale Main Page
Back to Reviews Page