"Fleet Air Arm" is available from Squadron.com
S u m m a r y
Publication Details:
Stock Number SS6085
"Fleet Air Arm - British Carrier Aviation, 1939-1945" by Ron McKay
published by Squadron/Signal Publications Inc.
ISBN:
0-89747-432-5
Contents and Media:
Soft cover; 8.5" x 11" portrait format; 64 pages plus covers; over 100 photos; 5 colour wartime photos; 40 colour profiles (!!)
Price:
USD$12.96 from Squadron.com
Review Type:
FirstRead
Advantages:
Fabulous affordable reference for modellers and those interested in history; inspiration via 40 colour profiles across all major FAA types; good narrative on history and operations; very useful and well captioned wartime photos.
Disadvantages:
No contents / index page
Recommendation:
Highly Recommended as a great introductory primer to the British FAA.
Reviewed by Brett Green
Squadron/Signal Publications has a knack for packaging concise and helpful reference books on otherwise overlooked elements of aviation history. Titles such as Squadron's Finnish Air Force, Hungarian Air Force and two-part Regia Aeronautica series are amongst the most-thumbed books in my library.
Squadron has adopted another neglected subject with "Fleet Air Arm - British Carrier Aviation, 1939-1945" by Ron McKay.
The book is presented in portrait format with 64 glossy pages between soft cardboard covers.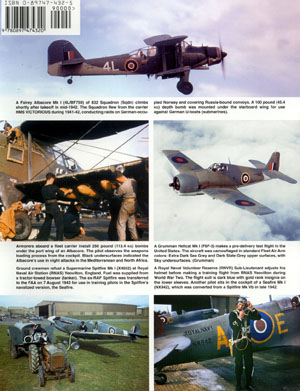 The rear page is one of the highlights of the book, with five small but beautifully reproduced colour photographs of wartime FAA aircraft. These pictures perfectly illustrate the FAA shades of Dark Slate Grey (actually more like a medium drab olive shade) and Extra Dark Sea Grey. These colour photos also include an Ocean Grey and Dark Green camouflaged Spitfire I. This provides a useful comparison between the standard day-fighter colours and the over-water shades.
Although the title limits the scope of the book to WWII, the text commences with the introduction of the first British aircraft carrier in 1918. The narrative continues with major operational engagements including the Battle of the Atlantic, Russian convoys, Mediterranean operations, the Far East and Pacific Fleets and, of course, descriptions of the sinking of the Bismarck and the Tirpitz.
In common with most Squadron publications, "Fleet Air Arm" is packed with contemporary, helpfully captioned photos. More than 100 black-and-white photos are included in this title.
The colour artwork is another highlight. Don Greer supplies 40 colour profiles across 8 pages in addition to the attractive cover artwork. These profiles cover aircraft types including Seafire, Hurricane, Wildcat, Hellcat, Corsair, Avenger, Barracuda, Walrus, Fulmar, Firefly, Kingfisher, Sea Gladiator, Skua, Seafox, Roc, Flycatcher, Nimrod, Swordfish, Albacore and even the bulbous and unimaginatively-named "Blackburn Blackburn"!