Spitfire Accessories
for ICM Spitfire VIII/IX
Ultracast
(see images of all products in body text below)
S u m m a r y

Catalogue Number and Price:
48060 - Supermarine Spitfire Mk IX Exhausts (for ICM) USD$4.95
48061 - Supermarine Spitfire Mk IX Rotol 4-Blade Propeller (for ICM) USD$7.95
48062 - Supermarine Spitfire Mk IX Early Style Elevators (for ICM) USD$4.95
48063 - Supermarine Spitfire Mk IX Late Style Elevators (for ICM) USD$4.95
48064 - Supermarine Spitfire 3-Spoke Wheels USD$4.95
48065 - Supermarine Spitfire 4-Spoke Wheels USD$4.95
48066 - Supermarine Spitfire 5-Spoke Wheels USD$4.95
48067 - Supermarine Spitfire Covered Hub Wheels USD$4.95
48068 - Supermarine Spitfire Seats (late-war harness) USD$7.95
Scale:
1/48
Contents and Media:
All Resin. See text for more details
Review Type:
In-box
Advantages:
Beautiful quality casting; desperately required for ICM kit; accurate; flexible.
Disadvantages:
Recommendation:
Highly Recommended for anyone building ICM's Spitfire VIII or IX
Reviewed by Brett Green
Ultracast products have consistently demonstrated the highest standards of accuracy, detail and casting quality. Their aircraft accessory products have traditionally been destined for use on new-release kits, also of a high standard. The improvement of an Ultracast wheel set or seat is quite noticeable and valuable, but often represents an incremental improvement over the quality of the kit part.
In targetting ICM's 1/48 scale Spitfire VIII and IX kits, Ultracast is entering new territory. These accessories will offer a massive improvement over poorly rendered details on a basically accurate model.
ICM's 1/48 scale Spitfire VIII and IX kits have spawned a great deal of discussion. On the one hand, almost everyone seems to agree that the new Spitfire kit is pretty accurate in outline. It also offers many options and a relatively low price compared to the latest Japanese releases.
However, the kit suffers from poor quality control resulting in big sink marks, short-shot parts and other moulding problems. It is also over-engineered to allow for an under-scale Merlin engine to be displayed.
I bought four of these kits sight unseen. All four of my kits suffer from dreadful sinkmarks on the outer fuselage. However, this fixable problem is eclipsed by main wheels that are unusable due to moulding defects, and propeller blades that are simply hopeless, with poor outline and sinkholes so big that they distort the shape of the blades. The pilot's seat is another low point. It is slab-sided and the shape is nothing like a Spitfire seat. This is strange as the mounting frame and rear bulkhead are actually not too bad at all.
Until now, modellers needed a well-stocked spares box to finish this kit. Ultracast have come to the rescue with replacement parts for this flawed but basically accurate kit. Rarely has a model been in more desperate need of after-market replacement parts!
---
48060 - Spitfire Exhausts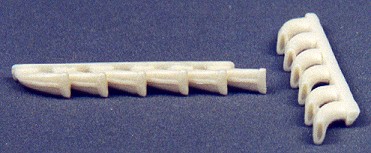 ICM have actually done a fairly good job with the Spitfire kit exhausts. The basic shape is okay, and the parts on my kits are only deformed at the base of the exhausts. This will be largely hidden inside the fuselage.

However, as usual, Ultracast's exhaust parts are a class apart. The parts are crisply cast with all the subtle features faithfully reproduced. The seam lines and raised lip on each exhaust stack are all there. Of course, the pipes are hollow as well. These will be a very valuable accessory for the ICM Spitfire.

Of the several possible exhaust types, Ultracast's (and ICM's) are the flattened style.
---
48061 4-Blade Rotol Propeller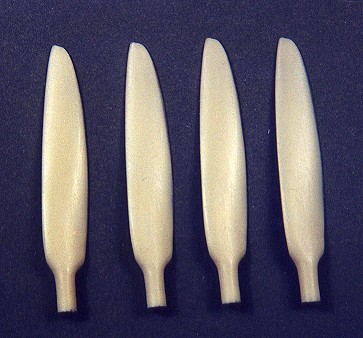 Ultracast supply four delicate Rotol propeller blades to replace the chunky and inaccurate kit parts. The Ultracast items capture the shape of the Rotol propeller blades much better than the kit parts, particularly at the shoulder, and in the subtle twist of the blade.

A small locating nib is cast on to the shaft of each blade. Don't sand this off! The shaft of these blades is correct for the kit propeller hub (the shafts on the kit parts are too long!)

Parts removal and cleanup will be very straightforward - almost "snap-off and use"

These propeller blades are an almost compulsory addition to the ICM Spitfire.
---
48062-3 Elevators
Two sets are offered to cover early and late elevator styles. The early style is a simple straight diagonal mass balance on the horizontal tail surfaces; while the late version is kinked.

Detail, surface texture and casting are of typically high standards. The replacement of the elevators will permit simple repositioning of these very noticeable control surfaces.

(Click the thumbnails to the right to view images full-sized)
---
48064-67 - Replacement Spitfire Wheels
This wide choice of wheels is not specific to ICM's Spitfire. In fact, the four sets of wheels will cover all production Spitfires from the five-spoke wheel for the Mk. I to Mk. V; four-spoke and covered hub for mid to late variants (Mk. VIII/IX onwards); and the rarer three-spoke wheel for the final variants. These classifications are not set in concrete. There were many individual discrepancies.

The most likely use on a Mk. VIII or IX would be a four-spoke or covered hub.

All of Ultracast's resin wheels are flattened very subtly. Detail is terrific, right down to the inclusion of a valve on each wheel and bolt-heads on the hubs.

These wheels are a flexible and attractive accessory for any 1/48 scale Spitfire kit.

(Click the thumbnails below to view images full-sized)
---
48068 - Spitfire Seats (with Mid-Late War "Q" Type Harness)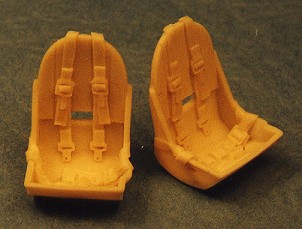 ICM's plastic seat is another low point of their Spitfire VIII/IX kits.

Ultracast's set includes two replacement seats. The shape of the bakelite bucket seat is depicted perfectly. It is also handy to finally have a seat with the late-war harness.

Ultracast's seats are second to none. This set will be almost essential for the ICM kit, but will also be a great enhancement to Academy's 1/48 scale Spitfire XIV and XVIII; and Airfix's Spitfire Mk. 22/24 and Seafire.
There must be many ICM Spitfires in modellers' collections. With Hasegawa's Spitfire IX on the horizon, many will be wondering whether to render the ICM kit to the scrap heap or the swap tables.
However with a little effort, some putty, and a few of Ultracast's accessories, The ICM kit should be an impressive and accurate model of this important aircraft.
Highly Recommended to anyone who already owns the ICM Spitfire.
Thanks to Kevin at Ultracast for the review samples.
---
The full catalogue of Ultracast accessories, conversions and figures may be viewed and purchased at Ultracast's Web Site.
---
Review Copyright © 2000 by Brett Green
Images Courtesy Ultracast Website
Page Created 19 February, 2001
Last updated 22 July, 2003
Back to HyperScale Main Page
Back to Reviews Page