Faded Sky Blue Codes
RAAF 1943-1944 Code Letters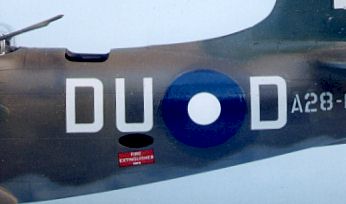 "Just Planes" code letters on my 1/48 AMT Havoc. No clear coat yet applied.
"Just Planes" Parts
| | |
| --- | --- |
| Catalogue No.: | JP4801 |
| Scale: | 1/48 |
| Media: | Decal |
| Review Type: | Test-Drive |
| Rating: | Recommended |
Reviewed by Brett Green
| | |
| --- | --- |
| Contents: | Two full 19cm x 14cm asheets and two half sheets plus instructions |
| Price: | A$10 (approx US$6.30) plus shipping |
| Advantages: | Crisp printing; opaque colour; large quantity of letters; many styles and sizes of code letters for most RAAF mid-war applications; printed colour is flexible - not only faded Sky Blue but also would pass as faded grey or white; trouble-free application; good value. |
| Disadvantages: | Full sheet carrier film (modeller has to cut around decals); colour not really identifiable as RAAF Sky Blue. |
| Recommendation: | Recommended for modellers of WWII 1/48 RAAF and Commonwealth aircraft |

Modellers have been well serviced by the decal industry in recent years.
Aeromaster's prolific range covers almost every kit under the sun, while high-quality "cottage industry" productions such as Experten and Kommandeur Decals cater for the modelling connoisseur.
But there's always that special subject aircraft that needs customised serials or codes. There have been a selection of Allied codes in numerous styles and colours available too.
Just Planes have now entered this market with a slightly unusual offering. Their first product is a set of code letters, purportedly in faded RAAF Sky Blue.
RAAF Sky Blue is a lower-surface colour used on Australian military aircraft operating in Australia and the South West Pacific from the beginning of the war to the end of 1943. It was also specified as the colour for code letters during the mid-war period.
The nominal match for this colour is generally agreed to be FS35550, but it is equally agreed that the colour varied greatly. This colour was a pale blue, and not in any way related to Sky type "S" as used on RAF aircraft.
RAAF Sky Blue would have faded fast when used on highly exposed areas for code markings. By the closing year of the war, RAAF officials succumbed to the inevitable and specified white as the code colour on camouflaged aircraft.
The colour of the Just Planes "Faded Sky Blue" decals is really very close to white. You'll need your Micro-Spectrum-Analyser to figure out if the colour is very, very light blue, grey or just off-white.
Far from being a disadvantage, this actually makes the decals more versatile. They will suit most applications that call for either white or very faded markings. And, of course, it's the only course for modellers of mid-war RAAF subjects!
This set comprises two full sheets at 19cm x 14cm and two half sheets. They are packed with code letters in 1/48 scale representing 18", 24" and 30" heights. Most letters are supplied in two different styles (rounded and squared-off) and some have three. There are at least two letters of each style and size.
Carrier film covers the entire sheet, so each letter will have to be cut out.
I tested the decals on a modelling project and found that the decals performed very well. Using decal setting solution they slide well on the surface of the model, not showing any tendency to curl or wrap around itself (unlike some other decals I'm using on the same project!). Despite the instructions' warning that the decals are very delicate, I found that I could actually lift and reposition one letter that I had already "patted down".
When dry, the decals conformed nicely into panel lines and carrier film was pretty much invisible even before a coat of clear. The (almost white) colour is opaque against the dark camouflage colour.
For inquiries or to purchase these decals, email Just Planes on jusplane@intercoast.com.au or visit the Just Planes website
A pleasing, versatile and good-value offering. I hope we see some more codes in grey!
Recommended.
Thanks to Jeff Iles of Just Planes for the sample.
---
Review Copyright © 1998 by Brett Green
This Page Created on 03 November, 1998.
Last updated 22 July, 2003.
Back to HyperScale Main Page
Back to Reviews Page