Model Aircraft Bases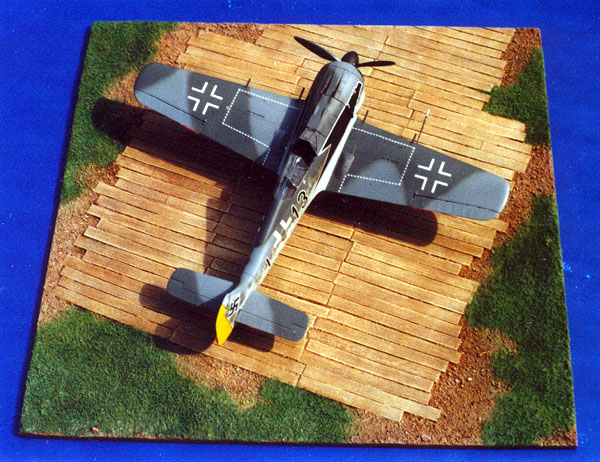 The photograph supplied with the "Luftwaffe Plank Hardstand" base
Just Plane Stuff

"Just Plane Stuff" bases are available online at Squadron.com
S u m m a r y

Contents and Media:
1 x large part in pale yellow resin
Stock Number, Scale, Description and Price (Squadron Online Price):
JPS0001 US Navy Flight Deck 1/48 $21.96
JPS0002 US Navy Flight Deck 1/72 $17.96
JPS0003 Japanese Flight Deck 1/48 $21.96
JPS0004 Japanese Flight Deck 1/72 $17.96
JPS0006 Luftwaffe Plank Hardstand 1/48 $20.96
JPS0007 Luftwaffe Plank Hardstand 1/72 $16.96
JPS0008 Airfield Display Base 1/48 $20.96
JPS0010 Helicopter Pad 1/48 1/48 $20.96
JPS0013 US Navy Carrier Deck 1/48 $32.46
JPS0014 US Navy Carrier Deck 1/72 $27.96
JPS0015 Doolittle's Raider Base 1/48 $27.96
Review Type:
First Look
Advantages:
Great range of bases; use for display or photographic base; beautifully cast resin; helpful painting instructions; colour photo for painting suggestion; no assembly required!
Disadvantages:
Recommendation:
Highly Recommended
Reviewed by Brett Green
A good base can transform a model from an attractive piece of plastic to a convincing replica with geographic and historical context.
"Just Planes" produce a series of bases in 1/72 scale and 1/48 scale for a number of specific periods of aviation history. Each base is cast in one large piece of resin and is ready for paint. The quality of casting was flawless on all my review samples. This is very impressive considering the size and detail of these resin castings.
Inspiration for painting is provided in the form of a colour photo and text instructions with hints and tips for a natural finish. All the bases are big enough to comfortably fit a single-engine fighter or, in the case of the modern US Carrier Deck and the USS Hornet base, an appropriate twin-engine type (eg Hornet, Tomcat, Mitchell).
The Just Plane Stuff range includes:
JPS0001 1/48 US Navy Flight Deck (10"x12") and
JPS0002 1/72 US Navy Flight Deck (8.75"x9.25")
These bases depict US Navy carrier decks from the 1930s to the 1950s; and British Lend-Lease carrier decks from WWII (Click thumbnails at right of text to view larger images).
---
JPS0003 Japanese Flight Deck 1/48 (10"x12") and JPS0004 Japanese Flight Deck 1/72 (8.75"x9.25")
These sets include delicately depicted tie-down points. The instructions include details of decal markings for 17 Japanese aircraft carriers.
---
JPS0006 Luftwaffe Plank Hardstand 1/48 (11"x11") and JPS0007 Luftwaffe Plank Hardstand 1/72 (7 3/8"x 7 3/8")
Beautiful rendition of timber planks is the highlight of these releases. A must for Luftwaffe modellers.
---
JPS0008 PSP Airfield Display Base 1/48 (10"x12")
This versatile item will be appropriate for WWII, Korean War and Vietnam War subjects.
---
JPS0010 Helicopter Pad 1/48 1/48 (7"x13")
PSP landing pad with sandbag perimeter and planking walkway. This is almost a diorama in its own right!
---
JPS0013 US Navy Carrier Deck 1/48 (13"x16") and JPS0014 US Navy Carrier Deck 1/72 (8.75"x11.75")
The 1/48 scale version of this is big! The surface texture of a modern carrier deck is faithfully reproduced, and separate brass-etched parts are supplied for the tie-down points.
---
JPS0015 Doolittle Raider Base 1/48 (13"x16")
This base is big enough to accommodate Accurate Miniatures' B-25B Mitchell, although it would be equally appropriate hosting a couple of fighters. Detailed painting instructions are supplied for the deck of the USS Hornet at the time of the Doolittle Tokyo raids in April 1942.
I have already begun preparing two of these bases - the 1/48 Luftwaffe hardstand and the 1/48 scale PSP airfield base. The possibilities for finishing these bases are almost limitless.
My first step was to spray each base in a light tan colour overall. Due to the size of the bases, I used an aerosol can (Tamiya AS-15, USAF Tan)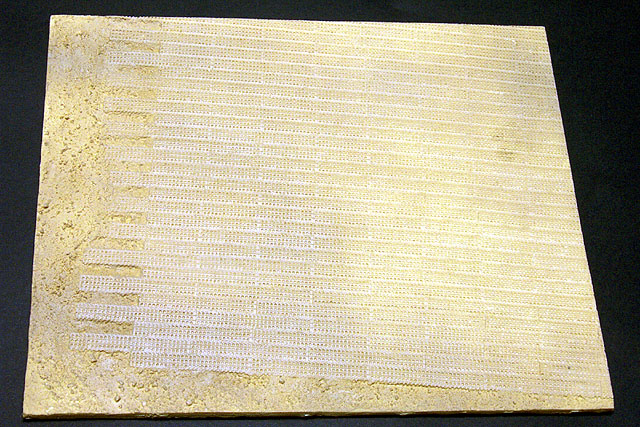 This was followed by a generous wash of thinned oil paint. I started with an overall wash of Raw Umber, then mixed this wash with Burnt Sienna, Gold Ochre and Black to "pick out" various planks. This was blended in with a further wash of almost pure thinners. Before the base had dried I applied spots of thinned Black oil paint, spattered from the brush onto the groundwork to represent oilstains.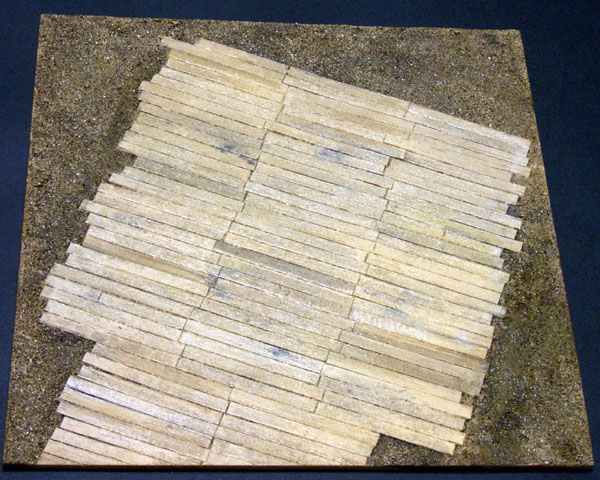 Where appropriate, I will spray adhesive in selected locations and add static "grass".
The result should be a convincing base for my models.
"Just Planes" offers a good selection of bases in their range. Most of the terrains and materials depicted on these bases would represent a major challenge for the average modeller to recreate themselves.
Just Planes bases will be a real asset to modellers whether they plan to use them as a display base or as a realistic photographic aid.
Highly Recommended.
Thanks to Just Plane Stuff for the review samples
---
Review and In-Progress Images Copyright © 2001 by Brett Green
Page Created 26 October, 2001
Last updated 22 July, 2003
Back to HyperScale Main Page
Back to Reviews Page