Luftwaffe Large-Scale
Marking Stencils
Cutting Edge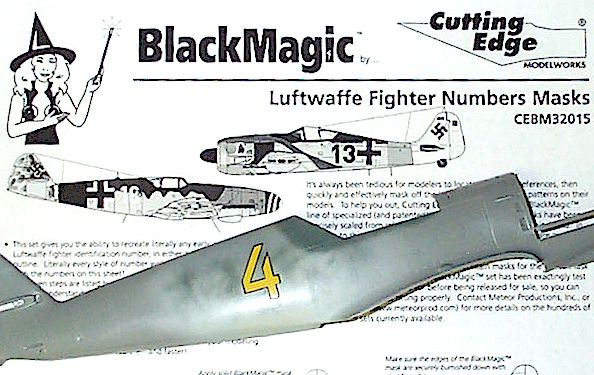 ID Numbers, Spinner Spirals and National Markings
S u m m a r y

Catalogue Number:
See table below for details
Scale:
1/32 and 1/24
Contents and Media:
Each set contains between one and three adhesive-backed black vinyl die-cut sheet and instructions
Price:
See table below
Review Type:
First Look and Test Drive
Advantages:
A Godsend for large-scale modellers; great selection for long neglected scales; perfect results with no decal film; unlimited choice of colours (ID Numbers); options for solid or outlined numbers and national markings.
Disadvantages:
Will require some practice to master technique; no IV Gruppe markings or Chevrons (ID Number sets)
Recommendation:
Highly Recommended to all experienced modellers of 1/32 and 1/24 scale aircraft
Reviewed by Brett Green


HyperScale is proudly sponsored by Meteor Productions
1/32 and 1/24 scale aircraft have been largely by-passed during the boom in model accessories over the last decade. Decal markings for these big aircraft have been particularly scarce despite their ongoing popularity and frequent re-releases of old kits.
Cutting Edge now come to the rescue with the release of a selection of masking products for 1/32 and 1/24 scale aircraft in the "Black Magic" range.
These products include numbers for Luftwaffe fighters, spinner spirals for Focke-Wulf 190 and Bf 109, and German national markings. Combining these products will offer an amazing choice of markings, especially for Luftwaffe fighters. Each set comprises between one and three sheets of self-adhesive die cut black vinyl and helpful instructions.
Details of the 1/32 and 1/24 scale masks sent for review are summarised in the table below:
| | | | |
| --- | --- | --- | --- |
| Item Number | Description | Number of Sheets | Price |
| CEBM24001 | Fw 190A National Insignia Masks | 3 | US$17.99 |
| CEBM24002 | Fw 190A Spinner Spiral Masks | 1 | US$12.99 |
| CEBM24003 | Luftwaffe ID Numbers | 2 | US$19.99 |
| CEBM32004 | Bf 109F/G/K Spinner Spiral Masks | 1 | US$9.99 |
| CEBM32011 | Fw 190A-G/D National Insignia | 3 | US$12.99 |
| CEBM32012 | Fw 190A-G/D Spinner Spiral Masks | 1 | US$9.99 |
| CEBM32015 | Luftwaffe ID Numbers | 2 | US$14.99 |
More Black Magic masks are available in these scales including canopy masks, wheel hub masks and some more specific national marking sets (for Me 262 and Bf 109). Details of the additional sets may be found by searching Meteor Productions' website.
The Luftwaffe fighter numbers are particularly clever. Each set offers two 8 ˝" x 11" black vinyl sheets of numbers in most of the styles commonly seen on Luftwaffe fighters. Gruppe Bar markings are supplied to suit II and III Gruppe aircraft, but IV Gruppe squiggles are not included. Kommandeurs' Chevrons are not included in these sets. The first sheet looks the same as the second until closer inspection. The numbers on the second sheet are slightly larger than those on the first, and may be used as an outline to the thinner numbers.
This method of application permits the modeller to choose any colour for the solid number and for the outline. It will also allow the colour of the number to be matched exactly with other painted tactical markings.
A more detailed examination of these Luftwaffe fighter numbers, including an illustrated guide to their application, is made in "Painting Aircraft Markings Using Stencil Masks" – a new Reference Feature here on HyperScale. In summary though, the masks produce a very high quality result with a little planning and extra care.
The spinner spirals are a very nice idea too. The 1/32 scale set includes a range of spiral widths and styles for the Messerschmitt Bf 109 and Focke-Wulf Fw 190A-D; while the 1/24 scale set supplies spiralschnauz for the Focke-Wulf Fw 190A only. The colour of the spiral is painted first, then the appropriate style of spiral mask is applied.
The German national markings are big sets with three sheets in each scale. They are officially labelled as suitable for Focke-Wulf Fw 190, but will also be appropriate for a wide range of additional aircraft including the Bf 109, Bf 110, Me 262 and more. Numerous styles of fuselage, upper wing and lower wing crosses are supplied in skeleton and solid formats. A good Hakenkreuz (swastika) selection is also supplied.
These masks are a godsend for large-scale modellers.
They offer unprecedented choice to modellers of 1/24 and 1/32 scale aircraft. Although they do require some planning and extra work, with care, the quality of the result is as good as the best available decals but without the risk of visible decal film or silvering.
Modellers with some masking experience should have little trouble using these Black Magic products, but it may be advisable to practice on scrap material before committing the technique to a model.
I hope that Cutting Edge also release chevrons and alternate Gruppe markings in these scales; and similar products in 1/48 scale.
Highly recommended for all 1/32 and 1/24 scale modellers.
Thanks to Meteor Productions for the review samples
---
Cutting Edge Modelworks Resin Conversion Kits are available at Meteor Productions Website
---
Review and Images Copyright © 2000 by Brett Green
Page Created 24 January, 2000
Last updated 22 July, 2003
Back to HyperScale Main Page
Back to Reviews Page