B-36: Saving the Last Peacemaker
by Ed Calvert, Don Pyeatt and Richard Marmo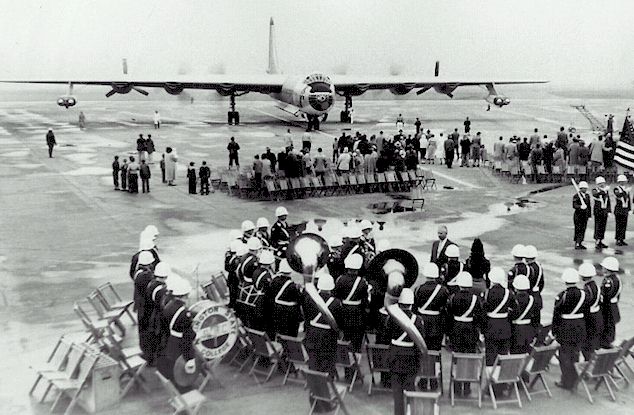 S u m m a r y

Publishers Details:
Published as a CD in HTML format by the Authors. Available via "Last B-36" website
Contents:
1 x CD ROM, 219 photographs; text and bonus material
Price:
US$19.95
Review Type:
CD Review
Advantages:
Excellent photos (over 140 in full colour); innovative format; interesting story; good detail views; valuable bonus material including audio tracks
Disadvantages:
CD viewing not fully transportable
Recommendation:
Highly recommended for any B-36 fans or modellers contemplating Monogram's big Peacemaker kit.
Reviewed by Brett Green
This is the first full electronic-format reference I have seen. I suppose it is inevitable that the Personal Computer will be more frequently used as a viewer for this type of CD production. It is certainly a very cost effective way and graphically appropriate way to display high-quality colour photographs, even if the medium cannot be always be transported to a bus, train or your favourite small reading room.
The CD requires a browser (ie Internet Exporer or Netscape) to be installed on the readers PC, but Internet connection is not essential. The format is designed for a screen resolution of 800 x 600 pixels and 16 bit colour.
The authors have taken advantage of the medium by presenting large attractive photos and active Hyperlinks to related sites and relevant email addresses. They have sensibly structured the CD into "Chapters", similar to a book. Some larger chapters have been split into two or three separate "pages" to avoid excessive scrolling. Navigation is quite straightforward, with each "page" including a full Table of Contents, and a link to move to the next Chapter.
As the name of this CD suggests, this is the story of the last B-36. The story starts with photographs of the particular aircraft in the final stages of assembly, rollout, commissioning and then its final flight.
The remaining eight chapters focus on the display and subsequent rescue of this significant aircraft.
All photos are of excellent quality and almost tell the story by themselves. The text is quite clear and fills in the rest of the detail. The laborious task of disassembling and transporting the aircraft led to many valuable photos of structural details that would otherwise have been hidden forever. Some of these photos will be of great interest to modellers.
Milestones and incidents have all been lovingly recorded, including the B-36's only victim. The forward fuselage rolled over and crushed the car of one of the authors while being prepared for transport!
Additional material includes two audio clips to give an even better impression of the last Peacemaker
Anybody contemplating building Monogram's kit should invest in this CD, as should enthusiasts with an interest in this awesome bomber that never dropped a bomb in anger.
Highly Recommended
---
"B-36: Saving the Last Peacemaker" is available direct from the Authors at their website.
---
Review Copyright © 2000 by Brett Green
Image from B-36: The Last Peacemaker Website
Page Created 31 July, 2000
Last updated 22 July, 2003
Back to HyperScale Main Page
Back to Reviews Page