HyperScale is proudly sponsored by Squadron
S u m m a r y
Description and Publisher's Details:
"Luftwaffe Aces – An Engagement Calendar 2002"; self-published by Virgil O'Neil, email virg@wtp.net . Website - http://luftwaffecalendars.com
ISBN:
Not Applicable
Media:
Soft cover, 21.5cm x 21.5cm, 94 pages plus covers (12 pages plus rear covers blank).
Price:
USD$25 plus Postage and Handling (USD$3.50 P&H in the USA)
Review Type:
FirstLook
Advantages:
Interesting new idea; attractive artwork; compact set of data for 12 pilots; nice black and white composite images; will make a nifty gift for Luftwaffe aficionados
Disadvantages:
Might get the occasional strange look from colleagues if using this as your work desk calendar; sloppy editing (typos, missing punctuation and spelling errors) on engagements pages; somewhat expensive for a desk calendar.
Recommendation:
Recommended to Luftwaffe fans
Reviewed by Brett Green
New product categories are fairly rare in our hobby, but Virgil O'Neil has managed to create one. We are familiar with desk calendars featuring witty proverbs, or cartoons of "The Far Side", or maybe "Dilbert". As far as I am aware, there has not previously been a desk calendar with the theme of Luftwaffe aces.
This is an engagement calendar with a soft cover, bound by plastic spiral ring-binder, in a square format approximately 21.5cm x 21.5cm. There are 94 pages (of which 12 are blank) plus covers.
The calendar commences with a one-page introduction to several key facts about German fighter units, ranks and awards. This comprises a brief explanation of Luftwaffe rank equivalents in the RAF and USAAF, a synopsis of four Field Conversion Kits for German fighters (but no mention of which Rustatz is applicable to what fighter), a description of the various levels of the Knight's Cross and a single paragraph to explain Luftwaffe Fighter Unit designations and identification schemes.
This introduction is followed by the main calendar. There is one week to each engagement page. These pages are punctuated with milestones for the Aces in the book (eg appointments to command, important victories etc), in addition to random references to major military anniversaries and, of course, US public holidays and other relevant planning information. 12 of these engagement sheets feature full-page "watermark" photographs as a background.
However, the real highlight of this Calendar is the colour artwork.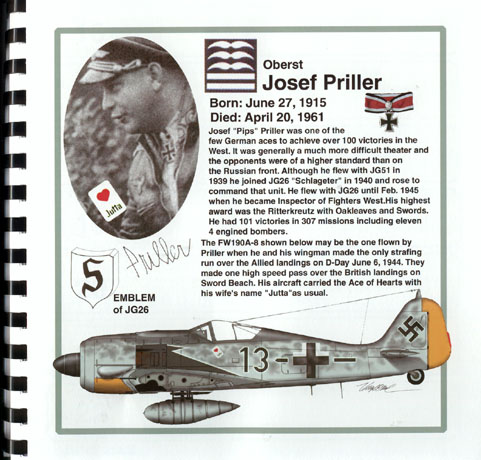 There are twelve colour pages. Each contains one colour aircraft profile, a photo and facsimile signature of the pilot, a brief history of the ace, and additional artwork of any personal and unit emblems plus awards and highest rank. This full-colour page is printed on Epson photo paper. The profiles include Fw 190A, Fw 190D, Messerschmitt Bf 109E and G; and a Messerschmitt Me 262. Each is very nicely depicted. The printing process does justice to the attractive profiles. One quirky attribute of the profiles of the Fw 190s and Bf 109s is that the wing has been "removed" – we see inside the wing root to the interior of the aircraft! Interesting approach.
The facing sheet of each profile features a full-page composite image of the Ace's aircraft in action. These images are a blending of model aircraft with electronically generated backgrounds, created in Adobe Photoshop. The resulting image has been reproduced in grainy black and white to add an air of authenticity.
This desk calendar is an interesting concept. It is also very well executed. The artwork is attractive and the succinct package of information about each Ace is interesting.
If you plan to use this as your office calendar, you may have to endure curious glances and questions about the pictures on your desktop. However, the "Luftwaffe Aces Engagement Calendar" will unquestionably be a good companion on the modelling bench or an appropriate gift for a Luftwaffe modelling fan.
It will cost you more than your common Garfield calendar, but it is certainly much more individual too! The price is very likely attributable to what appears to be a short-run, labour intensive production process.
Recommended.
Thanks to Virgil O'Neil for the review sample.
---
Review Copyright © 2001 by Brett Green
This Page Created on 18 September, 2001
Last updated 22 July, 2003
Back to HyperScale Main Page
Back to Reviews Page