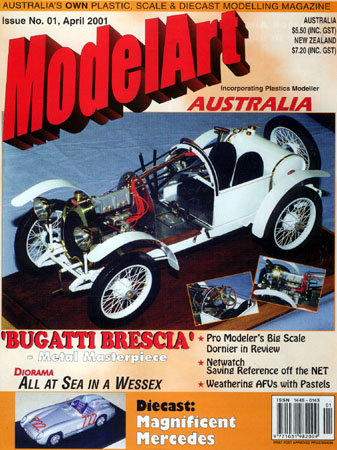 Many Australian visitors to HyperScale will already know the local magazine "Australian Plastics Modeller". The new magazine "Model Art Australia" is the Phoenix that has risen from the ashes of Plastics Modeller, which has now been bought out by its long-time Editor Frank Morgan.
The format and feel of the new magazine will be familiar to readers of Plastics Modeller. The magazine is 54 pages plus covers, of which around 20 pages are reproduced in full colour. Photographic reproduction is generally good.
Model Art Australia has a number of regular columns including "Off the Sprue", Frank Morgan's editorial, a review section, modellers showcase, "Professor Plastics Patter", "Club Corner", "Net Watch", a Readers' Letters section and a list of new and forthcoming releases. These regular sections are supplemented by modelling and reference articles. Issue One has seven articles, divided fairly evenly between aircraft, armour and cars.
One of my favourite aspects of any model magazine are the advertisements (seriously)! The ads in Model Art reflect the Australian nature of the magazine. This will be helpful to Aussie modellers in finding specials and local release information.
With a cover price of AUD$5.50, it is also quite inexpensive compared to overseas magazines.