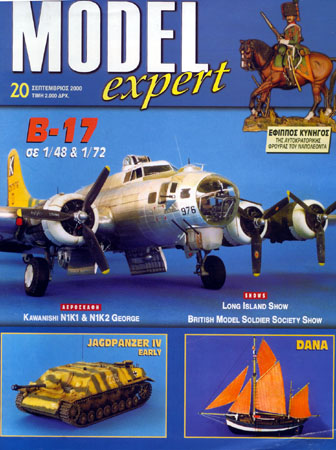 "Model Expert" is a magazine published in Greece by Periscopio Publications. The text is all in Greek, but most article titles, subject names and some advertisements are in English.

The magazine is published in full-colour on high quality paper with many excellent colour photos. All captions are in Greek.

Subject matter is quite broad. It covers aircraft, boats, armour and figures. The layout follows the familiar path of news and reviews followed by a series of detailed feature articles and colour profiles. The overall feel is, in my opinion, like a mix of French magazine "Replic" and the British "Military Modelling".

The feature articles in this issue cover 1/72 and 1/48 scale B-17s, Kawanishi N1K1 and N1K2 George kits (beautiful accompanying profiles), Revell's release of the Jagdpanzer IV L/48 (with some great construction shots), a Poste Militaire 90mm cavalry figure, Billings Boats "Dana", and a reference article on the Imperial Iranian Air Force.

The standard of modelling, photography and profiles is very high indeed.

"Model Expert" is a very nicely executed general modelling magazine. It would be even more appealing if I could read the Greek language!

Recommended.