Mosquito Accessories
Ultracast
(see images in body text below)
S u m m a r y

Catalogue Number:
48045 - DeHavilland Mosquito Tail Wheel Assembly
48045 - DeHavilland Mosquito Mud Guards
48045 - DeHavilland Mosquito Flame Dampening Exhaust Shrouds
48045 - DeHavilland Mosquito FB.VI AI Mk XV ASH Radar Nose Conversion
Scale:
1/48
Contents and Media:
All Resin. See text for more details
Price:
Mudguards and Tailwheel - US$4.95 each
Exhaust Shrouds and Radar Nose - US$7.95
Review Type:
In-box
Advantages:
Beautiful quality casting; genuine added value (more detail); accurate; inexpensive; easy conversion for AI Mk. ASH XV radar-equipped aircraft
Disadvantages:
(Comment for mudguards only) Might be simple to modify kit mudguards.
Recommendation:
Recommended for British WWII Aviation Fans
Reviewed by Brett Green
I was initially surprised upon seeing some of these new accessories for Tamiya's Mosquito kit. I wondered if Ultracast were "gilding the lily" by simply replacing excellent plastic parts with excellent resin parts. I am pleased to report that this is not the case.
48048 Thimble Radar Nose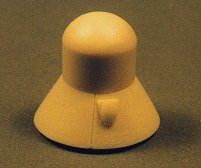 The ASH "thimble" radar nose was used on Mosquito's equipped with the American AI ASH radar. This part is not available in any of Tamiya's kits to date. Casting is perfect; and a small hollow intake scoop is moulded as part of this one-piece conversion.
The casting block is chunky and some care will be required when removing it, although the locating lip will provide a small margin for error.
This is a useful conversion for a Mosquito with a different look.
48045 Tail Wheel Assembly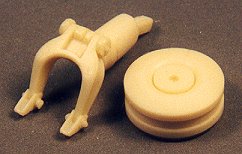 This two-part replacement for Tamiya's tailwheel and strut adds subtle detail to the rear gear strut and mounting arms. It also features a single-piece wheel that snaps into place between the resin mounting arms, lending a more satisfactory appearance than Tamiya's wheel-half moulded to the strut-half.
Very fine attachment points will be easy to clean up.
This will add even more detail to Tamiya's excellent kit.
48046 Main Wheel Mud Guards

It was surprising to see that Tamiya had not represented the prominent lightening holes in the kit mudguards.
Ultracast's replacement parts accurately represent these holes. They also supply some subtle reinforcement detail on the inside of the supporting faces not present on Tamiya's somewhat oversimplified parts.
In my opinion, it would be a relatively minor task to measure, mark and drill the holes in the kit parts, but for the less confident modeller these parts represent less risk than cutting into Tamiya's kit.
48047 Flame-Dampening Exhaust Shrouds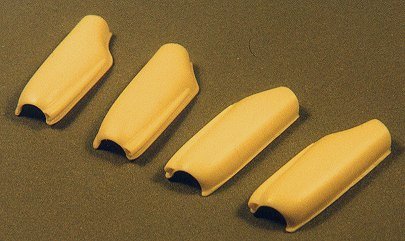 Four resin parts replace Tamiya's shrouded exhausts in this accessory set.
Tamiya's plastic kit parts represent an early variant of the shroud with a small opening. This seems appropriate for the prototype and some early production Mossies.
Ultracast have suppled a different style of shroud with a wider opening and a subtly different shape. A small inlet is also moulded at the top each shroud.
It is tough to pick which type of shroud equips what aircraft, but this wider version seems appropriate for most B.IV, Mk. VI and X variants. It will also be correct for some later two-stage Merlin Mosquito variants, although shrouds on these late aircraft went through several evolutions.
Amazingly, these parts require no casting-block removal or cleanup. They are ready to glue direct to your Tamiya Mosquito engine nacelle!
These shrouds represent another interesting way to differentiate your Tamiya 1/48 scale Mossie.
These excellent quality accessories will add character to your Tamiya Mosquito.
Recommended
You may view these and other products including photos at Ultracast's Web Site.
Thanks to Kevin at Ultracast for the review samples.
---
Review Copyright © 2000 by Brett Green
Images Courtesy Ultracast Website
Page Created 07 January, 2000
Last updated 22 July, 2003
Back to HyperScale Main Page
Back to Reviews Page