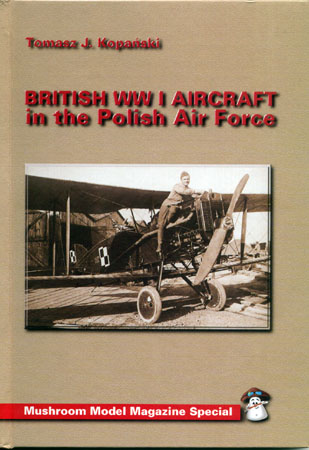 The title says it all. This excellent book covers the somewhat esoteric subject of British WWI aircraft in the fledgling Polish Air Force.
88 high quality, glossy pages are enclosed between the hard covers.
The book commences with a brief discussion about the early Polish Air Force, and the sometimes halting process of contracting and taking delivery of a combined total of 146 British WWI aircraft.
The bulk of the book is well organised by aircraft type - ideal for modellers. Aircraft types comprise Bristol F2B, Sopwith Dolphin, Martinsyde Buzzard, Sopwith Camel, SE 5a, DH 9, RE 8, Avro 504K, HP 0/400 and Sopwith 1 1/2 Strutter.
A description of each type and an operational history is accompanied by a generous complement of photographs. The photographs are of impressive quality considering their age. Photo captions are clear and detailed. The text is peppered with tables of useful data including aircraft accidents, serial numbers and shipment details.
8 pages of colour profiles cap off this publication.
This book will be of great interest to WWI aircraft afficiandos everywhere.
Highly Recommended.