Random Thoughts
The Journal of IPMS Canada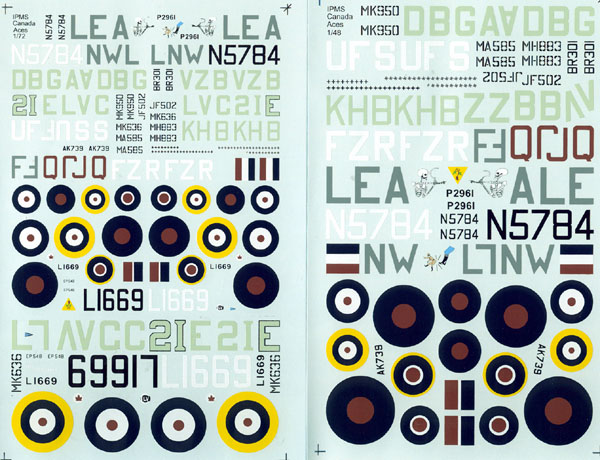 and
Canadian Aces
Decal Sheet


HyperScale is proudly supported by Squadron.com
S u m m a r y
Publication Details:
RT Magazine published by IPMS Canada 6 times a year; available to members of IPMS Canada by filling out the application form on their website

Decal sheet available only for members of IPMS Canada, including members who join before the issue of the next Random Thoughts.

ISBN/ISSN:
N/A
Contents and Media:
Magazine: Soft cover; 24 pages; centre-staple bound; letter size; portrait format; black-and-white commercially printed

Decals: 2 full 20cm x 13.5cm decal sheets in both 1/72 and 1/48 scale. 8 pages of photocopied instructions.

Price:
Included with membership of IPMS Canada. Membership costs CAN$24.00 per annum in Canada; CAN$26.00 per annum for international members
Review Type:
FirstRead / FirstLook
Advantages:
Magazine: eclectic subject matter reflects members' expertise; good reference articles

Decals: Lots of subjects, plenty of variety; both major scales in the one set; perfect registration; very thin; minimal carrier film.

Disadvantages:
Magazine: Photo reproduction quality limited by the printing process

Decals: Very limited timeframe for availability

Recommendation:
Recommended
Reviewed by Brett Green
RT Magazine
One of the real challenges for a club magazine is addressing the needs of its members with expertly researched and uniquely relevant material. IPMS Canada has a head-start in this area due to its experienced Editorial team, including Sid Arnold, Jamie Leggo and Randy Lutz.
IPMS Canada's magazine was originally called Random Thoughts, but in these modern times now goes under the moniker of "RT". The magazine is only available to IPMS Canada members, but this organisation happily offers membership to Canadians (at CAN$24 per annum) and foreigners (at CAN$26 per annum) alike.
"RT" is published 6 times a year, and is produced on 24 black and white pages. The printing is quite clean and sharp, but reproduction of details in photos suffers slightly from the dot point format.
The issue under review is Volume 27, Number 2, and contains a great mix of reference articles for aircraft and armour modellers. In summary, the contents are:
Variations on the Curtiss Hawk (everything you always wanted to know about variants of the P-36 from the 1/48 scale Hobbycraft kit) by Randy Lutz

2KI Wireless Body on CMP 4x4-101 Chassis by W.P. Warren and Don Dingwall (19 drawings plus supporting text)

Pumas of the Royal Hungarian Air Force Part 2 by Stephen Bathy (a text and picture profile of a Hungarian pilot and his Bf 109, "Red 7")

IPMS Canada NorEast Con coverage

M3 Medium Lee in Canadian Service by Sid Arnold (5 photos, text and14 drawings)

Props and Chocks - opinion by Randy Lutz
---
Bonus Decals - Canadian Aces of WWII
In addition to RT Magazine, IPMS Canada produce occasional exclusive decals and merchandising for members. This issue of RT includes an excellent decal sheet of Canadian aces of WWII.
The decals comprise two full-size sheets (each 20cm x 13.5cm) with eleven subjects in both 1/72 and 1/48 scale. The decals are printed beautifully, with perfect registration and minimal carrier film. They look extremely thin so take care when applying them to your models.
Subjects covered include seven Spitfires, two Hurricanes, a Gladiator and a Kittyhawk Mk. I. These represent the mounts of the six top scoring Canadian aces of WWII. There is a good variety of markings and colour schemes from Europe and the Middle East.
Instructions are supplied on four double-sided letter-sized photocopied sheets. Text and profiles are provided.