Fairey Swordfish Mk. I
Tamiya

S u m m a r y

Catalogue Number:
61068
Scale:
1/48
Contents and Media:
Approx. 212 parts in grey styrene; 6 clear parts; 1 poly cap
Price:
Japanese price 4200¥; US$ price varies up to around US$80
Review Type:
In-box
Advantages:
Beautiful surface detail; well-detailed cockpit; generous ordnance supplied; optional positions for wing
Disadvantages:
Some parts only available in separate photo-etched accessory set (costing an extra 1000¥); incorrect camouflage colours; some ordnance mount detail too thick; expensive outside Japan.
Recommendation:
Recommended
Reviewed by Brett Green
The Fairey Swordfish entered service with the British Fleet Air Arm in 1936. By the outbreak of World War Two the big biplane already seemed obsolete compared to its contemporaries.
The maximum speed offered by its 690 horsepower Bristol Pegasus engine was a stately 139 miles per hour. Its defensive armament was basic, to say the least - one forward-firing fixed .303 machine gun and one Lewis gun mounted in the rear cockpit.
The Swordfish carried an impressive range of offensive armament, including one 1,610-lb. torpedo or up to 1,500 lb. of depth charges, mines and bombs. The Swordfish Mark II could also carry up to eight rockets.
The Swordfish was a versatile aircraft that could be equipped with either wheels or floats. It was the subject of many daring and successful actions including the sinking of the Bismarck. Land-based Swordfish based in Malta sank around 50,000 tons of German and Italian shipping every month.
The last Swordfish squadron was disbanded on 21 May 1945. A total of 2,391 of these remarkable aircraft were manufactured.
Tamiya's 1/48 scale Fairey Swordfish Mk. I is packed in a deep box with a large photograph of an assembled model on the boxtop.
The kit comprises around 212 parts in medium grey coloured styrene, 6 clear parts and a single polythene cap.
The model boasts a 289mm wingspan and is 230.5mm long. These dimensions match my references for the Mk. I Swordfish almost perfectly.
A 16 page, stapled instruction booklet describes construction in 25 illustrated steps. A separate sheet with history and specifications is also provided. This includes a comparison between the Swordfish and its US and Japanese counterparts but unfortunately the double-sided sheet is written solely in Japanese.
A small errata sheet is also included. Don't lose this - it contains an important correction to the main instructions.
Markings for three aircraft are supplied
825 Sqn. FAA
an aircraft that participated in the attack on the Bismarck, and
823 Sqn.
Surface detail is wonderful. The fabric effect is restrained but unmistakable. Crisply engraved lines separate panels on the forward fuselage. Other details, including quick-release fasteners, stringers and folding steps are raised.
A few ejector pin marks are present on the inner surfaces of parts, but these will almost certainly be invisible once the model is assembled. The only areas of concern are some tiny marks on rocket rails and bomb racks. The remainder of the model is remarkably free of flash, sinkmarks or other imperfections.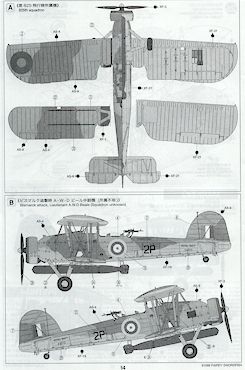 The engine is largely visible from the front and the back views. Ten plastic parts are supplied for the crankcase, engine, cowl, cowl ring and exhaust. The very prominent forward cowl mount and its brace are only available at extra cost with the optional etched metal set. Tamiya have made no attempt to represent these features in the basic kit.
The cockpit is very detailed, comprising over 30 parts plus 3 uniquely posed crew figures. Decal harnesses are supplied for two seats. Structural detail on the fuselage interior is complemented by the separate tubular cockpit frame in which the beautifully rendered detail is suspended.
Wings may be displayed at full span or fully folded. Don't expect to see masses of plumbing and hinge detail - the Swordfish wingfold was simple in the extreme.
Engineering of the wings is typical of Tamiya. The mounting points for the struts are robust, and the struts themselves are quite simple. Take care to note the parts sequence that apply to your choice of folded or full-span wings. The instructions also require holes to be drilled for rigging and ordnance before the wings are joined.
Rigging instructions are included but the photo-etched rigging wires are only available at extra cost in the accessory set. Even with the inclusion of these "options", additional rigging will be needed for external control lines. The most obvious missing control lines run from the sides of the rear fuselage to the tail surfaces. An aerial wire will also be required.
Ordnance is very comprehensive. Two sprues with over 90 parts contain six 250 lb. bombs, four smoke floats, four flares, eight rockets with rails and mounting plates plus a well detailed 1,610 lb. torpedo. I wonder how long it will be before we see these sprues released as generic "Commonwealth Ordnance" accessory set?
Some of the fuses and mounts look overly thick. The tail cones on the 250-lb. bombs are quite thin but will benefit from a little extra work.
Rockets were only carried from the Mk. II Swordfish onward.
Colour callouts in the painting instructions are incorrect. Air Ministry Order A.926 of December 1940 and its subsequent amendment of January 1941 specified the use of the "temperate sea scheme" camouflage or for all "flying boats, float planes, amphibious and Fleet Air Arm aircraft". This scheme comprised of upper surface camouflage in Dark Slate Grey and Extra Dark Sea Grey. Lower surfaces should be finished in Sky Type "S". However, Tamiya's instructions call for RLM 75 Grey Violet (they really do, I wouldn't lie to you) and RAF Dark Green. These colours may suffice for Ocean Grey and Dark Green, but are not even close to the colours specified for the Swordfish. Very odd.
1/48 scale templates for the camouflage pattern are supplied.
Decals are opaque and in perfect register. I tested a couple of decals with yellow and white on a dark background and they do not suffer from the translucency of some earlier Tamiya offerings.
A Short Note on Pricing
The price of this kit outside Japan has been the subject of wide speculation and discussion.
Despite the box price of 4200¥, the retail price of this kit in the West will be anywhere up to US$90. It would seem difficult to justify this price for a Beaufighter-sized kit that costs up to three times the shop price of a Tamiya Beaufighter.
However, I picked up my kit for around A$62 (US$40) at a local Australian hobby store. At this price it is unquestionably good value, even if I will have to buy the accessory set too.
My guess is that the retail price of this kit will quickly fall to a more reasonable level.
I hope I am right. With the wide range of markings and camouflage schemes carried by this versatile aircraft it would be nice if the average modeller could afford to buy a couple!
It is gratifying that the world's best model manufacturer has chosen to release a subject as important and interesting as the Fairey Swordfish. Their stamp of quality is all over this kit.
Even so, I expect a company like Tamiya to furnish all the parts required to turn out a reasonable facsimile of a modelling subject. I therefore find it irritating that Tamiya have chosen not to include certain parts in this kit.
I can accept that rigging is not included.
However, the omission of cowling mounts, gunsights and other details is really bad form.
I would have far preferred an approach similar to that taken by Czech company Eduard, with their "Standard" (plastic only) and "Profi-Pak" (plastic plus multi-media) options. I wouldn't even mind if plastic parts were supplied but were overscale.
Tamiya's incorrect colour callouts are also annoying.
Nevertheless, kit detail and engineering exude Tamiya quality. Cockpit detail is terrific, ordnance is generous and the wing-fold option is welcome.
Recommended.
---
Review Copyright © 1999 by Brett Green
Page Created 21 November, 1999
Last updated 22 July, 2003
Back to HyperScale Main Page
Back to Reviews Page