Kawasaki T-4 Trainer
Hasegawa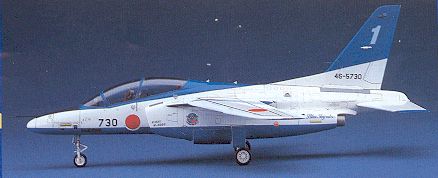 S u m m a r y

Catalogue Number:
PT16
Scale:
1/48
Contents and Media:
Approx. 60 plastic parts, 8 polycaps
Price:
$43 Canadian.
Review Type:
First Look
Advantages:
Accurate outline, nice recessed detail, good interior detail, intake trunks, excellent fit, nice features.
Disadvantages:
Possibly fiddly assembly, poor fitting cockpit.
Recommendation:
Highly recommended to jet fans.
Reviewed by Mike O'Hare
There's been a lot of fuss on HyperScale lately about Hasegawa's newest 1/48 jet. The Kawasaki T-4 is a Japanese designed F-15 trainer. While the subject does not have the widespread appeal that Hasegawa's next jet release, the F-104, will have, it is nonetheless a machine that the Japanese love (hence it being made by Hasegawa). This definitely shows in the tooling.
The best way to describe the kit is to think of Hasegawa's A-7s and F-18s with ten years worth of improvements! Basically, everything that one could ask for is in this kit, and it looks to be very modeler friendly. It has been released in two forms - a regular T-4, in overall gray; and a machine used by the Blue Impulse, Japan's aerial demonstration team. I've always liked the Impulse scheme, so that's what I bought for my first T-4. Believe me, I'll be getting more!
Inside the box are eleven crisply molded sprues of parts thoughtfully injected in white (to ease painting the Blue Impulse jet). While this does make seeing the details more difficult, it won't really make construction any harder. Panel lines are finely recessed and very crisp. The landing gear, cockpit and engines are very nicely detailed as well, though a photo-etch set wouldn't hurt for some finer details, especially under that big canopy which is clear and appropriately "bubbled" (which means that yes, it does have a seam down the middle).
Click the thumbnails below for a full-sized view of the sprues
The cockpit features finely raised details, as well as some sidewall detailing, though the instrument panel looks a bit flat. It simply features raised details on a flat panel. It's a bit difficult to explain, but there's just something about it that does not look quite right, though it's far from "bad". About the only thing that one could really ask for is some cockpit sills, as they would of course be prominent if one opens the canopy, and an Eduard instrument panel would dress things up quite a bit. The ejection seats are ten pieces each, and should be good enough on their own, though there are no belts provided (the kit does come with two pilots, who do have seatbelts!). They won't need to be replaced though.
Perhaps the best aspect of the kit are the number of "modeler friendly" features. Chief among these are full intake trunks, something I know I've been lobbying hard for (and the upcoming Revell-Monogram kit has them too, yee-haw!). Unfortunately, they were molded "upside down", with smooth outer surfaces and rough inner (visible) ones, including ejector pin marks, but nothing a little liquid putty and sanding won't be able to fix (much easier than scratchbuilding them, anyway).
Another nice feature is the dropped flaps, saving some cutting and frustration (or aftermarket resin…). And, best of all, Poly tubes! Yes, that's right, those wonderful little tubes that let you add propellers after painting are featured in the T-4. How? The landing gear and stabilizers will just push in, meaning that you won't need to worry about gluing them in the wrong position. As well, for those of you who have built Hasegawa's F-4s, the pins to attach the stabilizers are quite large and robust. They shouldn't snap off! Another neat feature is the wings. They are tabbed/slotted so that they will just slide together, again, minimizing glue, and ensuring perfect dihedral. A very nice feature indeed.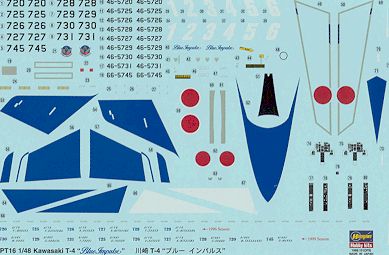 The Blue Impulse decal sheet practically fills the bottom of the box. It's got decals for the more difficult patches of Blue and white, as well as markings for any of the nine Impulse machines, with names from both 1996 and 1999 seasons. Another neat feature, the wing walks are one large decal, including the roundels, again making life easier. Unfortunately though, the white decals look like they'll be translucent, with the blue showing through under, and of course, the formation lights are not the proper colour, and should be replaced.
I've done a quick test fitting (read: I couldn't wait to rip into this model!), and have noticed a few slightly irksome issues.
Firstly (and primarily), the cockpit tub doesn't seem to fit well into the fuselage. It seems that the edges of the tub are straight, while the fuselage is of course contoured, which results in gaps around the bulkheads. As well, there seems to be some sort of problem around the middle of the cockpit - the aft glare shield has about a 1mm gap between the two halves - it's easy to pinch closed, but that may throw things off with the canopy (pinching in the sills). I can't really tell right now if it's a warp or a gap, but it's something to watch out for. Not a very big deal either way though. It will probably be a bit tough getting all the fuselage parts together properly. I'd probably add the wings before the fuselage bottom, as it will allow easier access to the joint, and you MUST add the intake assemblies before gluing the fuselage together.
Also, it's very easy to confuse the intake parts from side to side (ask me how I know…), so again, beware. The poly caps make things much easier, and the tail is quite strong (no "touch it and it snaps" problems here).
In the end though, it looks like this will be a fun build, and a really nice kit. I will definitely be buying more of them. It bodes very well for the -104 series as well. I'm more anxious than ever for some new Hasegawa jets now. And if they're on a jet trainer kick, how 'bout a Hawk series?
http://www.jda.go.jp/jasdf/blue/index.html
http://www.jda.go.jp/jasdf/indexE.htm
http://www.totavia.com/~ACybriw/aviapix/PostWW2/Japan/T4/
http://www.airshowpics.com/impulse/impulse1.html
---
Review Text and Images Copyright © 2000 by Mike O'Hare
Page Created 23 February, 2000
Last updated 22 July, 2003
Back to HyperScale Main Page
Back to Reviews Page