F-4J (UK) Phantom II
74 "Tiger" Squadron, RAF
Yellowhammer Models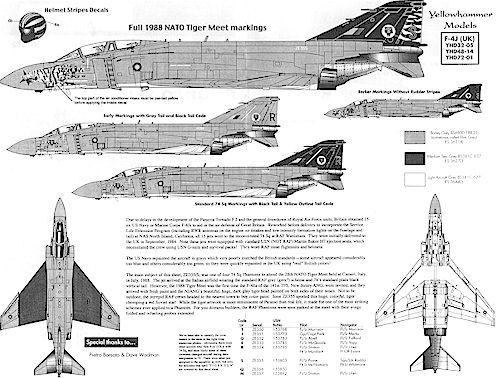 S u m m a r y

Catalogue Number:
YHD72001; YHD48014; YHD32005
Scale:
Available in 1/72, 1/48 and 1/32 scales
Contents and Media:
One decal sheet; one black-and-white instruction sheet.
Price:
USD $7-95 (1/72 and 1/48); US$11.99 (1/32)
Review Type:
First Look
Advantages:
Excellent colour and register; choice of nine aircraft; either 'Tiger Meet' or standard squadron aircraft.
Disadvantages:
Recommendation:
Highly recommended for all you 'Phantom Phanatics' out there.!!

Reviewed by Dale Smith


HyperScale is proudly sponsored by Meteor Productions
Delays in the Panavia Tornado F2 program and a general reduction in RAF units resulted in the RAF acquiring 15 ex-US Navy and Marine Corps F-4Js to assist in the air defence of the UK. These airframes were reworked in a 'Life Extension Program' at the North Island, NAS, California. Modifications included RWR antennas on the engine air intakes, low intensity formation lights and general repainting.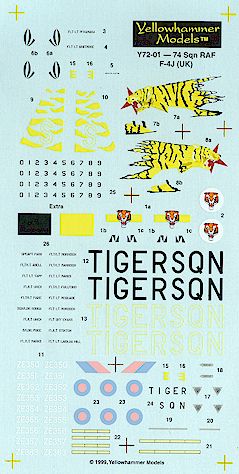 All 15 aircraft were issued to the reformed 74 "Tiger" Squadron at RAF Wattisham in September of 1984. These jets were equipped with standard USN (Not RAF) Martin Baker Mk 7 ejection seats, which necessitated the crews using USN G-suits and survival packs. They still wore RAF issue flightsuits and helmets though.
The US Navy greys in which the aircraft were repainted were poor matches to the British Standard colours, some being too blue and some too grey. Accordingly they were quickly repainted in the UK with "real" British Colours. Upper surfaces including the entire radome were painted in Barley Grey, BS 4800-18B-21 (sometimes called 'Flint Grey'. FS 36314) with the inner 2/3rds of the upper wing surfaces (from fuselage to the wing fold point) painted Medium Sea Grey, BS 381-C-637. (FS 36270).
The undersurface was entirely Light Aircraft Grey, BS 381-C-627. (FS 36440).
The subject of these sheets are from the 28th Nato 'Tiger Meet' held at the Cameri Airbase, Italy in July, 1988.
F-4J aircraft, British serial ZE-355/S attended this meet, but was originally only painted in the standard british RAF Grey scheme and '74' Sqd. standard black vertical tail plane. F-4Es from the 141st TFS, New Jersey ANG which were attending for the first time, also arrived, but were resplendent with a huge, dark grey tiger head painted on both sides of their noses. Not to be outdone, the RAF crews obtained colour paint from the nearest town and devised the tiger chomping on the soviet 'Red Star' as well as tiger stripes on the rudder, which has remained one of the most colourful and striking schemes ever applied to an F-4. Most of the RAF aircraft, were seen parked at the 'Tiger Meet' with wings folded and their refueling probes extended.
Enough history - on with the review.
As stated, the main subject of this sheet is F-4J, serial ZE-355, tail code 'S' of 74 'Tiger' Sqdn. The two tiger head nose markings 'chomping' on the red star, yellow tail plane striping, serials for 9 aircraft, low-vis British markings and ejection seat/rescue indicators, low intensity formation lights and a selection of 10 pilot/navigator canopy names are all supplied.
9 individual tail plane code letters are supplied, T,I,G,E,R,S,Q,N in either black for the standard aircraft schemes, or yellow outline for the black tailplane aircraft.
Nose wheel well door identification letters are also supplied. A piece of striped decal is also supplied for the nose airconditioning duct which will require a touch of yellow paint on the upper surface to blend things in. A nice touch is additional pilot helmet striping as well as a small square of yellow and black decal to help in those places where you stuff things up.
All my sample decals were nicely in register and well printed. Decal film is minimal and they appear very thin.
Care will be needed with the nose markings as they are very fine. There should not be any trouble with them conforming to the surface detail with a little decal solution.
A good reference source is Verlinden Publications 'Lock On' No.10 on the British Phantoms F-4J / FGR.1 & FGR.2. No photos of the 'Tiger Meet' aircraft, but excellent photos of the standard squadron aircraft at Wattisham.
This is another excellent release from Yellowhammer Decals which comes unreservedly recommended.
The RAF Phantom is a great subject with a good selection of aircraft that can be modelled. If you do not fancy the 'Tiger Meet' aircraft, a standard squadron aircraft is also an excellent choice. It will make a refreshing change from the standard "Showtime 100" that you seem to see at all the model competitions. Now, where is that Hasegawa F-4J that is tucked away in the model cupboard?
Many thanks to Brett for passing these decals on to me for review, and a big thank you to Meteor Productions for the review sample.
---
Yellowhammer Decals are available from Meteor Productions Website
---
Review Copyright © 2000 by Dale Smith
Page Created 18 February, 2000
Last updated 22 July, 2003
Back to HyperScale Main Page
Back to Reviews Page