1/72 Tu-95MS "Bear H"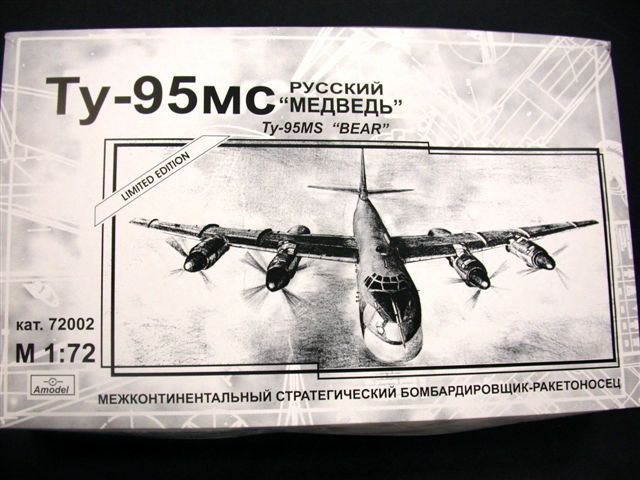 Amodel

HyperScale is proudly supported by Squadron.com
S u m m a r y

Catalogue Number:
72-002
Scale:
1/72
Contents and Media:
See Text
Price:
USD$139.00 Obtained from Linden Hill Imports
Review Type:
First Look
Advantages:
Epoxy glass construction overcomes "vacform droop"; innovative; petite injected details; decent instructions.
Disadvantages:
Complications with cleanup and rescribing due to hard epoxy; lots of cleanup and flash on styrene parts; some warpage evident; flat-finish decals
Recommendation:
Recommended to experienced modelers, but finicky Tamiyagawa assemblers need not apply!
Reviewed by "Bondo Phil" Brandt
FirstLook - The Bear is Here
Hot on the heels of their Sukhoi T-4 release, the first in their "Monster Plane" series, the Russian firm, Amodel, has stepped smartly up to the plate with another Soviet giant airframe, the definitive Tu-95MS, or "Bear H." Although quite innovative, this latest limited production (200 copies) kit is certainly not the first 1/72 Bear to be produced. Contrail did vacuform kits of the Bear and AWACS "Moss" (with injected props and rudimentary landing gear) some twenty years ago, and in the past two years, AIM in the U.K. has produced a precut vac kit with resin components. What sets this new Amodel release apart from the others is the serious price--Linden Hill Imports immediately sold out their initial USA allotment, however--and, as in the case of its T-4 predecessor, the main fuselage, wings and tail are all done in tough, hand-laid epoxy fiberglass, with a host of injected add-ons to be attached with CA glue.
While epoxy glass certainly overcomes 'droopy' vac construction problems inherent in long fuselages and large wingspans--you could kill someone with these epoxy glass parts!--it comes with its own baggage, namely quality of engraving.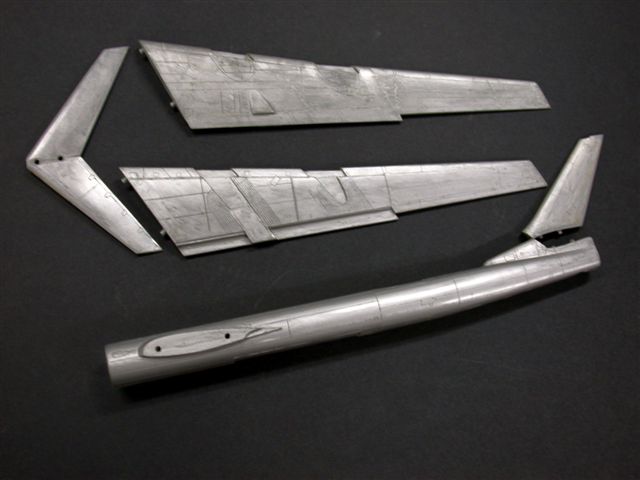 The overall panel engraving on the smooth epoxy glass surfaces is OK on such a large model, if perhaps a bit aggressive, approaching Matchbox in some areas, and too light in others. IMO the uneven engraving results from the gelcoat and laying on of the glass cloth. Then, when the component halves are epoxied together, and the resulting seams sanded at the factory, additional details, sometimes complex lines, are obliterated....which would still be OK in this age of neat scribers if it weren't for the hardness of the gelcoat. I tried to "hog out" some shallow panel lines with my Bare Metal scriber, bearing down more and more with each pass, with little success. I plan to try my thin Hasegawa panel saws next; stay tuned.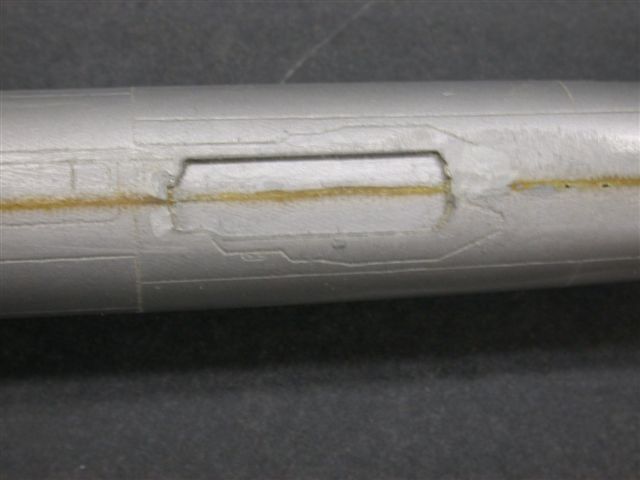 Some twenty smaller sprues of soft plastic injected components are generally well done, with petite, even scribing. Allow lots of time for parts cleanup, though, because the horde of injected components come with typical limited production, industrial-sized spigots, not only where they join the sprues, but spread onto flat joining surfaces, too,
Click the thumbnails below to view larger images of kit parts:
And, we haven't even mentioned flash which is well-represented also, along with just a few sink marks.
I did a dry fit of the forward fuselage/cockpit halves, and there is warpage, so I'd glue the halves together progressively, after each section dries. Control surfaces--and there are a group of these--will need the builder's tender care also. Note that Bondo sez "builders"; finicky Tamiyagawa assemblers need not apply for this project! In fact, if my previous Amodel experiences are any guide, everything will have to be fine tuned before gluing.


Engines

The four big Kusnetszov turboshafts are multipiece assemblies with the cowlings done in halves, actual depth to the concentric ring intakes (1/2") and add-on oil cooler scoops. The contra-rotating prop assemblies are constructed of individual prop blades and actually rotate on concentric shafts. Exhaust stacks are also cast in halves, and a turbine wheel can be seen inside the nacelle as in the real thing.


Landing Gear

The complexities of the main and nosegear assemblies have been realistically rendered by Amodel and are comprised of numerous spindly struts and small parts, all with flash to be removed. The maingear strut assemblies locate between the interior-detailed halves of the big inner nacelle pods, a Tupolev design hallmark. The nosegear well is of built-up construction, with structural detail in the "roof" section. Wheels are well done with delicate holes in the outer halves.


Flightdeck

The flightdeck is straightforward, with separate consoles and control yokes. The instrument panel has sunken instrument bezels. Seats matchup with pix of the real thing, but no belts or harness are included. The small windscreen and windows won't permit much viewing anyhow.


Wings and Control Surfaces

The epoxy glass wings, horizontal and vertical fins have cast-in dowels which mount into pre-drilled holes in the fuselage. Flaps, ailerons, stabilizers and rudder are of built-up construction. Tiny hingeplates on the stabilizers and rudder glue directly to the flat vertical surface of the epoxy glass horizontal--BTW, the dihedral of this component is built-in at the factory--and vertical fins. Flaps appear to be able to be installed in deployed configuration. Ailerons butt directly to the epoxy glass wings. Trim tabs for all controls are separate, as are wing, stab and rudder tips. One subtle Bear H difference picked up by the Amodel folks are the nacelle transition fairings in the top of each wing. The H version has gentle, "squashed" contours, whereas earlier Bears have sharper, more V-shaped ones, somewhat like the engine pod/wing transition in a B-52.
The decal sheet features both Russian and Ukraine national insignia with ninety-two separate airframe stencils, all in that irritating flat-finish so loved by ESCI. Bondo's gonna try to pre-spray the sheet with Micro Superfilm. I don't believe there are any aftermarket sheets out there now, but with the imminent release of the Trumpeter Bear, I'm confident some alternatives will show up.
The Bear H comes with a decent, twelve-page booklet done in no-text style. Exploded parts assembly are self-explanatory, but I'd strongly recommend additional references such as the excellent Aerofax book by Yefim Gordon, or the nice WAPJ article in its Premier Edition way back in Spring 1990.
The Bear is a much-desired subject by modelers entranced by instruments of the old "Evil Empire." Amodel's release, while not an inexpensive afternoon project, and with the comparative roughness of limited edition kits, is nevertheless a quantum step beyond vacuform multimedia kits of the past, and this modeler welcomes it.
The forthcoming (May '02) Trumpeter release of the Bear should stir the waters even more.


---
Review and Images Copyright © 2002 by Phil Brandt
Page Created 27 March, 2002
Last updated 20 July, 2003
Back to HyperScale Main Page
Back to Reviews Page