Colours and Markings
of the World's Air Forces
1912-1920
by Bob Pearson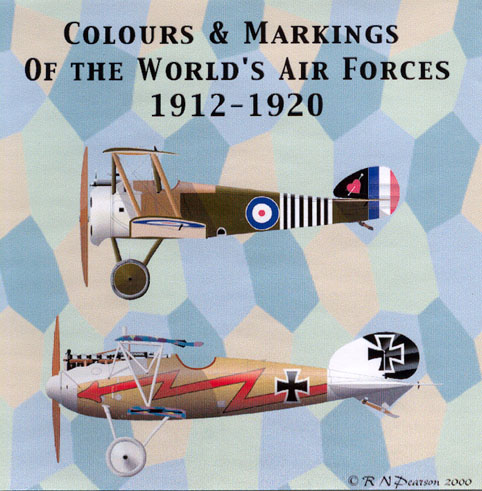 S u m m a r y

Publishers Details:
Published as a CD in HTML format by the Author. Available via the Author's website
Contents:
1 x CD ROM
Price:
US$40.00
Review Type:
CD Review
Advantages:
Well structured; interesting features; huge array of profiles; helpful reference photos; nice one-stop modelling inspiration
Disadvantages:
CD viewing not fully transportable; some images slightly small; a few pages require side-scrolling at 800x600; no search function
Recommendation:
Recommended
Reviewed by Brett Green
This is the second full electronic-format reference I have reviewed in the last few months. It is interesting that this most modern of presentation media has now been applied to some of the earliest aviation subjects.
"Colours & Markings of the World's Air Forces" is a valuable source of inspiration for WWI aircraft modelers and enthusiasts. The CD requires a browser (ie Internet Explorer or Netscape) to be installed on the readers PC, but Internet connection is not essential. The format is designed for a screen resolution of 800 x 600 pixels and 16 bit colour.
The author, Bob Pearson, is an illustrator, writer and modeller (and Managing Editor of the high-quality monthly modelling webzine "Internet Modeler"). All these skills have been put to good use in the production of this CD.
The CD is structured logically into Features, Profiles, Photos and References. An index to all illustrations is also included.
My favourite aspect of the CD is the Features section. Eight Features are included. Each article contains multiple profiles and supporting text. Some Features include pilot profiles, and others propose hypothetical schemes for speculative subjects.
The bulk of the content falls within the Profiles section. Hundreds of Bob's attractive original profiles are included. These Profiles are organised along National lines. Each country is then divided by Unit. Naturally, the majority of profiles belong to the main protagonists, but I was pleased to discover at least 17 Australian subjects included. I am sure that this is indicative of the breadth of coverage elsewhere on the CD.
A small number of high quality reference photographs are supplied in the Photos section.
I was slightly surprised that all of the profiles were not presented in a standard size and format. Many of the profiles are reasonably small (at around 400 pixels wide or less), when 640 pixels might have been an ideal width for this format. A few pages also required side scrolling at 800x600.
Due to the very large number of images present, it would also be nice to be able to search by various criteria - eg aircraft type, nationality, pilot - instead of relying on the static index.
CD production is certainly a very cost effective way and graphically appropriate way to display high-quality colour images, even if the medium cannot be always be transported to a bus, train or your favourite small reading room.
This CD will provide plenty of inspiration for modellers and enthusiasts alike. Structure is logical and quality of the profiles is very good.
Recommended to all modellers with an interest in WWI aviation.
Thanks to Bob Pearson for the review sample.
---
"Colours & Markings of the World's Air Forces 1912-1920" is available direct from the Author at his website.
---
Review Copyright © 2000 by Brett Green
Page Created 04 October, 2000
Last updated 22 July, 2003
Back to HyperScale Main Page
Back to Reviews Page