Westland Wyvern
Interior & Exterior Detail Sets
Compass Rose
S u m m a r y

Catalogue Number and Description and Price:
Wyvern Interior Detail Set (Stock Number Unknown) USD$19.95
Wyvern Exterior Detail Set (Stock Number Unknown) USD$29.95
Scale:
1/48
Contents and Media:
See text for details
Review Type:
FirstLook
Advantages:
Crisp casting; excellent detail; improvement over kit counterparts; nice colour guide
Disadvantages:
Recommendation:
Highly Recommended to anyone building a Dynavector Wyvern
Reviewed by Graham Green
For those who have that excellent vacform kit from Dynavector of the Westland Wyvern a new company, Compass Rose (reminds me of the Corvette in the film 'Cruel Sea' with Jack Hawkins) have come to the rescue to those who wish too add more exterior detail and also replace the kit's white metal cockpit with a much more detailed interior.
---
Interior Set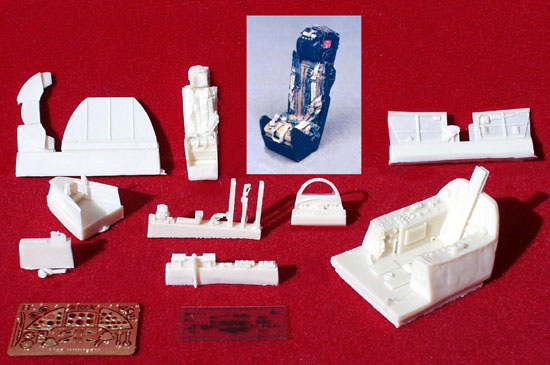 The interior set comprises the following parts, all in resin:
Additionally there is a small etched fret that contains the fascia for the instrument panel with additional, individual, instrument bezels that go over the acetate 'reversal' film of the instrument fascias. The rudder pedals, various handles and trim wheels and a windscreen wiper! make up the rest of the Etched Brass sheet.
To assist in the painting there is a colour picture of the finished seat, an nice little touch to the detail set, saving the modeller hunting for that elusive cockpit picture (especially a colour one).
All-in-all a very comprehensive set indeed, and, if you cannot make a good cockpit out of this set, then there is something wrong; you don't really have to try!
---
Exterior Set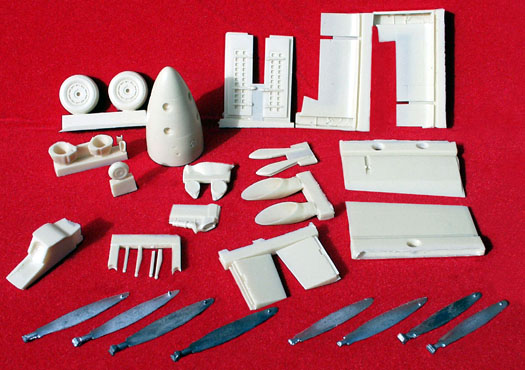 In the exterior set you get
white metal propeller blades,

resin wheels, spinner,

tailwheel and yolk,

cabin air intakes and oil cooler face,

jet engine exhausts,

air-brakes

Fairey-Youngman flaps and flap rods.
For assembly of the latter a resin jig is supplied so that the flaps can be correctly aligned.

The parts, in both sets, are extremely well detailed and very crisply moulded and I am waiting to find an air bubble, not that I expect too!! (and No, they were not sets specially selected by Mike for a review, I collected them off the sales counter at a show!). Although they are not intended for the older ID Models kit, these sets can, with some adjustment, be be made to fit.


I found both sets to be of excellent quality. They will give the purchaser a fair bit of enjoyable modelling, enhancing an already super vacform kit, definitely adding to its 'presence'.
I can thoroughly, and unreservedly, recommend both sets to all the 'Wyvernists' out there. I think a 'Well done' to Roy Sutherland, who did the masters and congratulations to Compass Rose are in order for this set and I hope it will be the start of a range of high quality updates, not only for Vacform kits but for some resin and injection kits as well.
Highly Recommended.
---
Compass Rose accessories are available worldwide from
AVIA IMPORTS USA,
PO Box 99,
Cary, NC 27512, USA.
Phone: (919)-233-0212; Fax: (919)-854-0532; e-mail: aviausa@aol.com