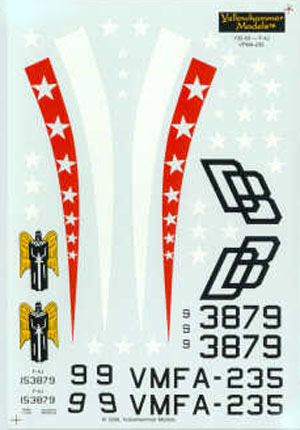 Yellowhammer Models decal set 32-03 provides markings to produce a 1/32 scale replica of F-4J 153879 of VMFA-235 Death Angels.

The decal set consists of two sheets with the first sheet providing the unit markings and serials peculiar to 3879 when it was in service with VMFA-235. The second sheet appears to be a generic sheet that Yellowhammer provides for all the 1/32 scale F-4s that they produce. This sheet gives the modeler sufficient national insignia and basic stencil data to produce either a Navy or Marine Corps machine.

Both sheets are superbly printed, in-register and any problems that were likely to appear with the red and white tail stripe have been taken care of by producing the red and white portions as separate decals. A glance at photos of 1 to 1 scale F-4Js of the Death Angels will show the entire nose radome is painted red and covered with white stars. Thankfully, Yellowhammer has produced each of these stars as separate decals to solve any problems that the modeler would have if they were produced as a one piece "wrap around" decal.

References for this aircraft are not hard to find. A glance at page 35 of the old but essential Squadron/Signal publication "Phantom II A Pictorial History of the McDonnell Douglas F-4 Phantom II" by Lou Drendal reveals a photo of 3879 when the Death Angels were based at MCAS Kaneoe Bay. A quick search through the internet reveals many matches including Dan Rinaman's website http://www.bright.net/~drinaman/vmfa235.htm and if you want a potted history of the Death Angels visit the Tailhook website by clicking on http://www.tailhook.org/vmfa235.htm

All in all a very nice decal set that will produce a very striking model in 1/32 scale from that era of Gull Grey and White with full colour squadron markings.

Thanks to Meteor Productions for the review sample.