"Avia S-199/CS-199"
by Frantisek Koran and Michal Ovcacik
| | |
| --- | --- |
| Publisher and Details | Published by RAK, PO Box 35, 170 08 Prague 7, Czech Republic. |
| Review Type: | Book Review |
| Price: | Unknown at this stage |
| Rating: | Highly Recommended |
Book Reviewed by Ian Sadler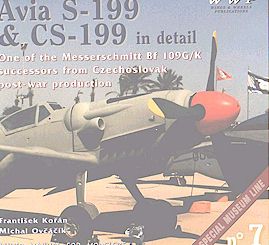 The book under review is Avia S199/ CS-199 by Franti Koran and Michal Ovcacik published by WWP RAK PO Box 35, 170 06 Prague 7, Czech Republic, ISBN No 80-802677-2-6. Price unknown as it is a review sample sent in by the Editor Franti Koran to whom many thanks.
Published in the now familiar landscape format and on very high quality glossy paper, this book follows on in the same style as this publisher's previous aviation publication " The Avenger". This is the second visit to Kbely Air Museum in Prague in the Czech Republic. As far as I can tell all the photographs originate from this museum, apart from some obviously taken in Israel.
Split into 29 sections, it covers all aspects of the Avia s-199 and CS- 99. Each section is in the form of a photomontage of stunning museum quality photographs.
It has crammed into its 72 pages, 44 black and white and 165 colour photographs with 94 black and white drawings and lastly 4 colour illustrations of Czech and Israeli aircraft. All the captions and History is now in the International language of model makers "English", the publishers are to be congratulated on this great step forward.
This book will answer all the questions you could ever hope to ask about the tinniest detail. For model makers it is going to elevate the attention to fine detail and it will also help as a reference book to any museum restoring the full size aircraft. I do not say that lightly, the book and the photographs have to be seen to be believed.
To single out one section, which illustrates the fine attention to detail, you only have to look at the cockpit it is quite breathtaking, this section is worth the price of the book alone.
If you have read my review on the Avenger then you will appreciate the quality of this fine publication.
This series of books is going from strength to strength and each new title pushes back the boundaries of just what is possible each time. It is nice to see a refreshing and new way of disseminating the information.
It is sometimes a pleasure to be asked to review a book to, which you have no knowledge other than what you have seen at model shows over the years.
It is for this reason I feel that I can be more objective and not loaded down with any preconceived ideas or notions.
I vote it as being a contender for book of the year for the Aircraft model makers. In fact it is tying in equal 1st place with the Avenger book! I look forward to many more books of this outstanding quality from this prolific publisher.
To keep the American readers happy who like to have a points system awarded to any product.
Quality of photographs 10 out of 10
Illustrations / line drawings 10 out of 10
History and Captions 10 out of 10
Ian Sadler
---
Review Copyright © 1999 by Ian Sadler
Page Created 08 September, 1999
Last updated 22 July, 2003
Back to HyperScale Main Page
Back to Reviews Page