Meteor Productions
New Releases
June 2002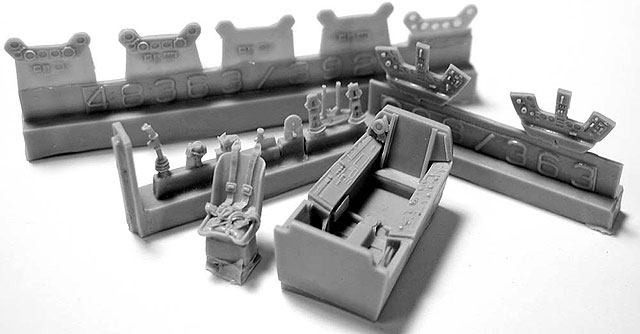 Preview


HyperScale is proudly sponsored by Meteor Productions
Meteor Productions announce 35 new resin and decal releases from Cutting Edge.
Cutting Edge has supplied the following information regarding the new Focke-Wulf 190 cockpit sets:
"Your Cutting Edge Modelworks is designed for the TriMaster, Dragon, DML, ProModeler, and Tamiya Fw 190A-G families of kits. This set began life as the excellent combination set from Cooper Details, which was then purchased by Hawkeye Designs. Meteor bought Hawkeye, so we now own the originals. Roy Sutherland did the original patternwork for the Cooper set quite a few years ago, providing parts which covered some of the many variations in Würger cockpits. Although he gave alternative parts in the original set, he clearly stated that many variants required additional scratchbuilding and alteration to be accurate. Based on photos and Luftwaffe technical orders, we¹ve taken Roy¹s excellent base work and added the necessary details and variations to allow you to easily build an accurate cockpit for all of the main Fw 190 versions. Obviously there were hundreds or maybe even thousands of variations in practice, but our sets give you the ³tech order² cockpit configuration for each version.

We decided that it was not practical to issue these sets as a single "combination" kit because each cockpit tub is different, the instrument panels vary greatly, and some sets have additional parts not required at all for other sets. All the small details are included, and the seat has the harness molded in place."
1/72 scale decals return to the Cutting Edge decal range with this batch of releases too. This will be especially welcomed by BONE modellers.
Thanks to Meteor Productions, HyperScale is pleased to list all these recent releases below:
1/48 Cutting Edge Resin Sets
Stock No.
Description
RRP (USD)
Thumbnail Image
(Click to Enlarge)
CEC48385
Fw 190A-3/A-4 Super Detailed Cockpit (includes fin cap) for Dragon/TriMaster with fin cap
$16.99
CEC48363
Fw 190A-5/A-6 Super Detailed Cockpit for Dragon/TriMaster with FuG 217 Scope
$16.99
CEC48098
Fw 190A-7/A-8/A-9 Super Detailed Cockpit for Dragon/TriMaster
$16.99
CEC48085
Fw 190D-9 Super Detailed Cockpit for Dragon/TriMaster
$16.99
CEC48380
Fw 190F-1/G-1 Super Detailed Cockpit for Dragon/TriMaster
$16.99
CEC48392
Fw 190F-2/3 and G-2/3 Super Detailed Cockpit for Dragon/TriMaster
$16.99
CEC48377
Fw 190F-8/G-8 Super Detailed Cockpit for Dragon/TriMaster/ProModeler
$16.99
CEC48342
Fw 190 Corrected Main Wheels (Early Pattern)
$3.99
CEC48372
Fw 190 Corrected Main Wheels (Late Pattern)
$3.99
CEC48060
Su-27 Flanker Cockpit & ECM Pods - Rereleased!
$19.99
CEC48376
P-47C Cowling With Open Cowl Flaps for Hasegawa
$12.99
CEC48382
P-51B/C/D Hollowed Out Shrouded Exhausts
$3.99
CEC48388
DB605 Exhausts (2) for Bf 109G/AS & Bf 109K
$3.99
CEC48180
de Havilland Mosquito B.IV Super Detailed Instrument Panel
$3.99
CEC48195
MiG-3 Super Detailed Instrument Panel
$3.99
CEC48258
F-104G/J Super Detailed Instrument Panel
$3.99
CEC48259
F-104C Super Detailed Instrument Panel
$3.99
CEC48260
F-104A Super Detailed Instrument Panel
$3.99
CEC48297
A-4 Super Detailed Instrument Panel
$3.99
CEC48374
A6M2/A6M3 Zeke/Rufe/Hamp Super Detailed instrument Panel
$3.99
1/32 Cutting Edge Resin Sets
Stock No.
Description
RRP (USD)
Thumbnail Image
(Click to Enlarge)
| | | | |
| --- | --- | --- | --- |
| CEC32092 | Bf 109G-6 Super Detailed Instrument Panel | $4.99 | |
1/48 Cutting Edge Decals
Stock No.
Description
RRP (USD)
Thumbnail Image
(Click to Enlarge)
| | | | |
| --- | --- | --- | --- |
| CED48152 | U-2A/C/F #3: U-2C, 100 SRW, gray/gray camouflage; U-2C N803X, CIA; U-2C N800X, CIA; U-2F (³Ram's Horns²), 4080 SRW, Vietnam; U-2C NASA 708 | $8.99 | |
| CED48161 | A-4s #3: A-4F, VA-55, USS Hancock, 1968; A-4E, VMA-332, 1964 | $8.99 | |
| CED48162 | A-4s #4: A-4C, VA-192, USS Bon Homme Richard; A-4E, VA-55 | $8.99 | |
| CED48163 | A-4s #5: A4D-1 VA-44; A-4C VA-113 | $8.99 | |
| CED48164 | Fw 190 #7 Butcher Birds Over Czechland #1: F-8 St./SG 10 Black Bar Bar 4; F-8 $7./SG 10, White I 2; F-8 7./SG 10, Black 2; F-8 7./SG 10 White 4 (see review elsewhere on HyperScale) | $8.99 | |
| CED48165 | Fw 190 #8 Butcher Birds Over Czechland #2: F-8 St.III/SG 10 Chevron Green 2 I; F-8 St.III/SG 10 Chevron Green 5 I; F-8 II./SG 4 Erni White 3 Bar; F-8 6./SG 4 Yellow 11 Bar; F-8 5./SG 77 Black 7 Bar. | $8.99 | |
| CED48170 | P-40 Warhawks Part 1: P-40N-1, Herbert Doughty, 89 FS; P-40N-20, John Bolyard, 74 FS; P-40N-15, Raymond Callaway, CACW, 8 FS/3 FG; P-40N John Dunning, CACW, 5 FG | $8.99 | |
| CED48176 | B-1B: Penetrator/96 BW, Memphis Belle/116 BW, Boss Hawg/7 BW, Global Power/28 BW | $9.99 | |
| CED48177 | B-1B: Snake Eyes/28 BW, Bad to the Bone/7 BW, American Flyer/28 BW, Warrior's Dream/28 BW | $9.99 | |
| CED48178 | B-1B: Uncaged/7 BW, Sharkmouth/184 BW, Spit Fire/7 BW | $8.99 | |
1/72 Cutting Edge Decals
Stock No.
Description
RRP (USD)
Thumbnail Image
(Click to Enlarge)
CED72095
Skyraider Glossy Sea Blue Korean War VF-194 AD-4NA with NOSE ART (2 aircraft); orange/white USMC AD-6 from AES-12; AD-6 from VA-85; green camouflaged A-1H from VA-115.
$8.99
$8.99
$8.99
$8.99
CED72096
A-1H NF/504 of VA-115 (landed on wrong carrier and had footprints stenciled all over it); USAF A-1H TC/257 Midnight Cowboy and Sopwith Camel (both flown by Richard S. Drury); USAF A-1H TC/608 Blood Sweat & Tears
$8.99
CED72176
B-1B: Penetrator/96 BW, Memphis Belle/116 BW, Boss Hawg/7 BW, Global Power/28 BW $8.99
CED72177 B-1B: Snake Eyes/28 BW, Bad to the Bone/7 BW, American Flyer/28 BW, Warrior's Dream/28 BW
$8.99
CED72177
B-1B: Snake Eyes/28 BW, Bad to the Bone/7 BW, American Flyer/28 BW, Warrior's Dream/28 BW
$8.99
CED72178
B-1B: Uncaged/7 BW, Sharkmouth/184 BW, Spit Fire/7 BW
$8.99
1/35 Cutting Edge Resin Sets
& Black Magic Masks
Stock No.
Description
RRP (USD)
Thumbnail Image
(Click to Enlarge)
| | | | |
| --- | --- | --- | --- |
| CEBM35001 | OH-58 Canopy Masks for MRC | $6.99 | |
| CEC35004 | PzKpfw II Corrected Leaf Spring for all Dragon/Alan kits | $16.99 | |
---
Images Copyright © 2002 by Meteor Productions
Page Created 24 June, 2001
Last updated 22 July, 2003
Back to HyperScale Main Page
Back to Reviews Page